We have the Perfect Holiday Party waiting for You !
There's nothing corporate about our Holiday Parties! If you're looking for a fun and unique way to host your next holiday event for your office, look no further than Pinot's Palette! We have the perfect holiday party waiting for you at our studio! We're here to make life easier for you and your party-planning needs this season. You get to choose all the details that go into the event that'll best suit the needs of you and your guests. Plus, we'll do whatever we can to assist you along the way!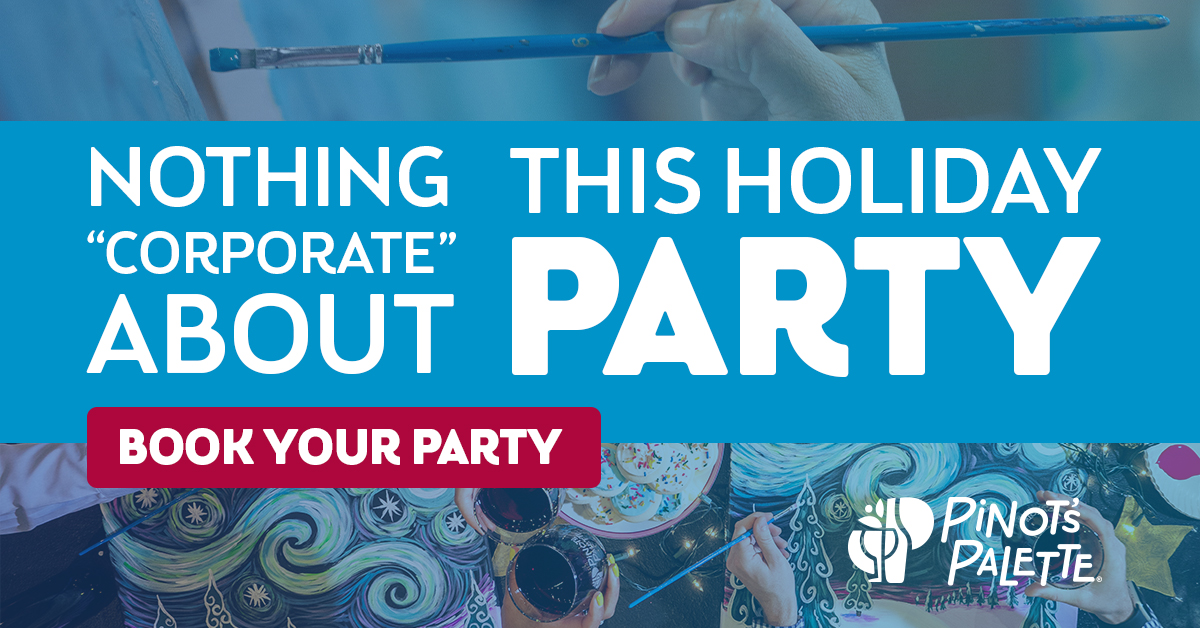 Here's our "Perfect Recipe" for a fabulous holiday party:
***Step 1: Select the Date and Time for Your Event!
Unlike our public classes, where you must show up at the date and time that we have the class scheduled for, YOU are in charge of selecting the details that work best for you and your guests. **Be sure to book with us, ASAP, however, as our private parties tend to start filling up fast this time of year! To ensure that you get your pick of date and time, contact us and get the process of booking your event, started!
Start planning your holiday party here:
https://www....rivate-events
***Step 2: Choose the Painting You Want to Create!
When you book your party, the painting that you and your guests will make for the event is up to you! Check out our library, filled with thousands of amazing paintings and get some ideas for what you and your group would like to create!
*View our paintings:
https://www....nting-library
***Step 3: Choose Your Activity!
There are lots of ways to get your team involved and excited while painting! Set the tone of the event with the right activity. We've got 6 different activities to choose from:
1. JIGSAW PAINTING
Your team works on individual canvases, but must work closely together to make sure their canvases line up to create a mural.
2. CLASSIC PAINT & SIP
This option is all about socializing. Our professionally trained artist will guide everyone step-by-step to create the selected painting.
3. MYSTERY PAINTING
Paint and sip while practicing trust and focus. Follow our artist's directions without knowing what the finished painting will be.
4. COLLABORATIVE PIECE
A fun addition to galas and auctions! Guests contribute to a large shared canvas throughout the event. An artist is on hand to assist.
5. SELF-GUIDED PAINTING
Guests paint a small canvas at their leisure, using printed directions. Great activity if your group needs more time for mingling or presentations!
6. MUSICAL CHAIRS
When the music stops, so do you! Team members move from canvas to canvas, creating shared works of art.
***Step 4: Gather Some Great Music to Play!
Doing something creative and relaxing is always made better by another creative and relaxing outlet: Music. No one wants to sit in awkward silence as they make their masterpieces; They want to be totally immersed in a fun, colorful, melodic atmosphere where they can unwind, get in touch with their inner-artist, and let their creativity run wild. Music soothes the soul, expands the mind, and makes everything better! Think about the perfect playlist to make for your guests; Whether you want Christmas music to play as you paint your holiday artwork (a very popular choice), some classical music for inspiration, fun 80s music, dance/party music, or a wide collaboration of songs for the various preferences of your guests, you can design the music, come in and let us play it for you! If making a music on your personal device, isn't your thing, don't worry: We have some of our own we can play while you paint! Let us know the type of music you want, and we can create a Pandora station, just for you!
***Step 5: Plan the Food, Games, Gifts, and More!
Most of the time, our guests will arrange to have food at their private events. You can have everyone bring in a dish, potluck style, to help with the work load for the party planners; This is also a great way to have a bunch of different food, all coming from your guests who can give a little piece of themselves in a delicious way. This is a great conversation-starter for an office party, as people can learn more about one another as they talk about the food they enjoy making and swap recipes. There are a lot of our guests who choose to go the easier route and have food catered by a local restaurant. This time of year, things start to move quickly, and stress can build, easily; Why not hand some of the work load off to someone else, when you can? In addition to food, we do see people who like to bring in some games like holiday-themed trivia, gifts to do a gift exchange, or tokens of appreciation to hand out to their employees or loved ones; Keep in mind that you can plan your party, any way you want and just let us know what you're thinking and we'll help you to make it happen.
*Holiday party games:
https://www....-party-games/
***Step 6: Make Your Guest List!
The best part about a private painting party is that you get to select the people who you want to share in this experience with. Unlike our public classes, where you're painting with dozens of other people, you'll be surrounded by ONLY people that you know! These parties are such a great way to spend time with friends, family, a special group you're a part of, or just your co-workers in a fun and creative setting, learning more about one another through painting, sipping wine, and great conversation. You might be surprised to learn that your Grandfather is a great painter, but never talks about it much, or that Betty from accounting tells some hilarious jokes after a glass or two of wine. You will get to see the one-of-a-kind paintings, each member of your party makes, and it will be so fun to see how everyone's looks different from each other's. The best part of the class (in our opinion), is the end where you get to see everyone's finished masterpiece and observe how unique and interesting, they all are in their own way.
***NOTE: You must have a minimum of 10 guests to book a private party with our studio (We can accept a maximum of 72 people).
Bonus:
*Aside from the recipe to help you get started with the planning, we'll provide the paint, canvases, brushes, and aprons for you to use as you party on! We'll also have a great selection of wine and beer, music (if you wish to use ours), and a talented artist to walk you through the steps, slowly and carefully!
We hope you'll select us for your party this holiday season, whether you're planning it or want to suggest us to the people in charge of planning. Keep in mind that we try and make it as easy as we can for you to have your event with us; We'll suggest anything you may need, we're easy to reach for any questions or concerns you may have, and best of all, everyone will leave with a handmade souvenir! Gather everyone together in a unique and creative environment, add a little food and wine into the mix, and see what happens! We've successfully hosted hundreds of private parties at our Downtown Fort Collins location, and there have been thousands of them held across all of our 160+ locations, throughout the US. We see success in these parties and happiness from our guests at the end of each one, so we feel confident in strongly suggesting our studio for your next, big event!
You can hop on over to our Facebook page to see photos from our various public and private classes, to get ideas and inspiration for the exciting event that you're about to hold. Planning a party with us is sure to make everyone who's invited say that you're the BEST ever for finding such a fun and different party!
*View us on Facebook:
https://www....eFortCollins/
*View our Private Party Pages:
https://www....rivate-events