Team Building = Workplace Wellness!
Workplace Wellness takes a lot of different forms and we are one of them! Our events encourage you and your coworkers to create and socialize while promoting productivity! Really, it's just science!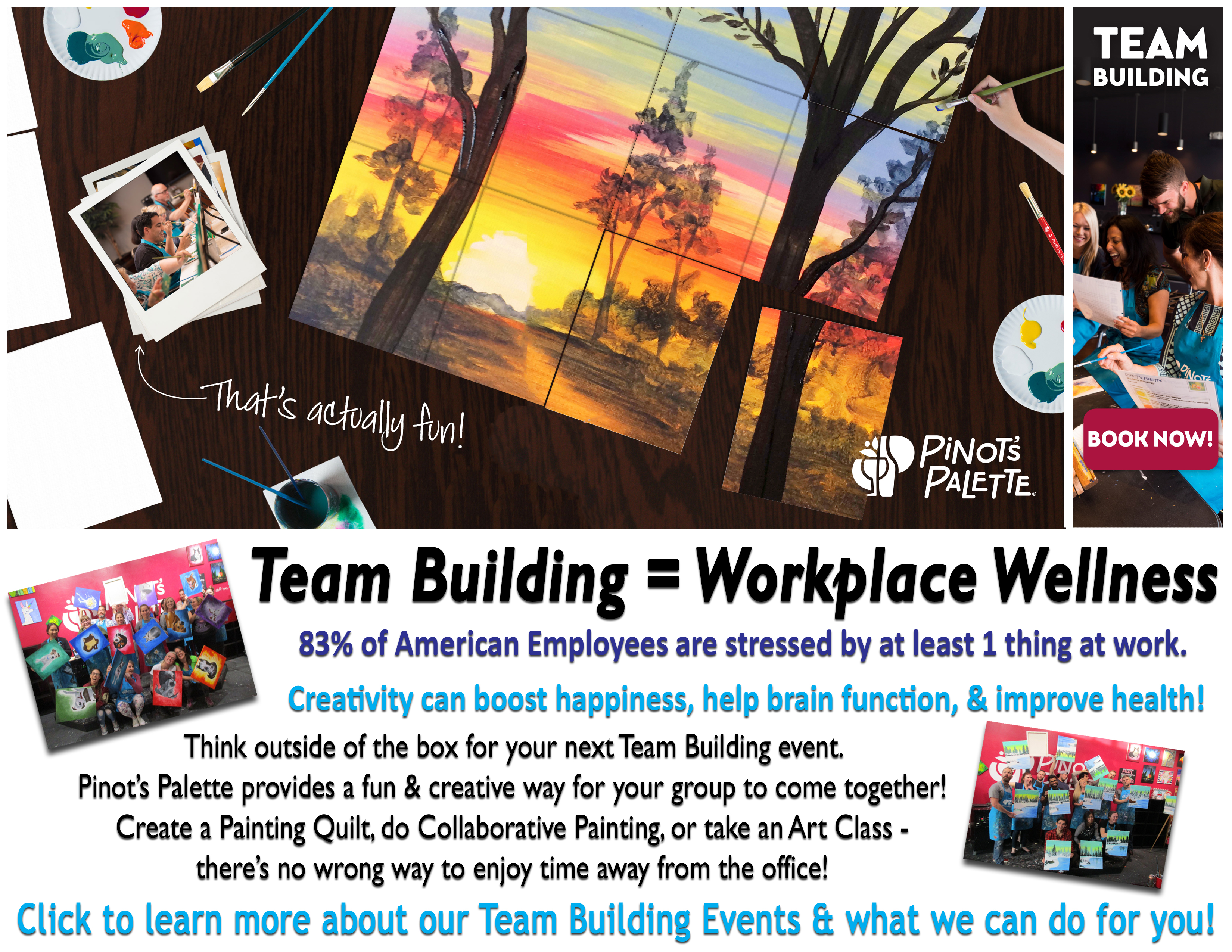 Just 45 minutes of doing something creative can lower cortisol and improve your mood. This means more energy and increased productivity. For those in charge, it literally pays to have fun with us!
There's a strong correlation between employee retention and the quality of team relationships. The fun and easygoing nature of paint and sip is great for team bonding. It also relieves stress! Paint and sip together, or just paint – the team building benefits are the same.
For companies, group painting has a hidden benefit: It encourages team members' brains to work in new ways, and jump-starts creative thinking and problem-solving abilities.
At Pinot's Palette, we're flexible, detail-oriented and offer a variety of turnkey options. Our team building events are easily and frequently adapted for client appreciation, fundraising events and office holiday parties.
We offer 4 different team building actives that are fun and exciting for your group! Here is a description of each – let us know which one you would like to do!
1. Musical Painting is an activity that is active and fun! It requires playing well with others and has a competitive edge. Each person will paint on the other people's paintings as they rotate around the room.
2. Collaborative Painting involves a large 3'X 4' canvas that has a pre-sketched design on it. Each participant will be part of the painting on the large canvas. They can sign and date it to show that they were part of the great painting experience! The painting can then be hung in the corporate offices to represent a tangible outcome to great comradery and teamwork.
3. The Painting Quilt is a fabulous way to bring your corporate culture into your offices. This activity connects people through a common thread. This fun activity allows everyone to create their own canvas to be put together as one painting.
4. Art Class is a hands-on activity that helps each painter unlock their own inner Picasso! They will paint a predetermined painting on a 16"X 20" canvas with direction given by one of our wonderful Pinot's Palette Artists. Though this activity is more individualized, it is great for team building. This activity is the same as what we offer during our regular private and public classes.