Spooktacular Halloween FUN You Won't Want to Miss!
Something Wicked this way comes! Halloween is almost here! Have you gotten out your spooky decorations yet?! Why not add a personal touch to your collection of holiday decor and make a hand-painted work of art for your home this year?! We've got pumpkins, witches, black cats, and more! Some classes are for kids and some for the whole family, while others make a fun girls' night out, or are great for a Halloween celebration of any kind! We've also got some of our own Halloween Parties planned! Be sure to wear your Halloween costume for our costume party/ competition and be ready for some Halloween trivia, prizes, and special treats in store! Bring everyone you know in to create some artwork and have a fun night out, as you paint, drink, and have fun!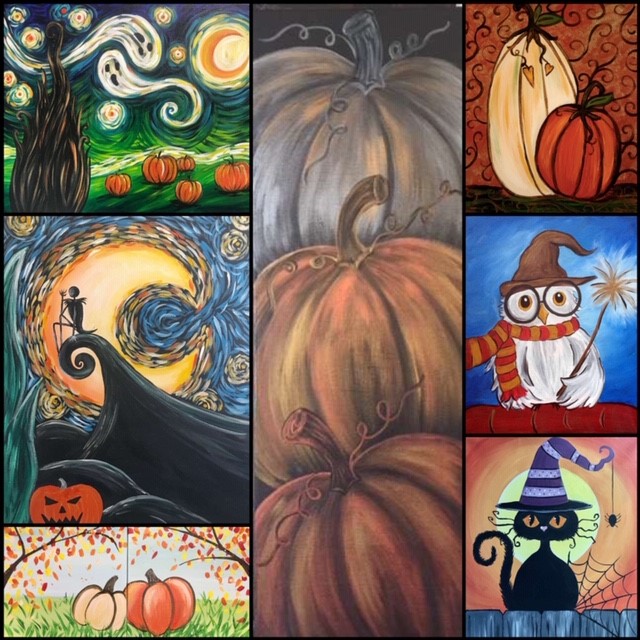 Check out some of these upcoming Spooktacular Halloween themed painting classes:
October 15th, 'Pile of Pumpkins' at Zwei Brewing!
*Paint with us at Zwei Brewing and Enjoy 20% off all tabs!
This shiny pile of metallic pumpkins is sure to brighten up your fall!
https://www..../event/358718
October 17th, 'Pumpkin Spice'
*Paint it Forward for BASE Camp!
Cool crisp air, leaves changing colors, the smell of cinnamon and pumpkins, and cozy scarfs... Nothing is better than fall weather! BASE Camp's vision is that our children achieve life-long success. Our mission is to be the choice provider of safe, affordable, accessible out-of-school-times childcare with enrichment services, aligned with the community schools. $10 from each registration will be donated toward their cause!
https://www..../event/312691
October 18th, 'You Know Hoo'
*A '$25 Kid and Adult' class, perfect for ages 7+! The kids are out of school so bring them in to make some art!
You know Hoo it is. Have an enchanting time painting this adorable owl. He has just enough magic to light up your room with cuteness!
https://www..../event/359794
October 19th, 'Mini – Pumpkin Patch'
*$15 Mom/ Dad and Me, perfect for ages 7+!
Paint this fun Fall mommy & me with your favorite little pumpkin! Painting on 8" X 8" canvases. Put two together to make one spectacular painting!
https://www..../event/359780
October 22nd, 'Be Cozy' – Wooden Tea Tray!
*New Wooden Tea Tray Painting
Warm up and Be Cozy with a warm cup of pumpkin spice latte and enjoy the season while you entertain guests with this lovely DIY Tea Tray!
https://www..../event/363128
October 26th, 'Trick or Treat Bags', 'Spooky Kooky Cat', & 'Starry Nightmare'
*$15 Trick or Treat Bags, Family Costume Party, & More Halloween FUN!
Paint your own Trick or Treat Bag from 10-12! Customize it any way you'd like! Join us for our Family Costume Party from 2-4 or our evening costume party from 7-9! We'll have games prizes and special treats!
https://www....vents/october
October 31st, 'Fright Night' & 'Van Gogh's Starry Night Halloween'
*Costume Parties and Halloween FUN!
Join us from 2-4 or 7-9! "There is magic in the night when the pumpkins glow by moonlight. Halloween Costume Parties with Trivia, Games and Prizes!
https://www....vents/october
These are just a few of our upcoming Halloween Paintings! Be sure to check out our full October Calendar here:
https://www....vents/october
We hope to see you soon for one of our Halloween paintings! Bring all of your friends and family to join in the fun with you, as painting is always better with loved ones by your side!
Keep in mind that we offer private events, if you're looking to celebrate a birthday, bridal shower, retirement, or Halloween party of your own!
More information here:
https://www....rivate-events
We also offer corporate parties, so consider us for your next team building event! It's always wonderful to see employees working together and bonding over a shared experience!
Learn more:
https://www....porate-events