DIY Wine Cork Hearts
Create easy wall decor with items you have around the house! (Let's be honest, we all have a bag or vase filled with wine corks!)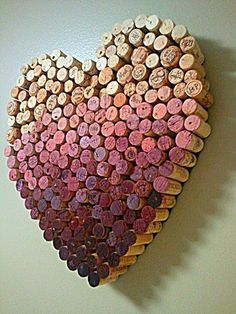 What you will need:
heavy-weight card stock
hot glue gun
wine! just kidding, but you will need those wine corks!
paint-any color, for Valentine's Day I recommend red and white!
What you do:
First, trace a heart on the heavy weight card-stock. Cut out the heart so you have a base for your wine corks.
Then, start gluing the corks within the heart shape!
Next, mix your paint! You can use a muffin pan for this, if that is easier for you to keep your paints altogether. Add plain white to one section, and plain red to another section. To make an ombré effect on the corks, mix 2-4 different shades of pink and light red by mixing different amounts of red and white paint.
The, paint the tops of your corks!
Voilà! Let dry, and then hang your newly created wall décor!