DIY Home Decor!
DIY Classes Now at Pinot's Palette! DIY Chunky Blankets, Marble Art, Wooden Pallets and MORE! We're branching out and adding more FUN to our painting library. Come learn how to DIY and decorate your home with the amazing pieces you create!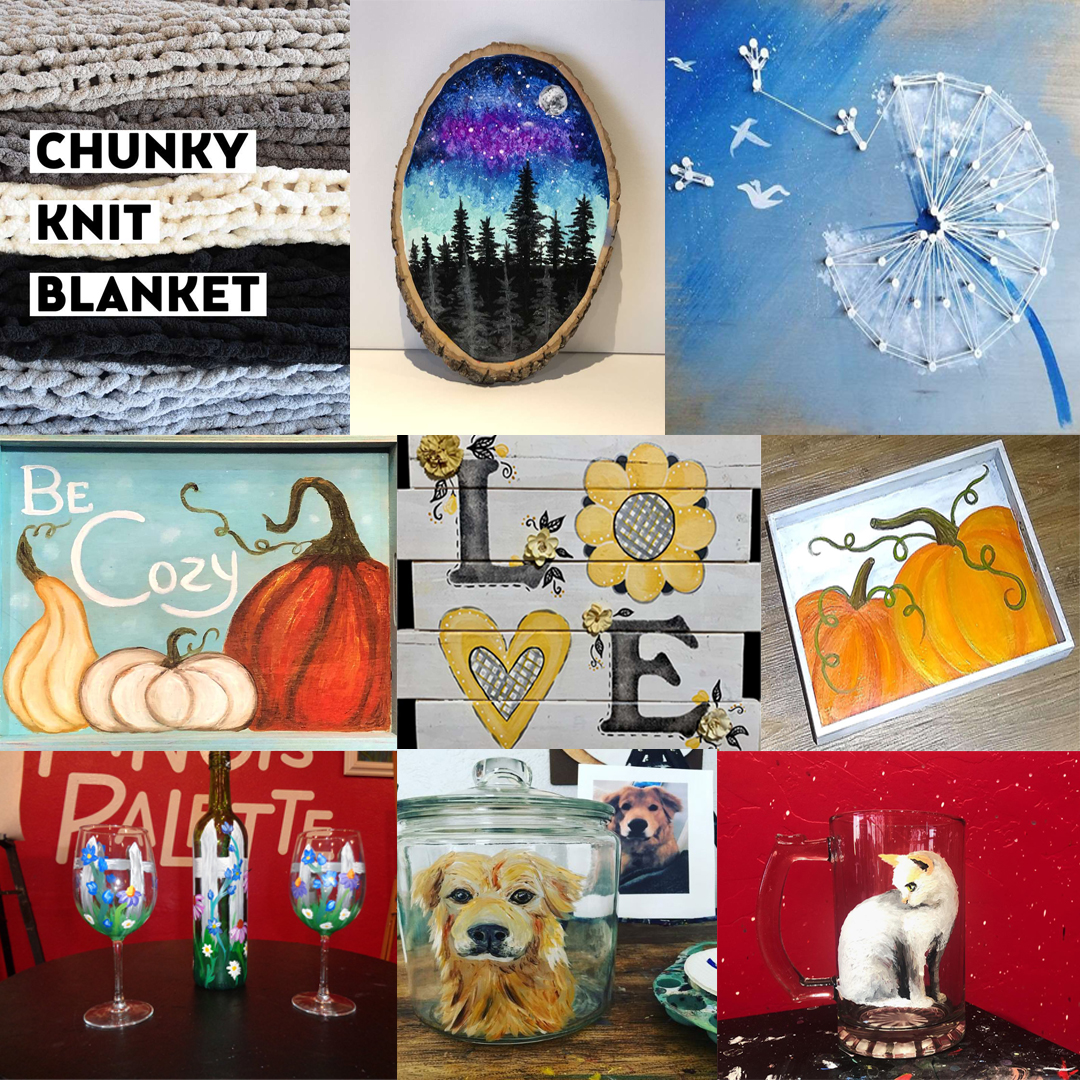 Chunky Blanket classes are returning this fall! At least once a month our artists will walk you step by step on how to make your own Chunky Knit Blanket! No knitting experience or tools required. Check out our upcoming calendar for our next Blanket class as seats are limited and spots have been filling up fast!
What's new at Pinot's Palette?! We've recently added painted Wooden Tea Trays to our calendar along with String Art, Painting on Wood Rounds, and special sized canvases. Our Wood Round Paintings are super popular and tend to fill up fast so check out our calendar and reserve your seat today!
Want to really have some fun, relax, and not stress over your painting?! Try one of our Marble Art Paint Pouring Classes! Pick up to 5 colors and what you would like to pour on and we do the rest. Our artists will teach you how to mix your paint with our secret pouring medium and show you multiple ways of pouring on different size canvases, coasters, or vases! We offer a Marble Art class once a month as well so check out our upcoming calendar for this super FUN, messy class!
We're also painting on large wooden pallets each month! Each pallet comes with a wire hanger to hang wherever you'd like. Don't want to paint on wood? How about wine glasses or pints?! We're also offering classes where our artists walk you step by step on how to paint on glass, sending you how with instructions on how to cure your finished project! Check out our upcoming calendars for more DIY home projects!
Share Check out our Calendar of Events! | Marble Art Paint Pouring!