Love is in the Air!
February is the month to celebrate love. It can be the love of a significant other or the love of a friend. What will you do to celebrate your love and when will you start thinking about it?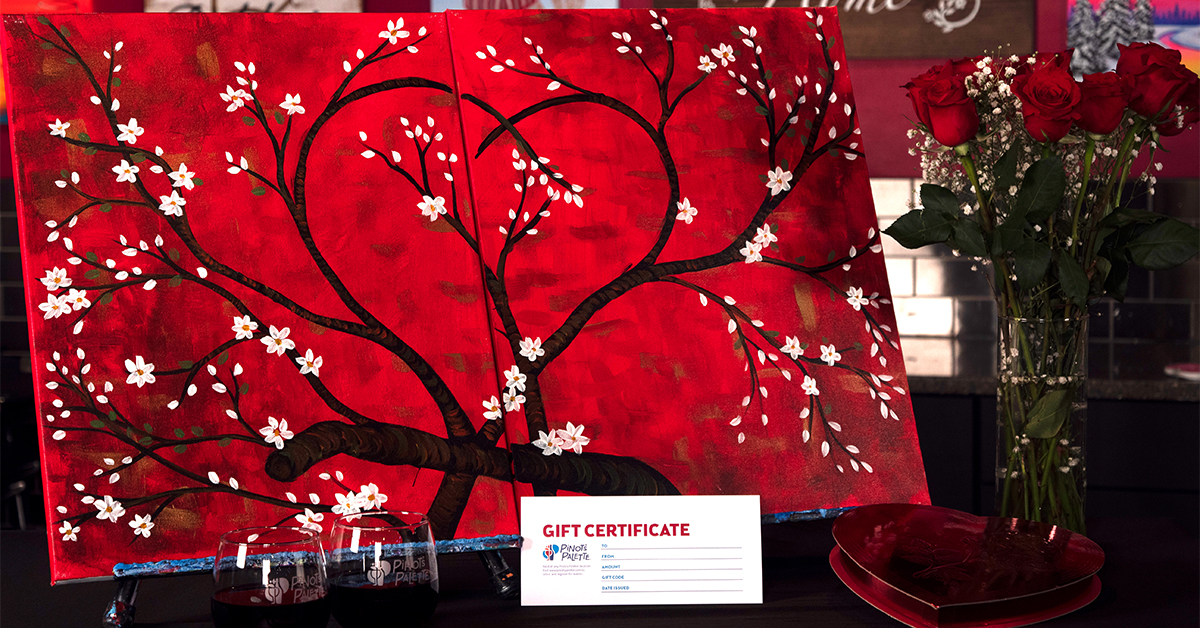 It is a crazy time of year for restaurants, florists, jewelers and more. Perhaps you will want to avoid the promotional chatter that exists for Valentine's Day and plan a special romantic meal at home. No matter what you chose to do, we would like to suggest you start thinking about it now so that you aren't disappointed by sold out venues and/or merchandise. Early planning helps you to be more creative as you start pondering a special day/ night for someone you care about.
As a business of hosting a great space for celebrating love and appreciation, we really look forward to spending Valentine's Day with our guests. Shoot, we don't just look forward to the actual day, we look forward to the whole week! Valentine's week to us isn't just the commercial red hearts, tasty little chocolates, and bow-chicka-wow-wow --it's a fantastic opportunity to truly reconnect with our loved ones. A painting date night at Pinot's Palette is an unforgettable Valentine's date – it's unique, creative, and romantic.
We would like to suggest you take a look at our February Calendar. You can plan a beautiful day/ night with us around one of our spectacular paintings and you and your guest(s) will be able to enjoy great music, as one of our professional artists guides you through your painting of choice step-by-step. Bring your own dinner or snacks and enjoy your beverage of choice at our wine and beer bar (and yes we have champagne!). To celebrate Valentine's Day click on the link below to get a jump on your planning for February 14. Whether it's your first Valentine's Day together or your 40th, a couple's paint night is a departure from the ordinary.
Here's to celebrating the love in your life!
Share Take Me to February! | Can't Make it to a Class, Purchase a Gift Certificate Here!