We're Hiring Fun & Entertaining Artists!
Are you a talented painter? Are you outgoing and LOVE seeing people create IN STUDIO & VIRTUALLY?
Pinot's Palette, a leader in the paint-and-sip industry, and we're looking for talented and fun art instructors.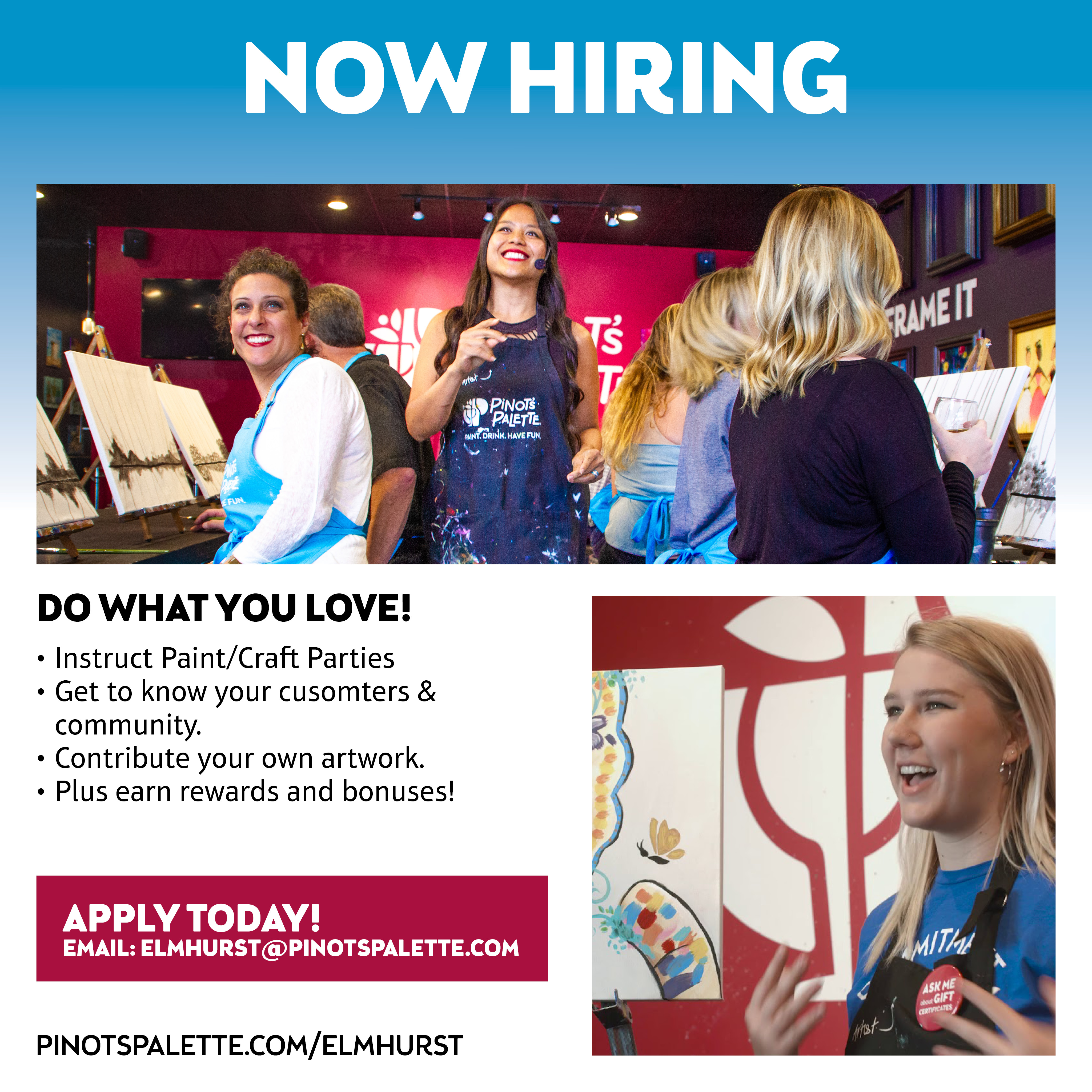 Pinot's Palette painting events are all about having fun and entertaining our guests - while helping them create a work of art. Our events aren't academic art classes, they're art parties! Our number one priority is to make sure our guests are having fun while the socialize with friends, enjoy a drink and food, and paint. Customers will follow your instruction while they paint on their own stretched canvases with acrylic paint or create a craft like DIY Wood Board Signs, Chunky Blankets, Pour Painting & MORE!
The ideal person for this job will have an outgoing personality, strong work ethic, eagerness to learn, positive attitude and the ability to work quickly and energetically. We have IN-STUDIO & VIRTUAL events (Live from the studio).
Please read below before applying.
Responsibilities include, but are not limited to:
• Instructing customers during events in an energetic, clear and well-paced manner while encouraging creativity and creating a relaxed, fun atmosphere. You must be able to break down the steps and make them easy to understand. You must be able to balance instructing the painting with ensuring guests are having time to socialize and have fun - we don't want anyone stressing out!
• Creating & developing paintings to be taught in classes and used for promotional items
• Developing & executing detailed teaching methods
• Assisting customers and staff members to ensure a smooth event flow and promote customer painting success through teamwork and positive attitude
• Setup and clean up of the studio or partner venue before and after each event
• Serving alcoholic beverages to guests from the studio's bar during events
Some Basics:
• Must be outgoing, comfortable with a crowd, and charismatic
• Must be able to turn complex paintings into simple steps
• Must be able to lift containers of supplies up to 40lbs
• Must be available to work 2-4 events per week
• Must be available at least 2 weekends per month (day and evening)
Bartending:
In addition to instructing classes, Artists serve guests drinks from the studio's bar. We are not a 21+ studio, but this will allow more hours to instruct/assist.
• Artists of age will serve beer, wine, and cocktails from the in-studio bar during class
• Use a point of sale computer system to track tabs of retail merchandise and beverages
• Must be Basset Trained / be able to get Basset Trained by Elmhurst Police Department
• Previous bartending/serving experience a plus
Required skills/abilities:
• Ability to design and execute quality, acrylic paintings in various painting styles
• Ability to replicate existing Pinot's Palette paintings and instruct in an entertaining manner
• Proficiency in Microsoft Word and Excel (PC or Mac)
• Basic computer skills, internet and social media knowledge
• Public speaking or performance skills (comfortable speaking on a microphone)
• Time management and communication skills
• Reliable transportation
• Reliable computer or cell phone with internet access
• Must be able to work evenings and weekends (we offer flexible scheduling)
Preferred education/experience:
• Experience working with acrylic paint
• College students in art or design welcome to apply
• Experience leading large groups of people (teaching, classroom or otherwise)
• Experience in customer service a must
• Theatre/acting/entertaining experience is a plus
Why choose Pinot's Palette?
• Lesson plans you can access online means that you can easily prepare for a successful class on the go
• We pay our artists as employees (W-2) vs contractors (1099) which means we pay a portion of your taxes for you (and you take home more)
• Build your own Pinot's Palette portfolio! Participate in our national gallery of paintings and earn ongoing cash rewards for the use of your original paintings nationwide. The more times your painting is used at our 150+ studios nationwide, the more you earn!
• We provide shifts of 4 or 5 hours in length, depending on the painting
TO APPLY: SEND EMAIL- ELMHURST@PINOTSPALETTE.COM
• Your resume
• 3 images of your original paintings
• References
• Please send all items via e-mail to Elmhurst@pinotspalette.com
Please visit www.pinotspalette.com/Elmhurst to find out more about us before applying.
Location:
214 N York St.
Elmhurst, IL 60126
If you are skilled at creating new fan-favorite works of art and their accompanying instructions, you have the opportunity to earn thousands more per years through our national Painting Rewards program.