Celebrating Thanksgiving
Thanksgiving is defined as "an annual national holiday marked by religious observances and a traditional meal including turkey. The holiday commemorates a harvest festival celebrated by the Pilgrims in 1621 and is held in the US on the fourth Thursday in November. A similar holiday is held in Canada, usually on the second Monday in October."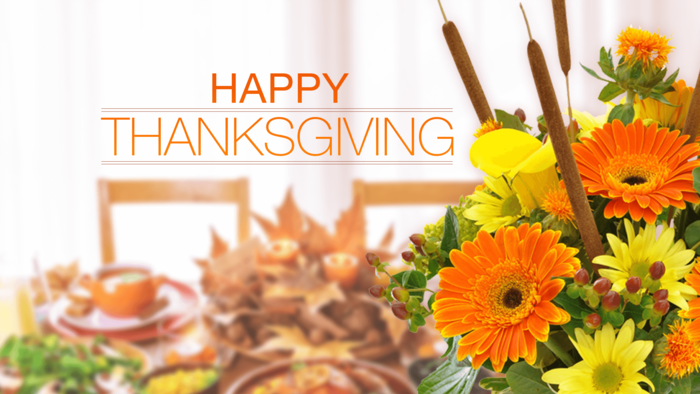 To me, Thanksgiving is about sharing what you're grateful for with your loved ones and of course, LOTS OF FOOD.
Every year I drive out of state to see my family that I only get to see a couple of times a year and eat ridiculous amounts of food prepared by my Aunt and Grandmother. Roasted turkey, stuffing, mashed potatoes & gravy, corn, green beans, buttermilk biscuits, cranberry sauce (gross), pumpkin pie, kebops, and spanakopita. You can expect to have a food coma when you are done eating. I can always count on my family to bring lots of love, laughing, and a bit of bickering. My family can always count on me to bring dessert. It's so funny to see all my uncles falling asleep on the couch with a food coma, attempting to watch whatever football game is on. I love the time I get to spend with my family around the holidays and am thankful that we are all able to get together at least a few times each year. Don't take those times for granted!
Whether you are hosting Thanksgiving or driving to a family member's house (like me) it is always nice to bring something along. Of course always ask the host what is being made so you do not accidentally make the same thing. If you are traveling there are certain foods and desserts you can make for easy traveling. Foods such as breads, salads, cookies, pies, and casseroles. All of these are stable and sturdy so nothing is going to topple over and spill inside your car. My cousin always begs me to bring my famous snickerdoodle cookies, so of course, I have to deliver. These snickerdoodles are always a hit at the table after dinner.
This recipe yields about 28 small/medium sized cookies. It'd be better to use a standard mixer but I always just use my whisk, big wooden spoon, and my hands. It's okay to get messy!
DOUGH
• 1 cup unsalted butter, softened
• 1 cup granulated sugar
• 2/3 cup light brown sugar, packed
• 2 large eggs
• 2 teaspoons vanilla extract
• 3 cups all-purpose flour
• 1 teaspoon baking soda
• 1 teaspoon lemon juice (1/2 teaspoon if using cream of tartar which I never have)
• 1/2 teaspoon salt, optional and to taste
CINNAMON SUGAR MIX
• 1/2 cup granulated sugar
• 4 teaspoons cinnamon
STEPS
1.) Combine the butter, sugars, and mix until well combined.
2.) Add the egg, vanilla, and mix until well combined, light and fluffy.
3.) Add the flour, baking soda, lemon juice, salt, and mix quickly to combine.
4.) Using the dough, create your balls for your cookies. (should yield about 28 balls)
5.) Place the balls on a tray and cover with cling-wrap, and refrigerate for at least 1 hour.
6.) Preheat oven to 350F, line a baking sheet with parchment paper or spray with pam.
7.) In a small bowl, create cinnamon sugar mixture.
8.) Roll each ball through the cinnamon sugar.
9.) Place cookie dough balls on baking sheet spaced at least 2 inches apart. Bake for 10 minutes.
10.) Get them ready for transportation!
Tip: add a piece of bread in the Tupperware you are transferring your cookies in. This will keep them moist! :)