Italian Wine
My Happy Accident Wine Story
It was totally by accident, but one of my favorite wines was dubbed "Hot dog wine". The story started with a group of very enthusiastic wine "tasters" who were at the studio to paint and sip with co-workers.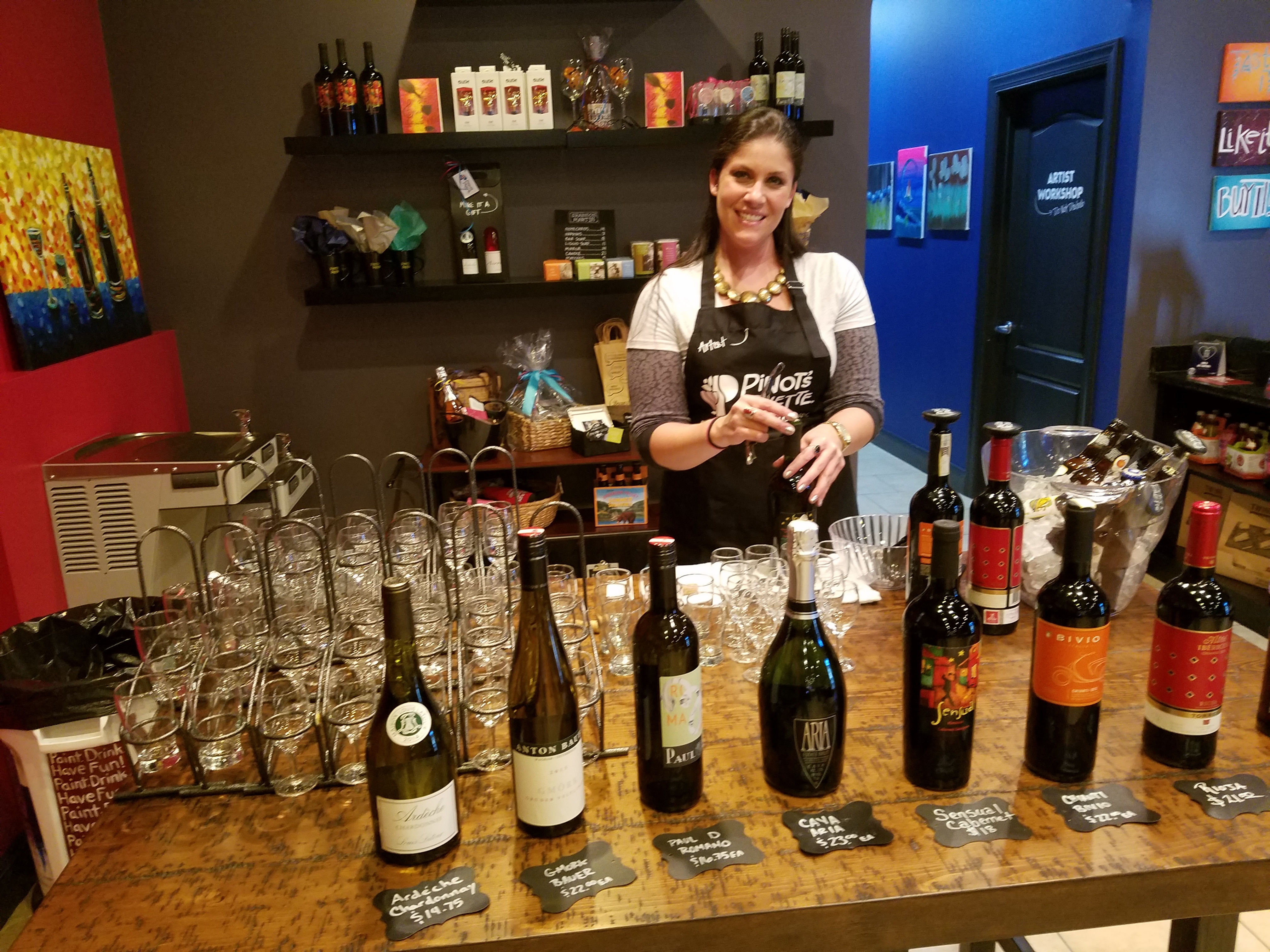 The red Italian wine is best described as a great BBQ wine. It pairs well with anything off the grill, Hamburgers, Chicken, HOT DOGS… I explained this while pouring the Primitivo.
As each painter returned to the tasting bar, they couldn't remember "Primitivo" so would ask for the "Hot Dog" wine. And so it was!
Fast forward to 2020. We all know wine was deemed essential (rightfully so) and as we adapted/pivoted to take home paint kits with wine sales from the shop it was a careful balance of keeping the right wines in stock, and not having too much inventory.
Our Primitivo was a big seller, so that was something we tried to keep in stock. Well come to find out it was held up at customs. (Note- it still is a year later). How I found out led to the happy accident of my new favorite wine. The "Pizza wine".
I was alone in the studio pumping paint, and putting together take home paint kits, when the wine delivery showed up. With our masks on and keeping distanced, he left the cases in the back and put the paperwork on the table for me to sign. I did, wished him well saying "stay Healthy!"
After I completed the kits and was ready to get the wine out on the shelf, I discovered that the Primitivo was NOT Primitivo but a Montepulciano by the same Italian Vineyard.
Uh Oh, I immediately called Gabe, my favorite wine distributor. Our conversation started with the usual pandemic niceties. When I explained that we didn't get the Primitivo, he looked into it and found that it was among a shipment being held up at Customs. He apologized and said he would have the other case picked up and credit my account.
I said no need, I'll try this wine and maybe it will be a great alternative for now. Tell me about it. Gabe, who is Italian explained " you know, this could be a happy accident! The Montepulciano is a great "Pizza wine" good with pizza and red sauce meals." And in 2020 let's face it, there were a lot of people having Pizza and wine!
Needless to say, this new wine in the shop has become a fan favorite.
So here's to happy accidents and great wine!