Kids Painting Parties in Dulles
Little Brushes® kids painting parties celebrate every child's creativity! Customizable for age and event type. We have virtual and on demand options available. In studio we continue to follow CDC and local government guidelines. Contact us to plan your young artists special event.
Plan a party
How it works »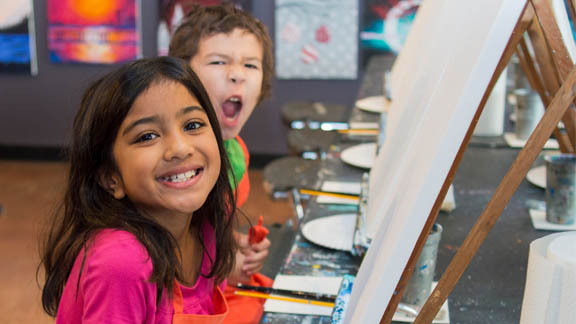 The easiest kids party you'll ever plan
Little Brushes paint parties at our Herndon studio are tons of fun for kids, and easy breezy for parents. Art supplies are ready and waiting when you arrive – including aprons to help protect clothing. All you need to bring are the kids and the food. (We even provide plates and utensils.) For on demand and virtual events we have a paint kits will all of the needed art materials to paint from anywhere.
Parents love that we take care of set up and clean up. Kids love to paint and bring home their very own artwork. We love to see the happy faces! No art experience is needed, each painter is able to simply create and have fun. Our artists will help them and guide them with expert instruction.
Celebrating each young artists creativity is wonderful. Sharing the fun with friends and family is a great way to mark a special occasion like a birthday, team party and even a class trip.
Painting Parties For Kids
Little Brushes parties at the Dulles studio can be just as much fun for parents too.
Paintings Just For Kids
From funky to flowery, from adorable to awesome, from sweet to sporty, our kids painting library has over 100 paintings made for young artists. Our Little Brushes or Kids paintings are also fun to paint for adults. The whole family can enjoy painting together.
How It Works


Book the party
Contact us to check availability for your celebration. We are a one room studio located in Woodland Park Crossings. When you book your private event at our Dulles studio you get the whole place to yourself!


Customize the Party
We look forward to talking with you to make it special too. Our artists will create a custom birthday canvas if desired.


Show Up and Party!
The party will be set and ready for a fun celebration. It is best for guests to arrive on time to ensure all of your guests get plenty of time to paint a masterpiece.
How Can We Help?
We want to make this a party to remember! Feel free to email us or give us a call so we can get the details right and plan accommodations for any unique needs.