Serving up fun
What if your 2020 Holiday Season could be fun after all?
With technology and creativity, we can make it so!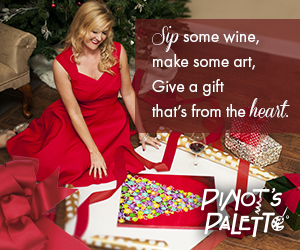 Pinot's Palette is serving up fun for the Holiday season. From Live virtual events with co workers to family fun with loved ones.
* Gift a paint kit to your staff or "secret Santa"
* Plan a Pajama Paint Party
* Paint a gift
* Simply De-Stress by painting & sipping
It is said that the best thing about memories is making them. So true, right?!
"We have been working from home for so long now, we hardly remember what a typical work day is like." said Jennifer. "Before the pandemic our team would host regular happy hours and quarterly team building events. Everyone really misses doing this. And for those of us with kids learning from home, we are especially overwhelmed."
Jennifer continued telling me that when the UPS guy left her painting kit on the front porch, she couldn't stop the smile from lighting up her face. She had ordered paint kits for her daughter as well. Happily they had something to get excited about. Jennifer would participate in a Live virtual team painting event and her daughter was thrilled that she got to paint too.
Following along with the artist and seeing her co workers in a relaxed setting was more fun than she expected. "I am no artist, but this was fun and my painting is better than I thought it would be." She went on to share that her daughter now calls herself an artist.
Like many of our painters, Jennifer and her daughter have found an unexpected and welcomed hobby that they can do together from home. The next painting will be a family Zoom with Grandma and her sister who live in Florida.
We look forward to serving up fun and helping our painters stay connected and safe creatively. Cheers to a healthy and happy 2020 Holiday Season.