Date Night done right
Dinner and a movie. Is that it? Not that there is anything wrong with that, but whether it is your first date or your 201st date, make it special. Let's talk about what makes for a GREAT date night.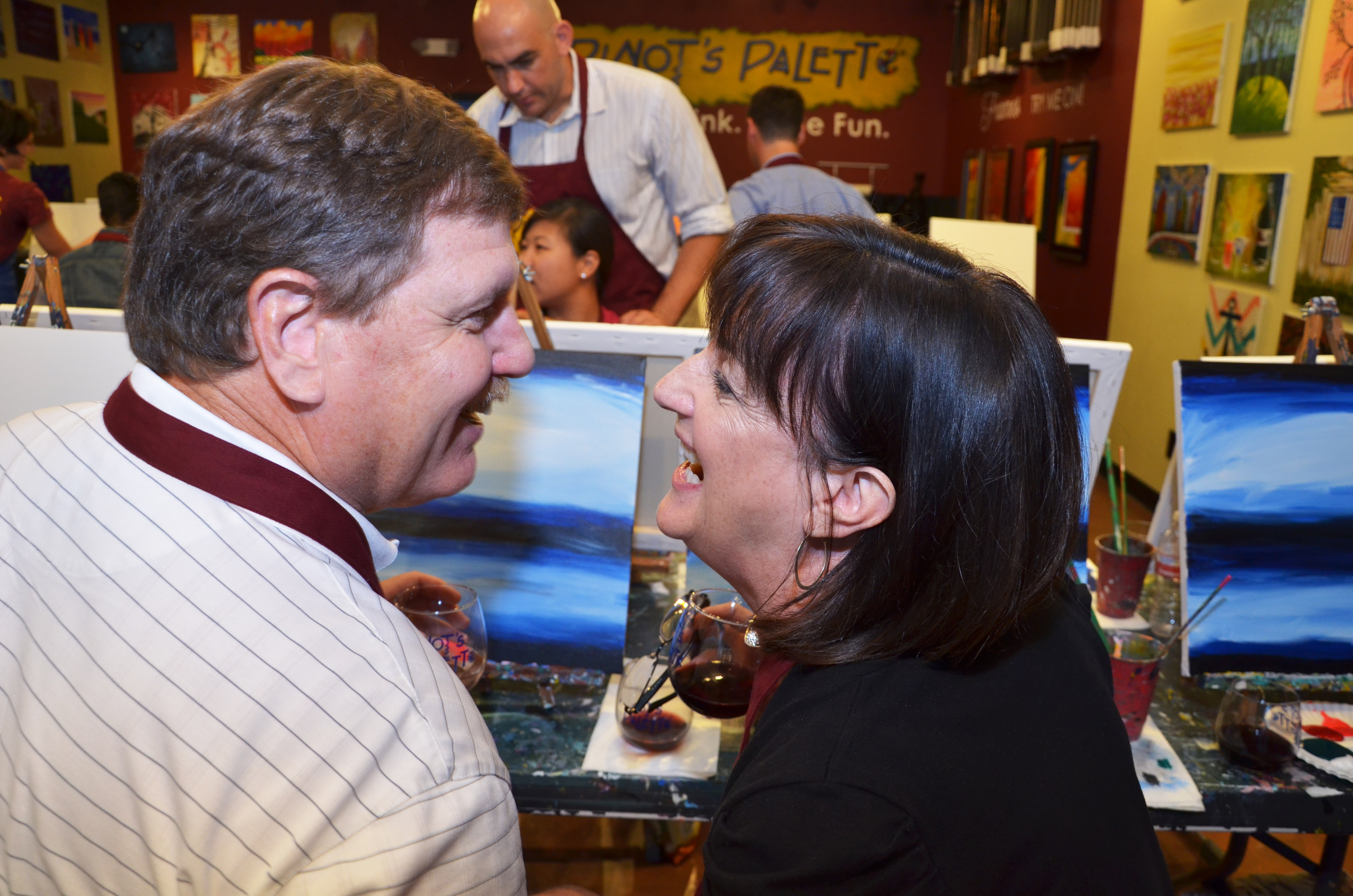 I am of course a little biased... to me the best night out in NOVA is to paint & sip at Pinot's Palette Dulles. There are other fun options too. Even if you just stay in and watch Netflix, there are ways to make it unique and memorable. Let's start with defining what a true "date night" is. Maybe you are in a new relationship, maybe you have been married for 20 plus years? A date night is simply (IMO), spending a defined time together with your significant other. Many of us have impromptu date nights, or intend to have a date night on a regular basis, but life, family, work happens, so that unique date night gets left behind, or becomes a mundane experience.
Every couple has different circumstances to consider. Time, budget, interests, values and preferences. So in planning a great date night, the actual event or place will vary. For this post we are going to explore a wide scope of date night "occasions" YES I said occasion, a memorable date night experience should be celebrated as such. AND let's be clear, date night COULD be a Date Day!
A few tips to augment or raise the bar for your next date night:
1. PLAN in advance. This works for both of you. If you or your date put in a little extra effort it will make a big difference. Let's say your date night is simply to stay at home and watch Netflix and have dinner. If you are cooking or ordering in, make sure you have a favorite food for your date- for example my husband loves gummy bears, but doesn't really get them for himself often. If I surprise him after dinner with a big bag - it wasn't a big effort, but he really appreciates it. When my husband surprises me with milk duds, it always makes me feel so good. This is best when it is unexpected, the idea is to exceed the expectation of your date, whatever it may be. Serve a special bottle of wine, scotch or other cocktail and splurge on a great cut of meat or lobster... Even if you order Chinese food delivery- pull out a table cloth, fabric napkins and use real plates :). Write a personal note or invitation. Pick up fresh flowers. Make it special!
2. What if you take turns being the Date Planner. When it is your turn, plan something that your date would really appreciate. Maybe your date loves fishing. Plan a picnic and go to a local fishing hole or rent a boat for the occasion? Imagine how you'd feel if you love the Ballet but your date not so much, when they plan a special evening at the Ballet?
3. Offer genuine gratitude and compliments. Sounds small, but there is truly so much power in how we make each other feel. Feeling loved, appreciated and valued is paramount in a relationship.
Here are 10 local date thought starters:
1. Paint & Sip at Pinot's Palette Dulles . (HAD TO LIST THIS FIRST) . wink wink
2. Happy Hour at your favorite restaurant- Cooper's Hawk, Red's Table, Founding Farmers, Burtons Grill... to name a few of mine.
3. Top Golf or I Fly
4. Next Stop Theatre
5. Picnic and/or hike at Lake Fairfax
6. Take in a show or concert at Wolftrap
7. Enjoy a date day at Lake Ann Plaza in Reston (paddle boats, craft beer, restaurants)
8. Look for special events like festivals, special wine dinners etc... (simply google for ideas)
9. Do a beverages and bites tour or a local favorites pub crawl- arrange for Uber or step it up and hire a driver/car for the occasion
10. Spend time volunteering together for a local organization. *( watch for an upcoming blog on how to engage and serve in our community)
Cheers to leveling up Date Night!