Community
It is such an honor to be nominated. I said that with complete authenticity when The Greater Reston Chamber announced the ACE Award nominees! Truly was happy to be nominated for the PR benefit and to be named with such an impressive group of businesses.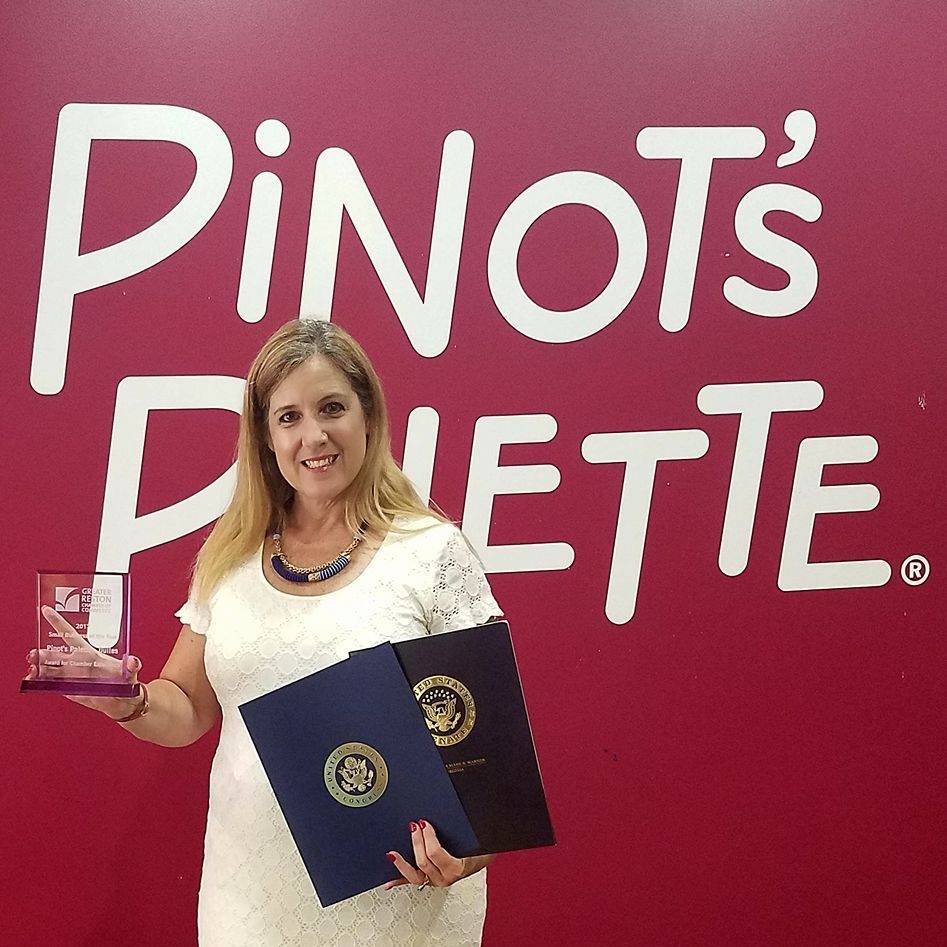 As Mark Ingrao,President of the Chamber started describing the Small Business of the year recipient I listened with great anticipation for one of my fellow nominees (I had a guess of another business and was rooting for them in my mind). I then heard Mark say, "Masterpiece" and "selfies" and "fun" Boom much to my delight and surprise I knew it was Pinot's Palette Dulles! I quickly grabbed my Pinot's apron for the picture- I didn't have time for lipstick! What a thrill!
My friend, Kevin Taylor- ACE winner for MEMBER OF THE YEAR(congratulations Kevin) handed me a gold coin for luck right before the luncheon began! It worked. Thank you Kevin!
As the winners were announced, I realized that each one of them have been such an influential part of the business community and people I now consider friends! Wow, what an amazing realization and true benefit to building a business in northern VA. We are building relationships professionally and personally and forming partnerships that benefit our community as a whole.
My long time friend, Tom Madden- winner of the Committee of the year (congrats Tom) encouraged me to join the Chamber early on. I was reluctant because we were just getting our Mobile business launched and hadn't even signed a lease for our studio yet. He was producing a video for us (Tom owns Visual Impact Productions). He invited me to a lead share group. He even got many of the Chamber members to come paint and be in the video! That's where I met Kevin Taylor and Angela Inzerillo- winner of the Pinnacle award (congratulations Angela). Realizing then how valuable the resources of the Chamber are, I joined!
One of the many fun painting activities we offer is TEAM BUILDING. We offer structured team building activities and more social bonding experiences as well. I always marvel at the way these events just naturally bring the best out in our painters and how easily people interact and enjoy the time with co-workers.
As I reflect on the excitement of being named Small Business of year, it occurs to me that through the Reston Chamber events, committee meetings, working together with the incredible Chamber staff we have all been "team building" as a community.
It was at a Lead share networking happy hour (yes I rarely miss a happy hour event) I met Rick Hogan from Bleevit. He and his wife Robin have been such an amazing partner in marketing with Pinot's Palette. I remember telling my husband, "I think Rick is more excited than me about our 150 painter team building". You see, through the digital marketing Bleevit implemented, we landed this great event within the first month of doing our PPC campaign.
I'd like to also mention Leslie Kane, with Mary Kay. We have partnered to host "paint you face" and other events at the studio and each event has turned into a "team building" of sorts. She has introduced me to many local influencers and businesses who are great partners and clients now. She connected us with The Shelter House, and we are so proud to support this local organization.
Team building can conjure up a dreaded feeling of OH NO, how can I get out of it. Not with Pinot's Palette! It becomes a fun and creative experience. Making it easy to build on collaborating, problem solving, and social bonding. Which brings me to the #bestteameva! In a small business the people make all the difference. At Pinot's Palette-Dulles our team truly is the best. As we all work together to help our painters, from our VIPs to a couple on date night, to a girl's night out group to families and Little Brushes we continue to grow closer as a team.
Each of the artists has their own "super power" and together they really offer the very best in art instruction, service and fun! So a very special THANK YOU to Nathan, Lana, Inessa, Christine, Renee, Nicole, Marti, Suzi and Zach (my son and our Chief Schlep-per) for making Pinot's Palette an award winning small business.
Here's to Team Building!
Paint. Drink. Have Fun.
Share Greater Reston Chamber | Watch our Van Go- Mobile events