I'm not an artist
A night out in Northern Virginia for a date night or a girl's night typically includes one of the great restaurant choices we have and maybe a movie or a visit to one of the great winery's in Loudoun county. Maybe bowling, Top Golf or enjoying the local music scene . Let's face it, we are in a great area for entertainment and food.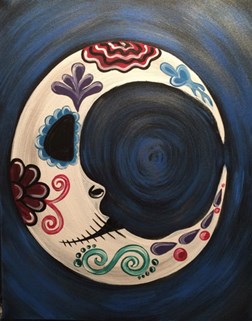 In Virginia the Paint & Sip market is just starting to emerge. And what a great option for a unique experience. At Pinot's Palette Dulles we make the experience even more fun by adding wine, beer and cider tastings.
Did you know:
* There are NO Bars in VA. In order to sell beer and wine an establishment's sales must be 45% food- prepared onsite
* Bring Your Own is illegal (without a special ABC event license)
* There is now an Art Instruction license and some Paint & Sip studios now can offer two- 5 ounce glasses
* Other Paint & Sip events are offered in a Public restaurant
Pinot's Palette-Dulles has a Gourmet (off Premise) ABC license. This allows us to offer wine, beer, and cider tastings while you paint. The tastings are complimentary! If you like something, we are a retail shop so you can purchase a bottle to take home. Try wines that are main stream taste, but unique, like an Austrian Zweigelt or Italian Primitivo. I was never a cider girl, really but the ACE Pineapple cider is so good.
We also offer a wonderful selection of meats, cheeses, crackers, chocolates etc... for purchase. So snacking, sipping and painting make a NOVA night out a fun experience- and for less than a typical night out you leave with a masterpiece and maybe a bottle of wine or two!
BUT I am no artist you say? No problem, either are 95% of the people who paint with us. Our professional and entertaining artists guide you through a featured painting designed for ANYONE to be able to paint successfully. REALLY!
In our upscale art studio and wine shop, we play great music too! Sing along, take a dance break and enjoy a relaxed and fun atmosphere. Fair warning!: once you try it, you will want to come back often!
BUT what will I do with the painting? That will vary. Some never hang them, it is really more about the experience. Some frame it and hang it proudly while others give them as gifts.
If you are reluctant- we suggest trying a "theme" or Holiday painting, this is a fun seasonal decoration and works great for first time painters!
Check out the great Halloween paintings this week. And join us for a great night out!
Fun Fact: All of our paintings are actually usable chalkboards! The acrylic paint on the canvas, once dry can be written on with chalk and easily erased with water and a paper towel.
Cheers!