Getting 2017 Started
I think we can all agree that January 1st is a starting date. It begins the new year and for most of us the start to change or improvement or at least the attempt.
I for one am planning to start this new year with purpose and intention! My resolutions are more of a short term bucket list, but this way I know I will keep them and hopefully make a few changes for the positive in my efforts.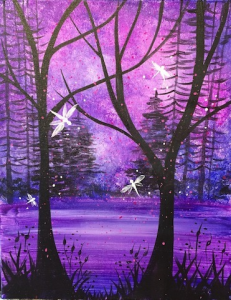 The dragonfly, in almost every part of the world symbolizes change and change in the perspective of self realization; and the kind of change that has its source in mental and emotional maturity and the understanding of the deeper meaning of life. That is a lot of heavy symbolism for an insect! Never the less change in the name of self realization and emotional maturity seems a great inspiration.
In week one of 2017 we are painting 2 dragonfly inspired paintings. Monday January 2nd we are painting Wildwood Enchantment. It is a beautiful purple scene with dragonflies fluttering through. If that isn't exactly what you want to paint... no worries. This year at Pinot's Palette we are all about encouraging your inner artist and if you'd like your forest to be blue, pink, orange... or add butterflies, birds or a spaceship we say,"Go for it- #myYearMyRules"
On Thursday the 5th Jeweled Dragonfly is on the calendar! Bright and cheery and fun to paint! Lots of room for color creativity too!
In the spirit of self realization and embracing 2017 we are hosting Leslie Kane with Mary Kay on Wednesday the 4th for "Women, Wine, and ONE WORD" We will paint a small canvas with our One Word for 2017 (Leslie will explain) and the $17 donation will go to the Shelter House.
We look forward to painting wine tasting and embracing 2017 with you!
CHEERS!