plans for painting
Her objective is to make the right decisions. Safety first of course, but what would it look like to re open the studio for painting in person?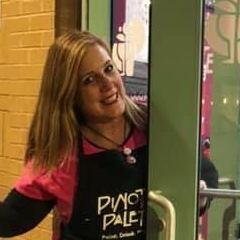 First and foremost as a local small business we have a responsibility to make choices that will best serve our community.
Because of this global pandemic we have learned an awful lot. And yet, it is still confusing.
Maya Angelou said, Do the best you can until you know better, then when you know better do better! Such a powerful statement.
Robyn is focused on keeping up to date on government guidelines and the sentiment of our community. Her priority is to keep healthy and positive while finding ways to keep the painting and fun going.
She has experienced shopping at a grocery store that was only kind of maintaining the cleaning and distancing practices recommended , and was feeling a little uneasy. Then she shopped at Wegmans and was so impressed. The difference made a big impact on her. Needless to say she now only shops at Wegmans that is 20+ minutes away from her house, but totally worth the peace of mind.
This is how she wants her guests to feel- safe and cared for. When the studio is allowed to open for painting in person, she is determined to take additional steps to offer an exceptional experience.
What will it look like?
The plan:
* To be obsessively clean- disinfecting all surfaces and materials before and after each use..
* Limit the number of painters and safely distanced.
* #Bestteameva will wear masks, and we have disposable masks available as well as a selection of"fancy"masks for purchase.
* In the beginning, In-studio events will be limited to small groups that know each other and/or are known to us (for contact tracing if needed) We will offer VIRTUAL TICKETS to a select number of events as well.
* All of this AND FUN TOO- After all that's what we are all about!
Tell us how you are feeling? Are you anxious to come in and paint? Or maybe painting from home is just fine for now?
Robyn is so grateful for the continued support of our loyal painters and friends! THANK YOU and please please please stay Healthy and Positive- Let's get through this creatively and with a positive outlook!