The story about this painting
Do you love sunrises? To me they represent starting anew. With the many challenges faced over the past year + it is essential to continue "rising" to challenges.
I serve on a committee for the Greater Reston Chamber of Commerce; Resourceful Women. Our theme this year is "Rising to the Challenge" This theme prompted the image of a Sunrise for me.
Here's the story behind the art: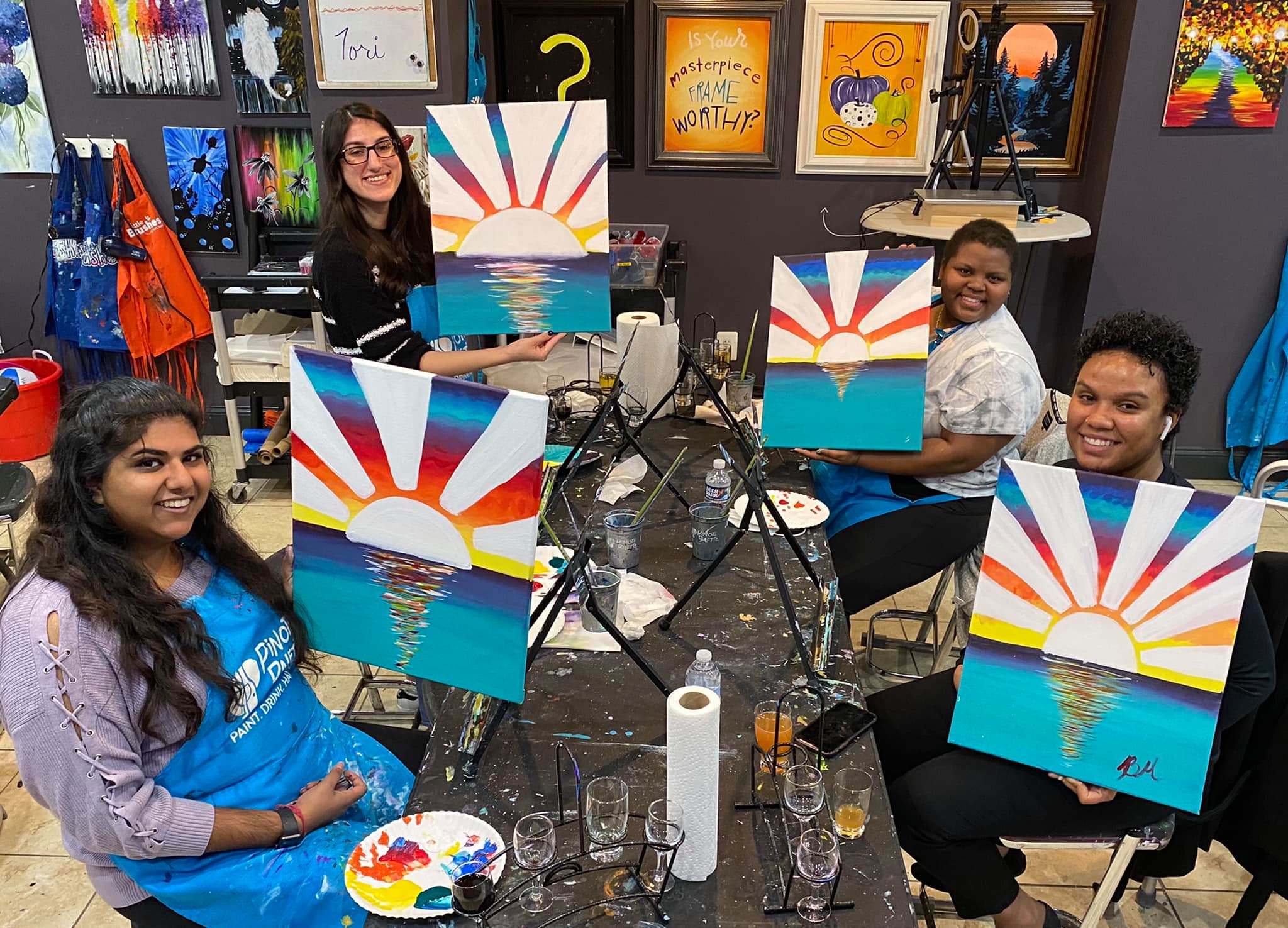 I left the Chamber on a Tuesday afternoon and went directly to the studio. I opened the door and was greeted with a big smile from Tori (#bestteameva) who was painting. Instantly I felt happy, because it's hard not to when you are surrounded by color, and creativity!
Tori, who is ALWAYS up to the challenge was in a painting creation mood- so I asked if she could create a sunrise with Women silhouettes and wine (of course I'd be on a committee that puts wine and fun into our programming). I am happy to proudly display this custom painting at all of our events.
Side note, Tori and all of #bestteameva make rising to the challenge doable. I am so grateful for these amazing artists!
As she was painting I was thinking, WOW I love this, and it looks like so much fun to paint! I suggested she submit it as a new painting. And Rainbow Sunrise was born!
All of the paintings in the Pinot's Palette library are created by our artists and we "test" them locally. Last week on a Tuesday evening a small group of painters were in to paint this new masterpiece. And this is where the story gets even better...
Seated at a table were 4 ladies. Two sets of friends who didn't know each other before painting. They had so much fun together, they signed up to paint again and asked Tori if they could be seated at the same table.
How wonderful it is to operate a business that brings art & fun to our community AND is a place where new friendships are created too!
There are many more stories behind every painting and every paint party!
The best part about memories is MAKING them! We look forward to creating memories, stories and masterpieces with you soon!