Disconnect to Reconnect!
Disconnecting is a national holiday?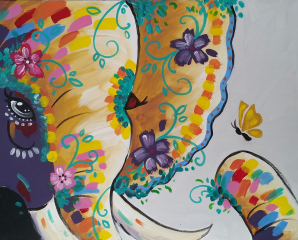 Is your finger on the pulse of liking the next post on several social media accounts at the same time? Well, you are not alone, so is most of the world. What we need to realize is disconnecting allows us to connect with old friends and make new ones. Apparently the world also realized that creating a national day of unplugging might bring down the grid but also help humans to connect and create time to unwind. What could be more relaxing than using the creative side of your brain with a paint brush while drinking wine and connect with your spouse or friends! Join us to celebrate National Unplug Day and reconnect: Sat, 3/4 7pm with a colorful Elephantasia!