Attention All Wizard Fans!
On July 31, one of our favorite wizards is turing 37! In his honor, we're going to celebrate!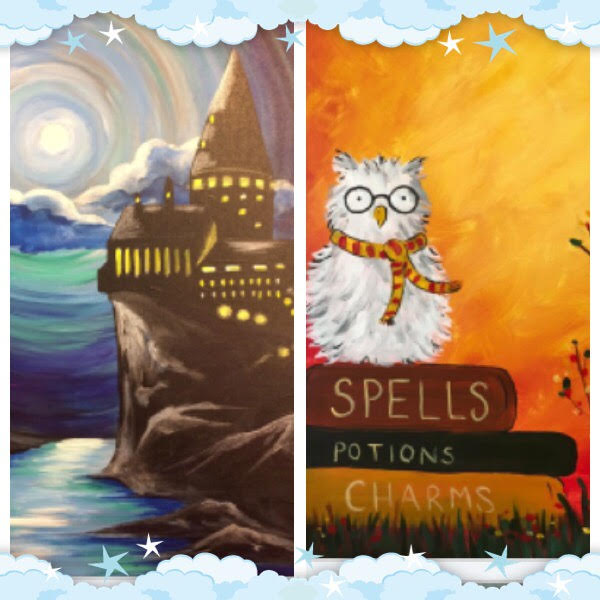 That's right guys and gals- you may know him by his initials, H.P., and he's been in our lives for a very long time... and he's been alive for almost 37 years (and shares a birthday with his creator/author, as well!)
We love this wizard series as much as everyone else, and to show our love, we're having several wizard/magic/HP themed paintings! We even have an entire week of Kid's Summer Camp dedicated to the boy wizard and his world!
Come to Pinot's Palette, Brier Creek, and paint along with us! On July 30, we will be celebrating all day long with the following paintings:
7/30 (10-1pm) - 'The Painting that Must Not Be Named'
(*ages 6+... this is the kid's session and the adult class will be held later that night)
7/30 (11-1pm) - 'Spellbound Scholar'
(*ages 6+)
7/30 (3-6pm) - 'The Painting That Must Not Be Named'
(*adult class)
______________________________________________________________________________________________
Is one day of whimsical/magical creations not enough for your 10-16year olds?? Do they love the famous wizard series and all things fantastic and beastly? All things fun, whimsical, and fantasy?? Well, we have an entire week of paintings coming up to satisfy them!
Kids Summer Camp
Ages 10-16 years old
July 31 - August 4
8:15am-12:45pm, each day
This week's theme: 'Fantastically Beasts and How to Paint Them'
Kids can come each day for $40 or sign up for the whole week and save money!
(5 days for $180).
You can click on the link below to read more about the wizard themed paintings we have coming up (and to sign up for them!)... and also check out the link dedicated to the kids camp information and sign ups!
We hope to see you there... and feel free to dress up in your favorite themed clothing!!!!
Share Sign up for a class HERE! | Read more about the kids camp!