It's Almost Shark Week!!! How Will You Celebrate?!
Sharks have been spotted on America's coasts throughout the summer, and soon they will be swimming on televisions across the county.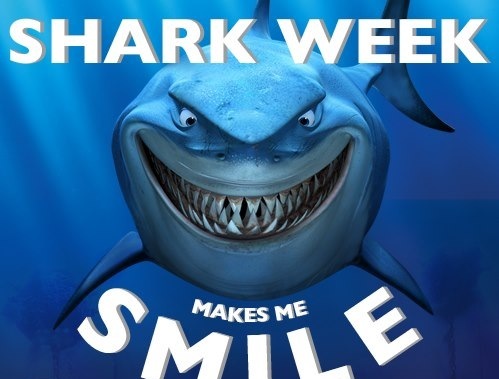 This July, Discovery Channel's infamous 'Shark Week' is coming back for it's 31st year!
This special week-long education of sharks, begins on Sunday, July 28 and runs until Sunday, August 4.
This year's Shark Week on Discovery Channel will feature the event's first scripted feature-length film, which will star Josh Duhamel.
This year's docket of apex predator entertainment includes 20 hours of original programming, including Shark Week's first scripted feature-length film: Capsized: Blood in the Water. The TV movie stars Josh Duhamel and Tyler Blackburn in a dramatic story based on a real-life 1982 shark encounter.
"Shark Week plans to pack in the documentary drama too. This year, the summer event has a host of shows, stocked with respected experts, that dive into the mysterious world of sharks through new stories and daring experiments. Some of the programs include, Sharks of the Badlands — a look into the newest, most cutting-edge shark surveillance technology, which could help Cape Code with their increase in shark sightings — The Sharks of Headstone Hell — a peek into the South Pacific island event where massive tiger sharks are fed giant animal carcasses by islanders — and Sharkwrecked: Crash Landing — a show that features two experts bailing out of a plane at 3,500 ft. in order to see what it is like to crash land in shark-infested waters."
**Your 'Shark Week' guide to all 18 programs:
https://ew.c...all-programs/
If you love the excitement of shark week, and constantly enjoy learning about new things, then join us for a painting and wine class! We'll teach you how to paint (no prior experience, necessary), talk about artistic techniques, and leave you with a sense of pride and accomplishment as you create your masterpiece and take it home to decorate your house!
Sink your teeth into a new activity and join us for a class with loved ones (*)Remember to take advantage of our special 'The More, The Merrier' sale, going on throughout all of July and August:
Buy 3 seats, Get the 4th one FREE with code: SUMMERVIBES at checkout!
***Check out some of our upcoming paintings, depicting sea life and ocean landscapes (to go along with the shark week theme):
July 19, 'Ocean Trance'
This beach path leads you to beautiful water that has you in a trance. Make a heart out of rocks or customize and make it your own.
**This is a brand new painting!!!!
https://www..../event/339178
July 23, 'Paradise Sunset'
The setting sun bathes this tropical paradise in a beautiful array of colors.
https://www..../event/337791
July 24, 'Sea Serendipity'
Deep blue ocean scene with bright bubbles framed nicely by a coral reef. A view from below shows the chance meeting of two sea turtles who are surrounded by small fish. With a simple color scheme painters will enjoy focusing on details such as seaweed, two turtles, fish and bubbles.
*This is painted on a long canvas
https://www..../event/338223
(*) While these are just a few of the ocean-themed paintings on the calendar we're offering these next few weeks, be sure to check our schedule, often, as we're always adding more!!! From whales and dolphins, to big waves, and seascapes, we've got it all!
In addition to our public classes (as seen on the calendar), we also offer private parties at our studio! Book our space for a special painting party of your own, complete with the date, painting, and guest list of your choice!
**Private Parties:
https://www....ivate-parties
**Corporate Events: building events:
https://www....porate-events
**Kids' Parties:
https://www....ainting-party
**Mobile Events:
https://www....ainting-party
Share Your 'Shark Week' Guide | Check out our class schedule!