The Perfect Gift For Someone Special This Thanksgiving
It may not be a requirement, but it's certainly thoughtful and appreciated.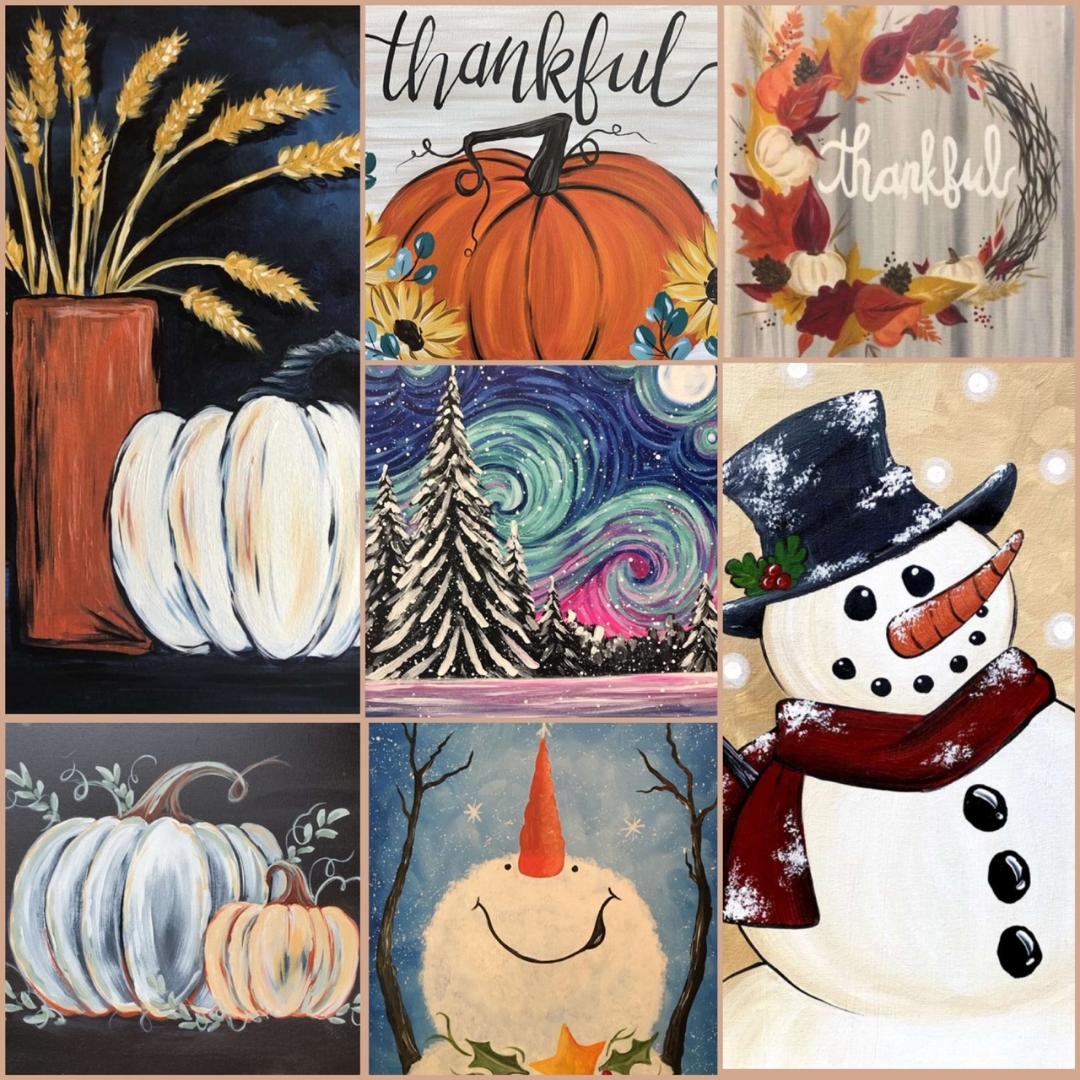 Your mom always said, "Don't show up empty-handed," and this is extra true for Thanksgiving (it falls on November 24 this year), when the host will feel that the stakes—and their stress levels—are higher than a casual Thursday night. Some of the staple hostess gifts, like wine or chocolate, are real winners for a reason (and we have some options below), but it is also fun to show up with something unexpected, like a breakfast treat for the morning after or an indulgent candle. One thing to avoid when it comes to Thanksgiving presents? A bouquet of flowers. The host has enough happening, and arriving with anything that needs to be attended to right away is not ideal. But don't stress, we've come to offer the perfect handmade gift idea for this holiday season: Handmade Artwork!
A CREATIVE EXPERIENCE WITH LOVED ONES
If you don't want to make a painting as a gift, why not give the gift of time together, doing something unique like a painting and wine class?! You can gift the hostess, your family or friends a gift certificate and you can go paint together! Catch up with loved ones this holiday season, before or after the turkey day events, and make something fantastic (and one-of-a-kind) together as you make memories to always cherish.
*Buy A Gift Certificate:
https://www....-certificates
GET READY FOR THE HOLIDAYS
It's never too early to start getting gifts together for the holidays! Christmas always arrives so quickly after Halloween is over so getting some gifts in place as often as you can, takes a lot of the stress off of you as December 25th draws near. Stock up on fabulous, handmade gifts at the same time as you de-stress.
Our winter and Christmas-themed artwork will be on the calendar soon, so keep an eye out for the coutless options, and think about who, in your life, would love these!
Here are some of our favorites to stop in and make before Turkey Day:
(Fall Decor):
11/2 Autumn Moonlight Delight -
https://www..../event/637125
11/6 Sunflowers In A Glass -
https://www..../event/648362
11/6 Copper Harvest -
https://www..../event/642530
11/7 Rustic Chalkboard Pumpkins -
https://www..../event/642530
11/17 Shimmering Autumn -
https://www..../event/649646
11/19 Pumpkins And Flowers -
https://www..../event/649658
(*Paint this one at home):
https://www....-and-flowers-
11/20 Festive and Thankful -
https://www..../event/649697
(Christmas and Winter Artwork):
11/19 Frosty Ornament - Painted Wine Bottle -
https://www..../event/649848
11/20 Starry Night in Winter -
https://www..../event/642523
11/22 Catching Snowflakes -
https://www..../event/649493
11/23 Build A Snowman -
https://www..../event/649493