'Shark Week' Is Here! We're SO Excited For One Of The Year's Most Exciting Weeks!
This year is the 30 YEAR ANNIVERSARY of this truthful, terrifying, informative, intriguing, and exciting show!
If you're a fan of this annual event, then this year is a big milestone to celebrate, so sit back, grab some delicious snacks, and enjoy!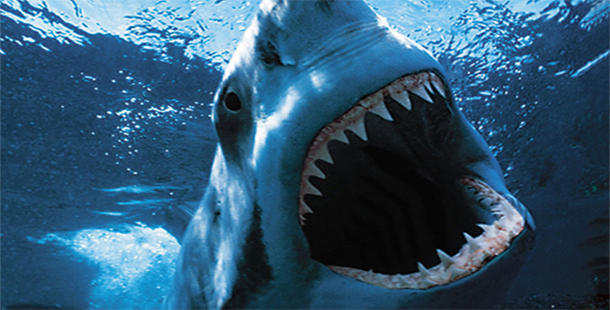 The week, most anticipated by people, everywhere is finally here! No, it's not Christmas, Spring Break, or the super bowl…. It's better!
It's SHARK WEEK!
"Television's longest-running event" celebrates its 30th anniversary this year, and just on this first night, you can enjoy Alien Shark, Bear Vs. Shark, Shark After Dark, and Shaq Does Shark Week. "In addition, Shark Week's team of renowned scientists deliver all-new groundbreaking shark stories incorporating innovative research technology to reveal compelling insight into the mysterious world of sharks." So enjoy these twenty-some hours of shark programming, even though it might add an element of dread to your summer coastal beach visits. After all, like the anniversary promo says, "Times may change, but awesome never gets old.""
Shark Week is an annual, week-long TV programming block created by Tom Golden at the Discovery Channel, which features shark-based programming. Shark Week originally premiered on July 17, 1988. Featured annually, in July and/or early August, it was originally devoted to conservation efforts and correcting misconceptions about sharks. Over time, it grew in popularity and became a hit on the Discovery Channel. Since 2010, it has been the longest-running cable television programming event in history. Broadcasted in over 72 countries, Shark Week is promoted heavily via social networks like Facebook and Twitter.
(*Episodes are also available for purchase on services like Google Play Movies & TV/YouTube, Amazon Video, and iTunes. Some episodes are free on subscription-based Hulu)
The first Shark Week premiered in July 1988, with the first show to air being Caged in Fear. A total of 10 episodes aired. In 2000, Discovery Channel aired Shark Week Uncaged presented by famous zoologist Nigel Marven as a host. In 2005, Adam Savage and Jamie Hyneman of MythBusters hosted Shark Week, which premiered with a two-hour MythBusters "Jaws Special". In 2007, Discovery Channel celebrated Shark Week's 20th Anniversary hosted by Les Stroud, host of Survivorman
***VIEW THE FULL SHARK WEEK SCHEDULE HERE:
https://www....rcreek/events
Stop by the studio for one of our classes throughout the week so you can celebrate this special time with not only amazing shows, but some excellent artwork, too! Here are some of the classes we're offering, all week-long (including the BIG CELEBRATION on Tuesday, July 24):
***July 24, 'SHARK!'
Time to feed the fish, mind your fingers and toes! We're painting a lovely beach scene with cool waters and a lovely sunset sky- all of the peacefulness of a great landscape with one small (or...large) addition: some shark fins!!!
SHARK WEEK EVENT! Great Family Day FUN! Trivia and complimentary snacks and chance to win free seats and giveaways
https://www..../event/253726
July 25, 'Heart In The Sand'
Draw your heart in the sand on this serene beach. Let the waves roll in and take you away on this relaxing vacation to Pinot's Palette. The stunning colors in this painting will work perfectly in any room of your home and is super fun to customize with the message or initials of your choice, in the sand.
https://www..../event/246243
July 26, 'Blue Heron'
Great blue heron painted in cool spring/summer colors. If you love the water and everything the come with it, then you'll have a great time creating this gorgeous blue heron on a long canvas! This elegant bird is painted in soft and delicate hues, just like it's real-life characteristics. The canvas measurements lends itself to a great fit in any space!
SPECIAL for this class: It's Thirsty Thursday . Bottles of wine are 50% off.
**ONLY 4 seats left— register soon!
https://www..../event/247250
July 27, 'Safari Glow'
This painting looks great in regular light or black light. But no matter the setting you're sure to feel like you're on a safari adventure! The bright and bold, warm tones in the sky contrast perfectly with the dark silhouette of the African tree.
https://www..../event/246160
'Pure Tranquility'
Vibrant violets radiate from this tranquil sunset landscape.
***Join us in celebrating the upcoming release of Christopher Robin (Walt Disney Studios). You will have the opportunity to win some movie swag including advance screening passes!
https://www..../event/247307
Join us for the remainder of 'Shark Week' as well celebrate another important day of the year: the birthday of one of our favorite boy wizards! Harry is celebrating a birthday on July 31 and we have 3 different extraordinary classes to honor his character and the movies and books that we all know and love.
*See what's coming up for these special, themed classes:
https://www....intingclasses
In addition to the paintings we're offering for 'Shark Week', we have a huge selection of other classes, running throughout the end of the month and all of August, so be sure to check them out on the calendar link at the bottom of the page! A painting and wine class is such a fun way to spend time! You get to hang out with loved ones, sip delicious wine, and create a hand-made work of art that you can be proud of and cherish forever! No matter your prior painting experience, we've got a great team of artists and assistants that will be there for you, the whole time! The majority of our customers are first-time painters so no need to worry if you haven't picked up a brush since 3rd grade… We've got you!
We hope to see you soon for a class at our studio if you're looking for something fun to do in or around the Raleigh-Durham area! We make the perfect event for everything from a fun and unique date night, an awesome girls' night out experience, and we even offer private events! When you view our classes on our website, you'll be viewing our schedule for our public classes, but you can also book a painting party with the guest list of your choice! Come in to celebrate a birthday, bridal shower, reunion, retirement, and more with friends and family, sharing their artistic sides, together. Make memories that will last a lifetime with a souvenir to treasure forever with one our classes.
*Learn more about our private parties, here:
https://www....ivate-parties
We also play host to tons of corporate events, too! Why not book your next work party or team building event with us? We offer several styles of paintings that incorporate team building strategies, encouraging the whole office to work together, creating a stunning world of art!
*Read more about corporate events, here:
https://www....porate-events
Finally, in addition to out studio parties, we offer mobile events, off-site! You choose the location and we'll come to you with all of the supplies!
*Learn more about out mobile events, here:
https://www....ainting-party
Share View the complete schedule for Shark Week | View our full calendar here!