Paint For Your Next Date Night, Girls' Night, Or Family Day!
Check out the upcoming classes and make a date to spend time with the ones you love most to make some artwork and reconnect!
Here are some of the best classes for family days, girls' nights in or out, date nights, and more !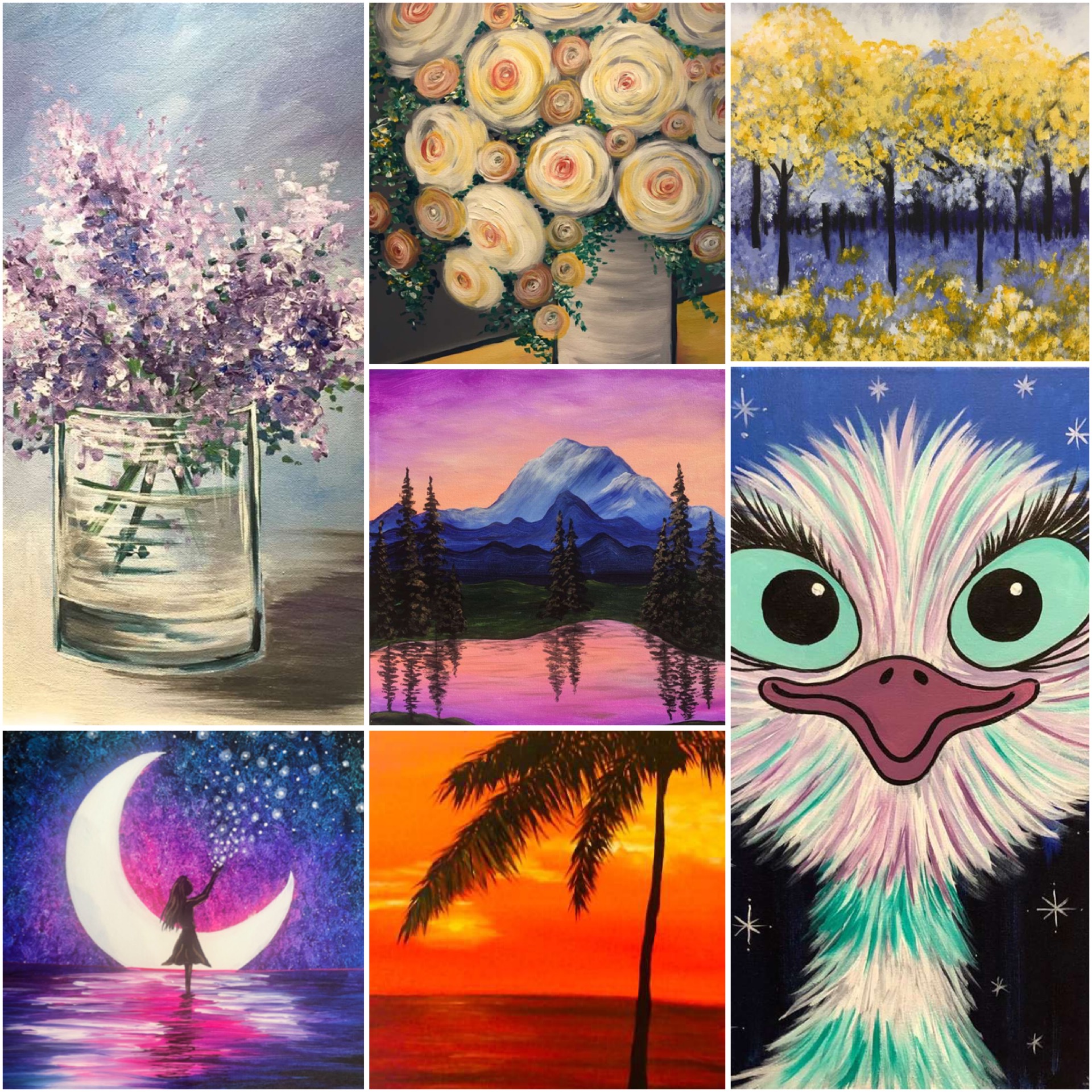 GIRLS' NIGHT
Gather your ladies together to reconnect over wine, snacks, and of course painting! Whether you're coming together in-person or hanging out virtually, a painting class is the perfect way to spend time with friends! Bond over something fun and creative and make your own snacks and wine while you're working at home!
1/10 Sassy and Classy (*In-Studio)
With her lovely flowered sun hat, Sassy is ready for the garden party.
https://www..../event/509553
1/11 Le Which (*Virtual)
Beauty is in the eyes of the beholder. Though it helps to have a chic outfit and lipstick in the perfect shade.
https://www..../event/510031
1/12 Nite Lite (*In-Studio)
Light up your world and house with this fun crescent moon painting! If you have a blacklight at home, this painting will glow in the dark too!
https://www..../event/510043
(Pre-Recorded Class):
https://www....op-item/32626
1/15 Snowflake Dance (*In-Studio)
Celebrate the winter season by painting this cold weather goddess!
https://www..../event/510055
(Pre-Recorded Class):
https://www....op-item/32625
1/18 Baby Got Bow (*In-Studio)
I like big bows and I cannot lie...
https://www..../event/509861
(*Virtual):
https://www..../event/509864
_________________________________________________________________________________________
FAMILY FUN
Gather the whole family together to get creative and make art any day and and time! With our Take-Home Kits you can conveniently paint from the comfort and safety of your own home when it's the best time for you. There's nothing like some quality time with loved ones (especially during the last year we've all had), and we have all had extra time at home together; Make the most of it and make some artwork to display in your home!
1/16 Icey You Emu (*In-Studio)
This inquisitive emu is ready for a winter adventure with lashes on fleek! The eyes have it on this cheerful painting!
https://www..../event/510034
1/16 Poppy (Pre-Recorded Class):
Create your own version of Poppy or customize the painting to create any of your favorite Trolls characters. Painting of Poppy is Approved by DreamWorks. We worked with them on a DVD release.
https://www..../event/509824
AND SO MUCH MORE!
More Pre-Recorded Virtual Classes For Every Age!
https://www....iercreek/shop
These take home paint kits include a video tutorial walking you step-by-step through how to create the painting and the supplies you'll need to make the artowrk!
Canvases, paint, brushes, apron, water cup, and paper plates! Pick up at the designated time and place or call to schedule a pick up! We make it easy and safe to paint at home for everyone.
_________________________________________________________________________________________
DATE NIGHT
Spend some time with your sweetie and make some art! Work together to make art on your own canvases or make a large work of art that you can display together! Our "Date Night" classes are a great way for you and your significant other to do something unique and creative and then have a souvenir to always remember the night by!
1/10 Winter Twilight (*In-Studio)
The month of September is the ideal time to witness a gilded aspen spectacle on a scenic drive in Colorado, but you have to time it right: The color lasts only about a week in most places. It's difficult to predict when exactly the leaves will turn in any given location, but aspen lovers can enjoy this painting any time of year!
https://www..../event/509551
(*Virtual):
https://www..../event/509552
1/11 Chunky Knit Blankets (*In-Studio)
During this one-of-a-kind event, we will guide you step-by-step through hand knitting a warm, soft chunky knit blanket. No needles or knitting experience is required and all supplies will be provided.
https://www..../event/510110
1/16 A New Winter (*In-Studio)
Step into a new winter and enjoy this refreshing nature scene.
https://www..../event/509723
(*Virtual):
https://www..../event/509724
1/17 Marble Art (*In-Studio)
This immersive, expressive type of pour art painting is so cool! It is a fun experience, easy to make and looks very professional. Select the colors you want to create a one-of-a-kind masterpiece, specific to your taste and home's décor.
https://www..../event/510086
1/23 Sunrise Wish (*In-Studio)
Ahhhh…Take in that beautiful scene. My sunrise wish in paradise.
https://www..../event/510084
(*Virtual):
https://www..../event/510085
1/30 Smokey Mountain Morning (*In-Studio)
The dawn sky reflects upon this mountain lake in the earliest hours of the morning.
https://www..../event/510040
(*Virtual):
https://www..../event/510041
_________________________________________________________________________________________
Relax And Paint On Your Own
Painting is a proven stress-reliever, like many other creative activities, and something that's perfect to do alone! Take some time for yourself and unwind with a painting class (add a little wine in there for extra relaxation), and make a masterpiece to treasure. Paint a peaceful landscape and have fun experimenting with colors and styles, making your creation, one-of-a-kind.
1/17 Lilacs In A Glass (*In-Studio)
Inspired by Manet's painting, this bouquet of purple lilacs can add a soft touch of color to any space.
https://www..../event/509857
(*Virtual):
https://www..../event/509858
1/23 Snowy Barn (*Virtual)
Snowy forest barn in a magical winter wonderland!
https://www..../event/509726
1/24 Peaceful Posies (*In-Studio)
Send a message of peace and love with this serene bouquet.
https://www..../event/510089
(*Virtual):
https://www..../event/510092
1/28 Talking To the Moon (*In-Studio)
When nobody is listening, take a break from reality and tell your dreams to the moon.
https://www..../event/510117
(Pre-Recorded Class):
https://www....op-item/26917
1/30 But First, Coffee (*In-Studio)
Display your priorities with this customizable caffeine-themed creation.
https://www..../event/510114