Our Favorite Boy Wizard Is Turning Another Year Older! Let's Celebrate!
This July 31st, Harry turns 39 and we LOVE to celebrate his big day with some excellent classes, just for you!
This will be our biggest HP B-day celebration, yet, as we're offering FIVE classes, filled with painting, trivia, prizes, and more!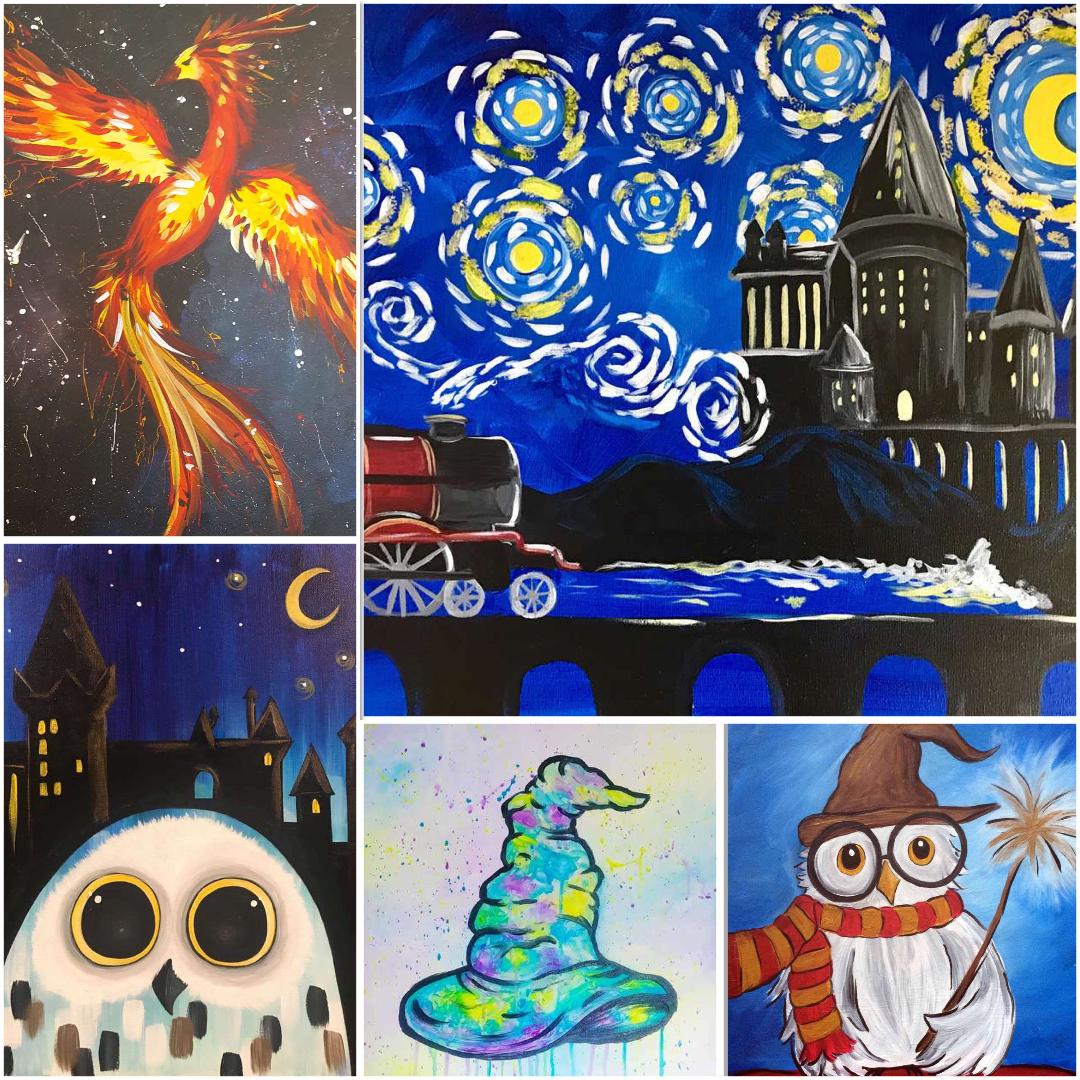 There's no denying that our customers love to create some HP artwork! Whenever we offer the special paintings on the calendar, we have a large crowd of fabulous fans, ready to paint some masterpieces in the theme of their favorite fantasy novels (and movies)! These classes are some of the best, as they draw together and connect dozens of HP fans, eliciting fun conversations, creative interactions, and in the end, a handmade work of art to call your own!
Though July is the only month when we offer this many paintings on theme with our beloved wizard, it's certainly not the only time of year when we host these classes; Always check our calendar for other HP themed paintings, as we have a lot of the in our library and enjoy offering them from time to time!
Remember to sign up ASAP as they do tend to sell out :)
We hope to see you all soon for these excellent classes, in celebration of a birthday, magic, and all of our other beloved characters!
*** KEEP IN MIND OUR SUMMER SALE:::
Bring all of your friends and family to join in the fun with you for these classes (or any others this July and August)!
Special offer: Book 3 seats, get the 4th free!
(Good for any regularly priced , public event this summer)
Use promo code SUMMERVIBE at checkout.
BIRTHDAY CELEBRATIONS:::
********** Saturday, July 27th — 3 classes on this day! **********
Class 1 (11am - 1pm)
'You-Know-Hoo'
You know Hoo it is. Have an enchanting time painting this adorable owl. He has just enough magic to light up your room with cuteness!
Happy Birthday Hp! All Ages are welcome for this birthday celebration. Trivia and Prizes and other surprises! Yay!
*Sign up:
https://www..../event/333421
Class 2 (3 - 5pm)
'From The Ashes'
A bold image of a phoenix rising from the ashes against the backdrop of a nebula-laden galaxy.
Guess who's birthday we are celebrating?
We'll have trivia and prizes and other surprises. Bring your friends and family to join in the fun!
*Sign up:
https://www..../event/333420
Class 3 (7 - 10pm)
'Starry Night Wizard's Express'
On this starry night, the wizards are taking the express all the way to the castle.
Enjoy Trivia , prizes and other surprises as we celebrate a famous wizards birthday in the style of a famous artist.
*Sign up:
https://www..../event/305616
********** Sunday, July 28th ************
'A Hat For All Sorts'
What sort are you? Customize the colors on this fun hat. Try colors that will glow under the black light. Add a face. Whatever your fantasy, it's your sort of hat.
Trivia and Prizes and other surprises
*Sign up:
https://www..../event/340903
********** Wednesday, July 31st ********** <3 HAPPY BIRTHDAY HP <3
'Magical Snowy Owl'
Join us for this fun painting while we create our own wizardly owl and castle scene.
"We do not need magic to change the world, we carry all the power we need inside ourselves already: We have the power to imagine better."
Trivia and Prizes and other surprises
*Sign up:
https://www..../event/315794
More Potter fun...
— WIZARDS UNITE ™ — A Fun and Interactive Game For The Ultimate Fan!!! *** Check it out if you're not already playing!!
"Harry Potter ™, Wizards Unite is a real-world augmented reality (AR) game inspired by the Wizarding World that puts magic in your hands. Like Pokemon Go™, Wizards Unite uses Google mapping to make it look like characters are appearing in the real world. Players see characters, creatures and other elements overlaid on the landscape that they see through their phone's camera as they move around.
Magic is out in the open and on the loose, and it's up to you as the player to hide it and cover it up before muggles (non-magic folk) see it and figure out what's going on. Once you download the game, you will be able to establish yourself as an official member of the wizarding world and the Statute of Secrecy Task Force."
***All about this fun and trending game:
https://www....ardsunite.com
Share Fun info about why HP's Bday is on 7/31 | View our full class calendar