March Is Women's History Month
"Every year March is designated Women's History Month by Presidential proclamation. The month is set aside to honor women's contributions in American history.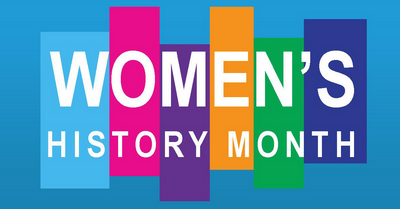 Women's History Month actually started as Women's History Week
Women's History Month began as a local celebration in Santa Rosa, California. The Education Task Force of the Sonoma County (California) Commission on the Status of Women planned and executed a "Women's History Week" celebration in 1978. The organizers selected the week of March 8 to correspond with International Women's Day. The movement spread across the country as other communities initiated their own Women's History Week celebrations the following year.
In 1980, a consortium of women's groups and historians—led by the National Women's History Project (now the National Women's History Alliance)—successfully lobbied for national recognition. In February 1980, President Jimmy Carter issued the first Presidential Proclamation declaring the Week of March 8th 1980 as 'National Women's History Week'."
Women's History is Women's Right.
It is an essential and indispensable heritage from which we can draw pride, comfort, courage, and long-range vision. I ask my fellow Americans to recognize this heritage with appropriate activities during National Women's History Week, March 2–8, 1980. I urge libraries, schools, and community organizations to focus their observances on the leaders who struggled for equality –Susan B. Anthony, Sojourner Truth, Lucy Stone, Lucretia Mott, Elizabeth Cady Stanton, Harriet Tubman, and Alice Paul.
We love to celebrate anything we can that promotes positivity, whether it's in memoriam of the men and women of the past or in efforts to work together to end world wide hunger, and strive for better health. Black History Month, Women's history month, American Heart Month, Autism Awareness Month, Mental Health Awareness Month, and many others are so important to implement in our lives in any way we can.
This month, celebrate women everywhere and come in with all of the strong and amazing female loves of your life and paint, drink wine, and have fun at Pinot's Palette! While all of the paintings on out calendar are fabulous and would be a lot of fun to create, there are a few upcoming paintings throughout March we'd like to highlight as a great time to come in with your loved ones! Bring in your sister, mom, grandmother, cousins, bffs, and other incredible women to enjoy spending time together and making some masterpieces!
3/8
'Psychedelic Starry Night'
This vibrant take on Van Gogh's Starry Night is just as fun to paint in the daylight as it is under blacklight. The glowing color palette is easy to customize, and the simple design is very beginner-friendly. Join us and paint your own technicolor masterpiece!
https://www..../event/307641
3/20
'Winter Blooms'
Winter can be cold a dreary, but you can beat those Winter blues with some friends, wine and painting! Create a winter flower bouquet adorned with icicles and metallic sparkle paint to brighten your walls this season.
Special: Wine Down Wednesday $30!
https://www..../event/307726
3/30
'Playful Posies'
Playful Posies will add charm & vibrancy to any wall, and a smile to any face. Not only is this painting so fun to create, it also offers the opportunity to get creative with your colors.
https://www..../event/307662
3/31
'Sunday Goddess'
Pretty in pink! She's all dressed up in her Sunday finest.
Upgrade your experience with $12 Bottomless Mimosas
https://www..../event/305620
We hope to see you soon for a painting and wine class! Gather all of your friend and family together to come in and spend tie, making artwork and memories in our studio.
In addition to our public classes, we're also always offering private events where you can book our studio for a special event!
**Private Parties:
https://www....ivate-parties
**Corporate Events: building events:
https://www....porate-events
**Kids' Parties:
https://www....ainting-party
**Mobile Events:
https://www....ainting-party