Host The Perfect Cookie Exchange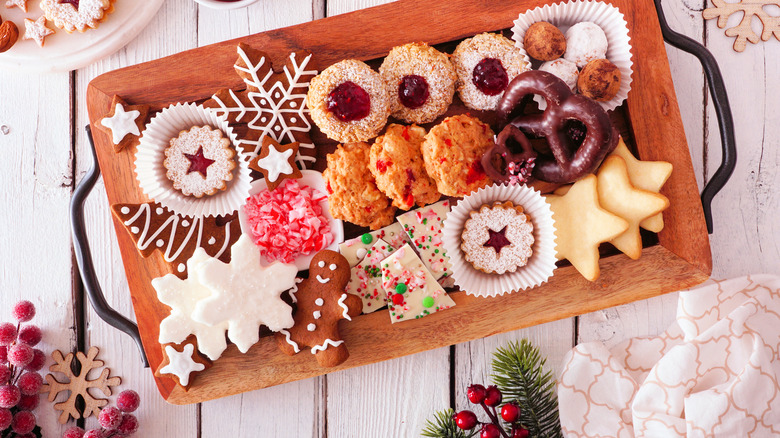 A cookie exchange party is a fabulous way to celebrate the holidays, or ring in the New Year. Nothing brings us together like baked goods, and unlike a White Elephant party where the guests bring gifts, a cookie swap event asks each guest to show up with a dozen or more home-baked cookies. At the party, everyone gets to sample an assortment of cookies baked by other guests, and then leaves with a take-away container of their favorite cookies—and a whole lot of delicious cookie recipes. Host a cookie exchange for the ones you love with our complete party planning guide, including a detailed timeline.
—— HOW TO ——
Invite friends:
** Remember, you'll be baking enough cookies for every guest to take home, so don't invite the entire neighborhood.
Shoot for eight to 10 friends who like to bake and will have fun spending an evening together—consider the same group you'd include in a white elephant gift exchange.
** If some of your guests have children, this is also the best time to clearly state whether kids are invited along with their parents.
** Wrap up the invitation with RSVP information, such as your email address, phone number, or a clickable link to RSVP. Include an
RSVP deadline date, so you can follow up with guests. You can also ask guests to respond with information about what kind of cookies they will bring, and ask them to share their cookie recipe electronically, so it can be shared with other guests after the party.
** If there are any allergens your guests should omit from their baking, state this clearly on the invitation.
Determine how much everyone will make:
** Typically, guests bake a dozen cookies for each attendee. A half dozen per guest would work if the party is large (say, more than 10 participants), or if you just want a sampling of treats, not enough to feed an army over the holidays.
** Decide on your cookie and shop for ingredients.
You'll be making a large amount of one cookie, so you may be able to buy ingredients in bulk.
Set a menu of other snacks and drinks:
** Have some simple appetizers and beverages on hand during the cookie swap. Consider non-sweet dishes like vegetable dips or finger sandwiches, since you'll probably be nibbling on cookies.
** Designate your largest table. Be prepared to clear off the dining room table, or gather a few folding tables to make a long buffet where guests can spread their treats. Consider it practice for any gift exchange ideas you plan to try later.
** Gather serving trays. Have platters to display the cookies, or alert your guests to bring their own.
** Buy extra plastic wrap and storage bags. In case a guest forgets to bring a large container for toting home cookies, have supplies on hand.
-- Two Days Before
** Bake the cookies.
If you have time to make the cookies more than a couple of days before the party, freeze them. With some recipes, you can even prepare the dough well in advance—it will keep for up to three months in the freezer.
-- The Day Before
** Set up the room. Decorate the table with a festive tablecloth or a holiday centerpiece, and push other furniture aside so that people can easily cruise through the cookie buffet.
** Prep appetizers. Have the non-cookie food ready to go.
** Thaw any frozen cookies.
If you baked ahead and froze the cookies, bring them to room temperature overnight.
-- The Day of the Party
** Set up drinks.
** Have cocktails or coffee ready when guests arrive.
** Put out cookies and food.
** Finish any last-minute decorations.
** Make a plan for how everyone will move around the room.
** And be sure to have guests tell everyone about their recipes.
-- After the Party
** Collect the recipes.
** Have guests e-mail their delicious cookie recipes afterward. You can compile a master list of them and e-mail it to everyone at once.
—— COOKIE RECIPES ——
We can all agree: One of the BEST parts of the holiday season are all the sweet treats, the most classic of which are Christmas cookies. We get excited every year to combine our old standbys with creative and innovative recipes to share with friends and family. Luckily, there are myriad opportunities to try them all out, whether you're making them for a party, to give as gifts, or just to enjoy during a cozy night in at home.
(The Fascinating History Of The Christmas Cookie Tradition):
https://cult...tmas-cookies/
30 Best Cookie Recipes:
https://www....kies-recipes/
—— PAINTING AND COOKIES ——
Set up the time for your cookie exchange and pair it with a painting for all of your guests. They'll leave with a box of cookies AND a handmade work of art. With our 'Paint At Home' options, you can create art from anywhere, anytime!
It's Simple:
— Choose the painting you want to create
—Let us know if you need the materials or if you have them at home
—Decide between the written instructions or the recorded ones to walk you through the steps
—Paint! :) That's right - just like in our public classes, you'll take it one step at a time with all of your friends as you paint you masterpieces.
Be sure to take plenty of photos!
https://www....paint-at-home