Fall Drinks That's Aren't PSL's!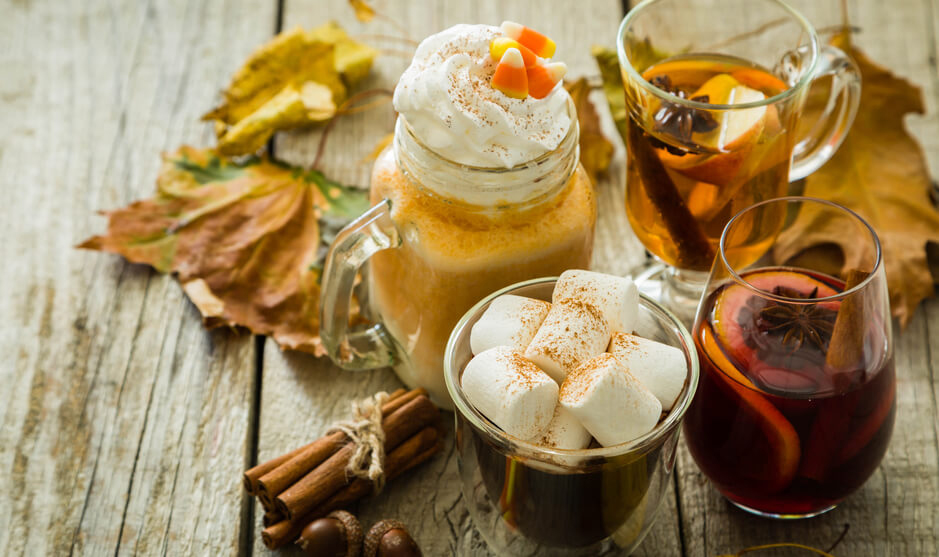 It's officially Fall, and you know what that means: Everywhere you turn its comfy sweaters and boots—not to mention everyone's very favorite fall sip: the pumpkin spice latte.
But y'all, I'm here to tell you that there is more to fall than the PSL. Starbucks does not have a monopoly on your beverage consumption from September to December. It's time to throw off the chains of conformity and have some drinks this fall that challenge the status quo. While the rest of the world takes filtered Instagram selfies with their PSLs, you can avoid being #basic by drinking something a little more adventurous while the leaves fall. (Granted a lot of the yummy fall drinks in this list are spiked, so they won't replace your morning latte. But a fall happy hour is the best kind of happy hour, in my opinion.)
Enjoy! :)
----- HOT DRINKS -----
Hot Chocolate
We can't make a list of alternative fall drinks without including this sweater weather staple. A hot chocolate always hits the spot after a cold evening of romping in the pumpkin patch. Hot chocolate can be made with a variety of milk alternatives, flavors, and toppings. Enjoy it as a classic or make it your own by adding a unique twist.
Apple Cider
Apple cider doesn't only taste good when baked into donuts. The perfect companion for a trip to the local apple orchard, this warm sparkling drink offers a delightful balance of sweet and tart with complex notes of spice.
Apple cider is essentially raw apple juice made by chopping, mashing, and pressing apples to extract their liquid— it's the closest thing to eating an apple right off the tree!
Fall Coffee
You don't need pumpkin spice in your morning cup of Joe for it to qualify as a fall drink.
There are plenty of seasonal alternatives, like this recipe for a Hot Ginger Coffee— perfect for staying warm on your chilly morning commute. Just brew together ground coffee, orange zest, chopped crystallized ginger, cinnamon, and water in your machine, then garnish with whipped cream, cinnamon sticks, and orange zest.
Matcha Latte
"Fall has arrived, weather has turned and we're in the mood for afternoon matcha! After coffee all through the am, Jittery Joe's Matcha Latte is a favorite around here. We steam ground clove and orange peel in milk and express the peel over the top of the finished latte, along with a drizzle of honey. It's amazing. Our Kokoro Matcha is imported directly from friends in the Aichi Prefecture in Japan. The warm combination of ingredients [is] a wonderful and healthy boost on a cold day."
Cinnamon Creamed Honey Latte
"The most popular item on our fall menu is the Cinnamon Creamed Honey Latte. It has no artificial sweeteners, and to our knowledge, is the first latte of its kind. We've partnered with a fourth-generation beekeeper out of Sacramento called Backroad Beekeeping to use their creamed honey as an ingredient on this year's menu. The creamed honey is a naturally solidified honey that is both spreadable and dissolvable. The cinnamon creamed honey mixes perfectly with our espresso and cinnamon milk, dairy or non-dairy, and [works] hot or iced."
----- COLD DRINKS -----
Blackberry & Sage Spritzers
To make these spritzers, start with fresh blackberries, and cook them with honey and sage until they are soft and the berries start to burst.
What you're left with is an herbaceous and juicy, honey-sweetened mixer that is perfect for summer! Add some of this syrup to a glass filled with ice and top it off with sparkling water! You can vary the sweetness of the spritzer to your taste. If you like things on the sweeter side, add a bit more syrup to your glass.
https://www....kitchn-205904
Caramel Apple Float
Who doesn't love the flavors of caramel, apples, and vanilla ice cream together? If If you're feeling fancy, drizzle caramel syrup around the inside of your glass before adding the apple cider and ginger ale.
https://www....-apple-float/
----- COCKTAILS -----
Autumn Apple Bourbon Fizz
This fizzy drink is cold yet warming at the same time! We love drinks that gives us that dual sensation.
Apple butter in a cocktail? Why not? It's fall, after all. Apple butter, bourbon, a dash of cinnamon, and ginger ale or beer on top make this tasty drink.
It's easy, yet the flavor combination is spot on.
https://www....ter-cocktail/
Ginger Pear Bourbon Cocktail
This smooth cocktail is fruity and sweet with a bit of spice. It has all the fall flavors anyone can ask for.
The combination of smooth bourbon and warm ginger is just spot on.
There's a bit of lemon juice in there, too, which contrasts the sweetness of the pears and honey so well
https://www....bon-cocktail/
Pumpkin Pie Martini
Sure, you can't go wrong with beer and champagne, but this martini definitely adds another level of festiveness to your party.
The flavor is everything you'd imagine a pumpkin cocktail would be.
It's sweet with a bit of spice, and so cozy and warming. It's the ultimate dessert and cocktail in one!
https://nobl...a-tinirelief/
Maple Old Fashioned
There's nothing wrong with the classic old-fashioned, but it also couldn't hurt to give it a little fall twist.
Instead of just bitters, whiskey, and a slice of fruit for garnish, we're throwing in a splash of maple syrup.
Not only does the maple syrup add some sweetness to the otherwise bitter drink, but its distinct flavor also gives it a nice autumn feel.
https://www....old-fashioned
Apple Cranberry Moscow Mule
It's a mix of vodka, cranberry juice, sparkling apple juice, and ginger beer, with fresh cranberries and sliced apples for garnish.
It's not too sweet, not too bitter, just perfectly delicious.
Aside from vodka, you can also use gin or tequila. Or, make a mocktail and just skip the liquor. It'll be delicious, either way.
https://what...-moscow-mule/