Delicious Recipes To Make and Bring To Thanksgiving Dinner
The countdown to the official start of the holiday season is just a week away…. Happy Thanksgiving!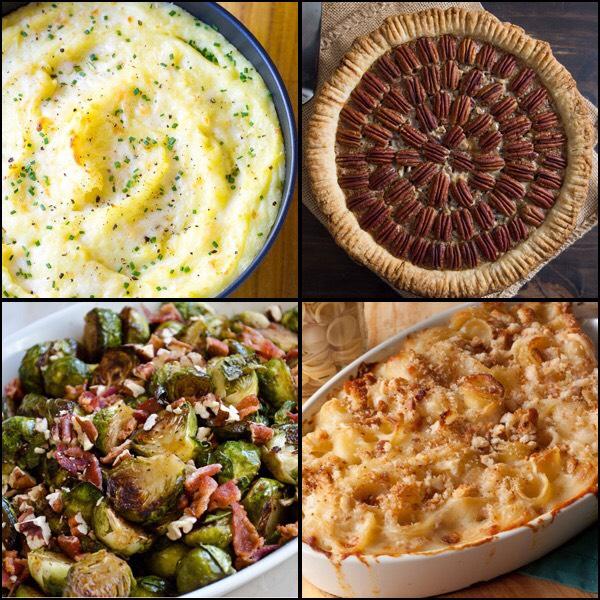 Whether you're the one making the entire traditional Thanksgiving meal, or if you're looking for some new fabulous dishes to serve alongside the turkey, here are some great ideas! These recipes are tasty, homemade (but not hard to make), and will make everyone at the table, HAPPY!
Make these dishes to a potluck-style dinner; Pass the recipes along to friends and family who are looking for something to bring to help you out; Or just keep them on hand to eat with the family during a weeknight meal!
These tasty treats are guaranteed to make you smile, want seconds, and find a home in your regular recipe rotation!
Enjoy!
Sausage Pear Stuffing
Firm pears such as Bosc or Anjou stand up well to baking and make a delicious foil for Italian sausage in this sweet-and-savory stuffing.
https://www....pear-stuffing
Potatoes
This simple and cheesy side dish with tips to make them fluffy, not pasty; You're sure to LOVE this recipe!
https://www....atoes-recipe/
Parmesan Butternut Squash Gratin
Crispy bread crumbs add a bit of crunch to tender slices of butternut squash seasoned with garlic and Parmesan, making this a can't-miss side that even veggie skeptics adore. It's also easy to make ahead — perfect for holiday feasts.
https://www....-5baf1e9686ab
Macaroni and cheese
This is the ultimate comfort food. Thick and creamy, and full of cheese!
https://what...i-and-cheese/
Green beans
For this simple side dish, crisp green beans are sautéd with caramelized salsify, toasted pecans and strips of intense country ham.
https://www....am-and-pecans
Roasted Brussels Sprouts With Bacon, Pecans, and Maple-Balsamic Vinaigrette
This spicy version from the New York Times recipe section is simple to make, and beautifully stunning to the eye.
https://www....c-recipe.html
Sweet potato casserole
This version of the classic Thanksgiving side dish forgoes the traditional marshmallow topping for a generous sprinkle of brown sugar, butter and pecans. You get crunchy, soft and sweet all in one glorious bite.
https://cook...ato-casserole
Parker House Rolls
These are the perfect all-American dinner rolls — light, buttery and yeasty. They'll be the star of any buffet breadbasket.
https://www....cipe2-1916763
Spicy Cranberry Apple Relish
All of the best flavors of Fall come together in this sweet, tangy, and spiced dish!
https://fbwo...apple-relish/
Gravy
Ina Garten's foolproof homemade gravy gets an unexpected flavor boost from cognac.
https://www....ecipe-1940501
Pumpkin pie
This is a rich, spicy pie that slices well and has a bright pumpkin flavor.
https://www....in-pie-recipe
Pecan Pie
This pie is chock-full of pecans and the light caramel custard filling sets up well, making it easy to slice and serve neatly.
https://www....-dessert.html
Pumpkin Roll
This classic pumpkin roll recipe is made with a delicious pumpkin cake and heavenly cream cheese filling…and it's surprisingly easy to make.
https://www....-roll-recipe/
Remember to keep our painting and wine classes in mind for a great way to spend time with friends and family during the holiday of love and thankfulness. We specialize in painting classes for first time painters to enjoy and try their hand at something new (*experienced painters will love them, too!).
We have an amazing calendar for the remaining weeks of the year, filled with holiday-themed and winter-inspired paintings that are sure to get you in the spirit of the season.
You can buy some gift certificates from us, too!!! Make us a one-stop-shop for a lot of the names on your list and check them off, twice! Give the gift of an experience to all of your loved ones, both young and old, with this creative present that everyone will love!
Cheers!