Colorful Creations To Brighten Your Home!
Check Out All Of The Bright And Beautiful Paintings Coming Up! Make One (or 2… or 3) and Hang Them In Your Home — Or Give Them As Gifts!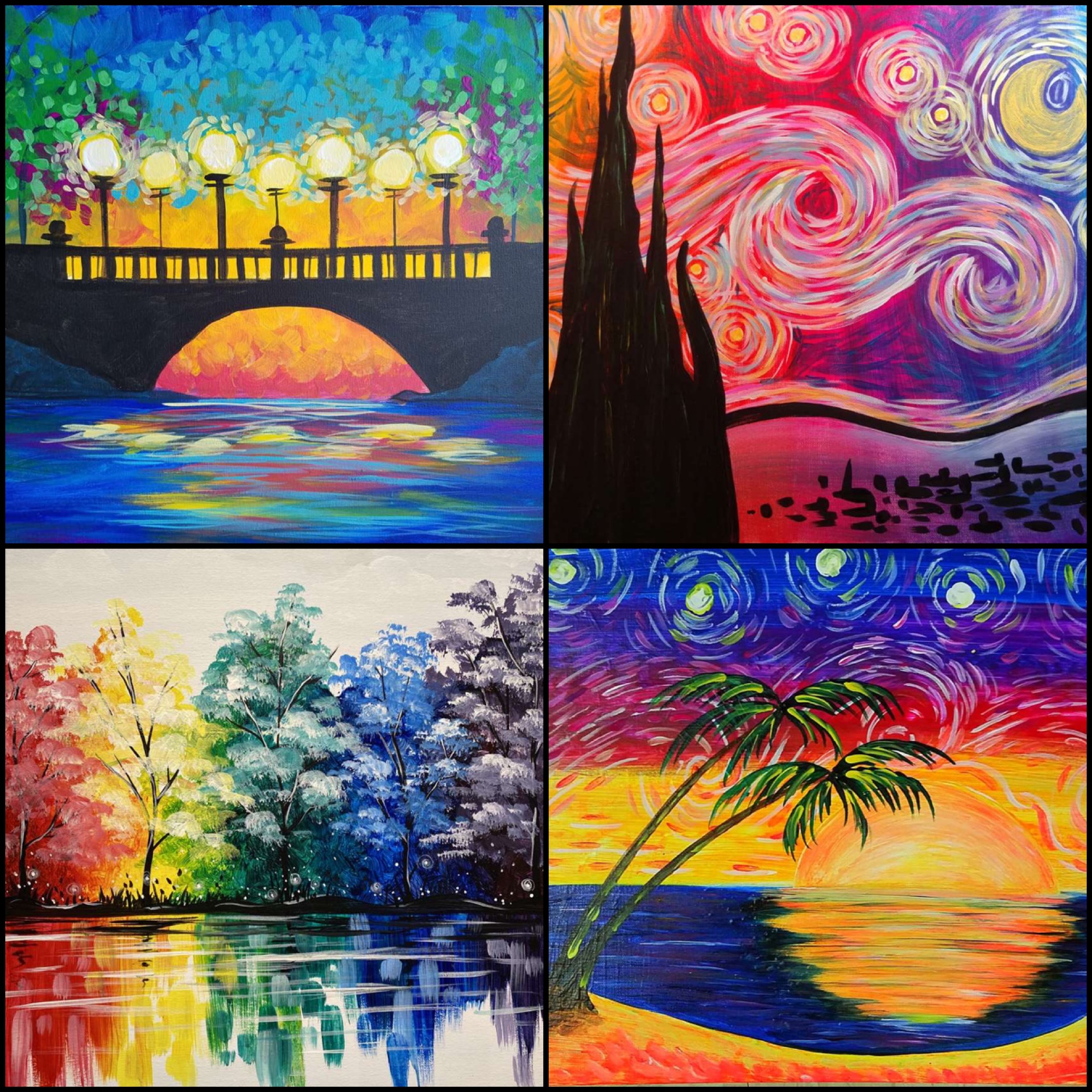 There's nothing like some bright and bold color to fill your home with sunshine in the midst of all the cold and cloudy days we've had lately. Check out some of these upcoming paintings, splashed with tons of color and make some for your walls -- or to give to loved ones as a gift! :)
Feb 25 Prismatic Refelctions (In-Studio)
Colorful trees on a distant shore. Come paint this beautiful landscape, and add a pop of color and whimsy to your home.
https://www..../event/514555
Feb 26 Sunset Bridge (In-Studio)
Brightly-colored choppy brushstrokes contrast beautifully with the dark silhouette of the bridge in this painting!
https://www..../event/513250
*Enjoy The Video Tutorial Class:
https://www....op-item/29560
Feb 27 Pshychedelic Starry Night (In-Studio)
This vibrant take on Van Gogh's Starry Night is just as fun to paint in the daylight as it is under blacklight. The glowing color palette is easy to customize, and the simple design is very beginner-friendly. Join us and paint your own technicolor masterpiece!
https://www..../event/513252
*Recorded Class:
https://www..../event/513253
Feb 28 Marble Art (In-Studio)
YOU get to choose the bright and bold color combos for this one!
This immersive, expressive type of pour art painting is so cool! It is a fun experience, easy to make and looks very professional. Select the colors you want to create a one-of-a-kind masterpiece, specific to your taste and home's décor.
https://www..../event/514767
March 5 Spectacular Nightfall (In-Studio)
Join us for a spectacular evening inspired by an Olathe, KS sunset. Olathe (O-LAY-THA) is Shawnee Indian for "beautiful". No doubt this is just that.
https://www..../event/520380
*Paint This From The Comfort Of Your Own Home:
https://www....op-item/24940
March 5 Starry Night On The Beach (In-Studio)
Grab something cold to sip on and let your cares drift away into this starry night sunset.
***We'll be offering lots of Van Gogh paintings throughout March, in honor of the magnificent artist's birthday month!
https://www..../event/520175