Great Ideas For A Spectacular Halloween Party!
It's the beginning of October... let's get started, planning the best Halloween party ever!!!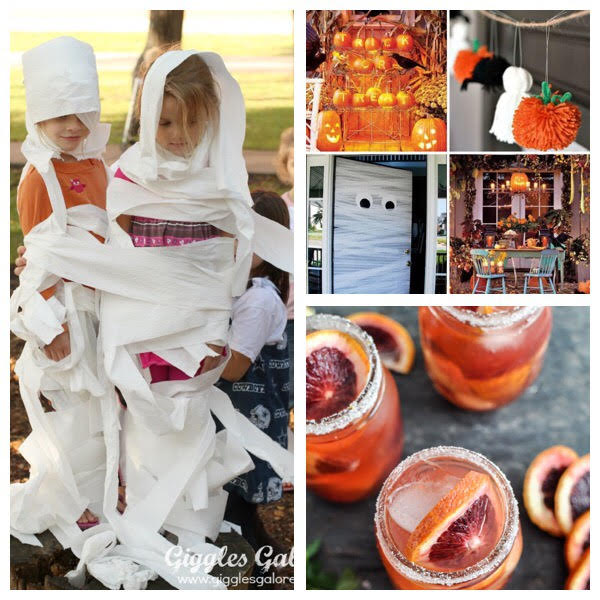 Fall is in full force, now, and we couldn't be happier! Along with all of the magical things that this season brings, there's also plenty of spooky things, happening, as well!
From Halloween consumes and 'trick or treating', to Halloween parties and fun decorations, it's a great time of year! Children and adults, alike, delight in this haunted holiday and we'd like to offer some ideas for it! You can plan (or help plan) one heck of a Halloween party, with fun decor and unique ideas, that everyone will love! We have ideas that range from simple and inexpensive, to all-out crafty and more time-consuming. Think about what you're going for- an adult's only bash, a kid's party, or a combo that everyone will love... and go from there!
_____________________________________________________________________________________________________
Food and drinks:
FOOD:
-Mummy Dogs:
*This classic Halloween party food has been around for a while, and is always a crowd-pleaser...
http://divas...n-mummy-dogs/
-Pretzel Ghosts or Zombies:
*Grab a bag of pretzels, some white chocolate and some candied eyes to make this simple treat! Add green food coloring to the chocolate and turn some of the pretzels into zombies!
https://www....ost-pretzels/
-Banana Ghosts and Tangerine Pumpkins:
*Add in some adorable, yet nutritious, food with these fruit ideas! With a few simple and healthy supplies, you can make some ghosts out of bananas and mini pumpkins out of tangerines!
http://keepr...banana-ghosts
**See more great food ideas here:
http://www.d...od-ideas.html
DRINKS:
-Sweet Poison Cocktail
*This fresh and fruity cocktail is a GREAT drink to try and with it's beautiful colors, it's sure to be the star of the party!
http://www.d...son-cocktail/
-Blood Orange Sangria:
*These red drinks are perfect for a haunted event, but also crisp, cold, and delicious, as well! (Tip: Add a pair of plastic, vampire fangs as a garnish!)
http://www.h...ange-sangria/
**See more great drink ideas here:
https://www....en-cocktails/
_____________________________________________________________________________________________________
Games:
(For the kids):
- Witch Hat Ring Toss:
*Create this game with a few, inexpensive supplies and it'll provide a fun game that both, kids and adults will love!
http://dolla...ng-toss-game/
-"Bobbing" for Apples:
*Take this old, yet classic, game and turn it modern (and a little safer)... tie apples to a string, hang them, and watch the kids try to bite them! (*you can do this with donuts, too!)
https://www....lloween-games
-Mummy Wrap!
*This typical Halloween game is great for KIDS OR ADULTS! It's easy to create and find supplies, and is always a fun time!! Delight in the sight of your friends being covered in toilet paper, and being turned into mummies!!!
((Try one of these 3 variations)):
http://www.p...m/mummy-wrap/
**More kids game ideas here:
https://www....loween-games/
Adults:
-Horror Movie Trivia:
*See which of your friends knows their horror flicks best! Host a trivia game with prizes for the winners and silly things for the 'wrong answers' to do (*you can even make it a drinking game, where every time a wrong answer is given, the loser must take a sip!)
https://www....9387-amp.html
-Murder Mystery:
*Plan the ULTIMATE Halloween party with the classic 'Murder Mystery' event!!! Guests can even dress like their character, providing them with an easy Halloween costume idea and making the whole thing, a great, interactive game!
https://www....games-1357635
**Adult Halloween Party Games:
https://www....es-for-adults
_____________________________________________________________________________________________________
Decorations:
-Easy and Inexpensive Ideas...
*Head to the dollar store, Walmart, or the dollar section at Target and stock up! You can get some very basic supplies and use them for the bulk of your decorating! Add in some homemade or special pieces, to round out the overall decor!
**Look for:
-orange and black streamers or garland
-fake spiders, pumpkins, spiderwebs, and more!
-'caution' tape is always fun to hang around, too!
-Halloween Banners!
*Create one of these adorable Halloween banners and let it be the star of your party decor!
https://www....me-decor/amp/
**Halloween Decor Ideas You Can Make For About $5:
http://www.d...ut-5-pictures
**More Halloween Party Decoration Ideas:
https://www....orating-1005/
_____________________________________________________________________________________________________
Come in to Pinot's Palette and paint with us!
We have some great Fall and Halloween paintings coming up this month... come join us for one (or a few of them)!!
Check out the calendar to view all of the classes and sign up for the ones you love most! You'll be able to create some incredible seasonal artwork to add to your home's decor... and the best part, is that YOU made it!
Share 35 Easy Halloween party ideas | Sign up to paint some Halloween decor!
Enter your contact info and request details below, and we will contact you with details about your private party!