Tips (and Benefits) For Hosting A Private Corporate Paint & Sip Event!
A painting and wine event can be a great way to promote teamwork and collaboration among employees.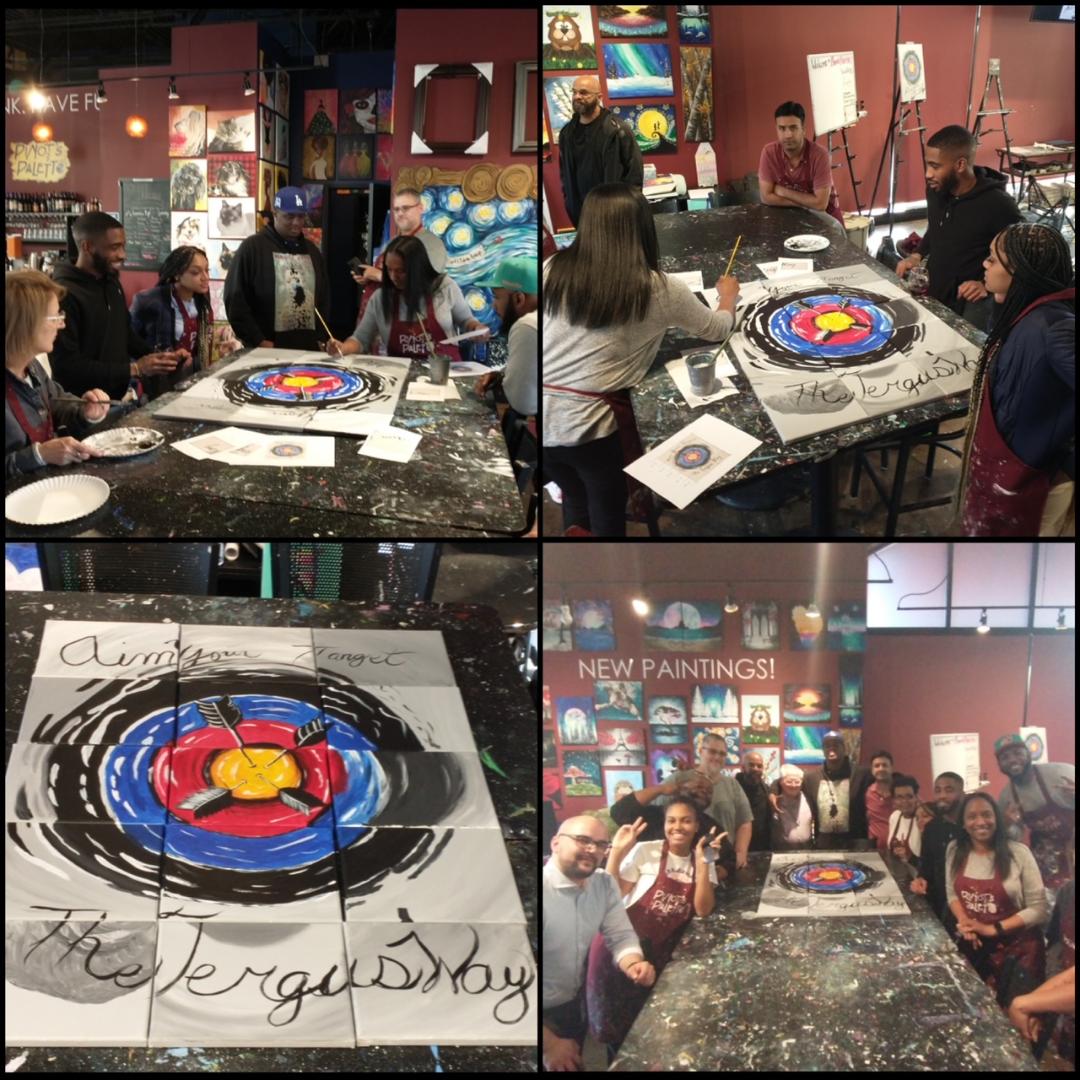 Spending time with coworkers in a creative environment can be a great way to build stronger relationships, foster teamwork, and encourage innovation in the workplace.
By providing opportunities for employees to engage in creative activities together, you can help foster a more collaborative, innovative, and enjoyable workplace culture.
Hosting a corporate painting and wine party can be a great way to build team morale, encourage creativity, and provide a fun and relaxing atmosphere for your employees.
Here are some tips for planning a successful event:
(1) Choose the right paint studio for you!
Here are Pinot's Palette, we're here to make it easy on you! We're able to accommodate your group size, and we have enough space for painting and mingling (And a food setup, too!)
(2) Have the the necessary supplies.
We're always here to make sure you have enough painting supplies, including canvases, paint brushes, and paint; And we provide aprons to protect clothing.
(3) Have a skilled instructor.
All of our artists are experienced instructor who help guide your group through the painting process. This helps ensure that everyone has a good time and produces a quality piece of art.
(4) Choose the right wine(s)
You'll want to select a variety of wines that will appeal to different tastes and preferences…. And that's where we've got you covered! At Pinot's Palette, Brier Creek, we have a large variety of beverages to choose from. Talk with us about options when you book your event!
You may want to provide both red and white wines, as well as a non-alcoholic option.
(5) Offer snacks or light bites.
To keep energy levels up, provide snacks or light bites that can be enjoyed while painting. This could include cheese and crackers, fruit, or small sandwiches. Have the food brought as a potluck style where everyone contributes one of their favorite dishes (a great conversation starter), OR have the event catered! Ask us for local spots that we love to support with delicious food.
(6) Set the right mood.
Consider creating a playlist for your background music (*or let us know the station you want to hear) to create a relaxed and enjoyable atmosphere. The music wont discourage conversation, but helps with too much silence.
(7) Encourage participation.
Make sure everyone feels included and welcome. Encourage participation by offering positive feedback and praising everyone's efforts. We are all artists in some way, shape, or form!
Here are some benefits of spending time with coworkers in a creative environment...
--> It Promotes Teamwork.
Collaborating on a creative project can help build stronger working relationships among coworkers, and foster a sense of teamwork and collaboration.
--> It Encourages Communication.
Working on a creative project can help employees communicate more effectively, share ideas, and work together to find solutions.
--> It Fosters Innovation.
A creative environment can inspire employees to think outside the box and come up with innovative solutions to problems.
--> It Reduces Stress.
Creative activities can be a great way to reduce stress and anxiety, which can help employees feel more relaxed and focused when they return to work.
--> It Builds Morale.
Participating in a fun and creative activity with coworkers can help build morale, improve job satisfaction, and foster a sense of camaraderie among employees.