'Open Studio' Is Perfect This Time Of Year!
Unlike our traditional step-by-step instructor-led art class with an art instructor on stage... Open Studio time is designed to give you more flexibility and freedom. This is your chance to decide what you'd like to paint!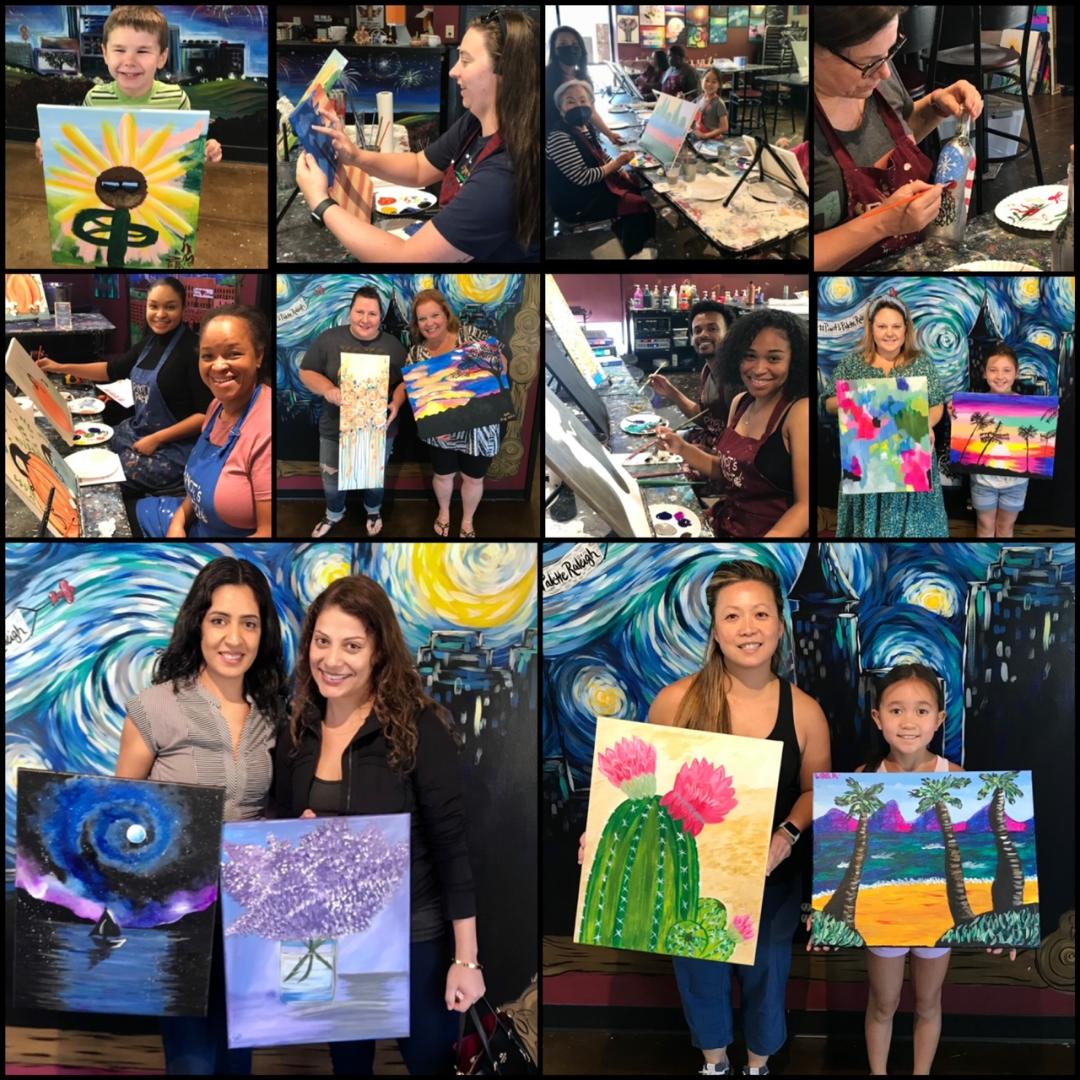 This time of year, our public calendar has no shortage of amazing classes; BUT, we are also offering 'Open Studio' Classes, and these are pretty perfect for a lot of people (*Especially in this hectic, busy month of holidays).
We may have to do some day-painting rather than in the evenings when the kids are home; We may have more events like parties and such to attend in the evenings; and of course, we have the kids home more often AND some in-town guests, all of who would love to join in the creativity and fun of a painting event like our 'Open Studio' classes!!!
Get started asap and make some artwork for gifts as you paint, drink, and have a lot of fun!
***** The Best Things about 'Open Studio' Are… *****
— The Convenience
You don't have to arrive at the studio for the exact start time listed on the calendar, as you do with our other classes. You can arrive anytime within the Open Studio hours and paint. (*it's best to leave about 2 hours for you to complete the artwork).
It's also really convenient for many people to stop in during the daytime hours, versus the evening. You can relax and take your time painting at your own speed, listening to music, enjoying some drinks, and having a blast with loved ones!
— The Options
Also, unlike our public scheduled classes with ONE painting choice for the day and time, there are SO MANY options for you to choose from during Open Studio! Paint one of our canvas pieces (regular size or long or small), on a wooden sign, or ask about our other options!
This is especially nice if you've been wanting to paint something that you've seen but hasnt been on the schedule in a while. If you're painting with a friend who you've gifted a GIFT CERTIFICATE, this is also a fabulous option, as they get to pick what they want to paint!!!
— The Intimacy
Some people prefer the smaller, laid-back gatherings that an 'Open studi' event consist of. We LOVE our large, public classes, but the Open Studios tend to be much smaller, laid-back, and intimate. Meet new friends as you paint, or space yourself out mre and work with just your group, bonding over a creative experience and being able to hear one another better than you can in a big nighttime class.
— The Service
Though we aren't open to a huge class with an artist up front, guiding you through as usual, we still offer the same great serivce as our public, schedule classes! We have wine and beer, snacks, music, and of course, plenty of help for your painting and things like getting more paint!
***** HOW DOES IT WORK? *****
You have 4 Options to choose from during Open Studio Hours:
(Each option includes all the supplies you need to complete a 16x20 Canvas.
Option 1) Self-Guided Instructions.
Select from our Open Studio painting selections; and then with the help of self-guided instructions complete your painting
Option 2). Select from pre-recorded classes. Bring a device to watch the recording. Our artist will be on hand to answer questions.
See the pre-recorded selection at :
https://www....paint-at-home
Option 3) Point and Paint. Find something on our walls and do your best to copy it (all materials and canvas provided but no guided paint instructions...)
Option 4) Be the Artist. We'll provide everything you need for a fun day out: the brushes, the paints , apron, and your own bartender then sit down with some music and start to paint from your own imagination... Have an idea in your head? This is the time to paint it into reality.
Smaller canvases are available for those under 13 years old for $20
Feel free to bring your own food. Beverages can be purchased from our bar.
See you soon. Pre-registration is preferred - we do sell out.
***** JOIN US for our upcoming Open Studios *****
December 7th:
https://www..../event/653110
Decemeber 8th:
https://www..../event/653111
December 15th:
https://www..../event/653114