WOW! You Could Win Free Painting Classes For A Month!!!
There are a lot of great reasons to join us for a painting and wine class…
That you could win FREE classes for a month, is just one of them!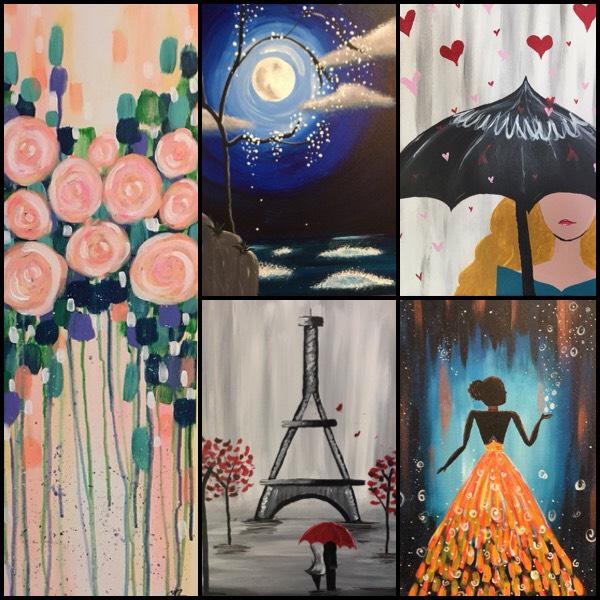 That's right… each month, one lucky winner receives a month of painting classes at our studio, so you can come in and paint a bunch of pictures, trying your hand at various subjects. From landscapes and floral paintings, to animals, wine bottles, people, pets, and even holiday-themed artwork, we've got it all and there's something for everyone.
So, how do you enter to win this amazing prize??
When you're in the studio for a class, just check in on Facebook, show the artist or bartender, and they'll give you a raffle ticket to fill out and enter… you're all set!
(*The raffle tickets are entered for the entire year so If you miss it this month you may be picked next month!)
We interviewed one of our lucky contest winners and she had some fabulous things to say about her experience!
Read Lynn's review below, and admire (just a few) of her many paintings, above! Her paintings turned out so beautiful and you can see the hard work and love she put into creating, each one! Great work, Lynn!!!
"Initially, my teacher friends and I were looking for a wine and paint place to hang out after school. We found and picked Pinot's Palette in Brier Creek due to the location (we live in Durham & Cary and work in Creedmoor) and (also because of) the tons of philanthropy they do. our first painting was a hot mess (we came to the conclusion that we hate palm trees!). Sarah and Ray were our teachers & Carole was our bartender that night. They were amazing and the atmosphere of the place was low-key. I'll admit I got addicted that night and when I won the free month, I was totally stoked. My favorite part of winning (after the free painting sessions) was getting to know the staff and the different techniques they taught. Ray is my favorite teacher (though admittedly I haven't met all of them). He is exceptional at giving advice and explaining different brush techniques. His personality and sense of humor is off the chain! I've taken my daughter with me (she's 14) several times and she's addicted too! Though I haven't been back since my free month ended, (Hello, I'm a teacher!), I plan on spending a lot of time there over Summer break!"
-Lynn R.
One of our lucky winners!
While our classes are enjoyed by anyone at any painting skill level, we're specifically designed for the novice; we're here for the people who have never painted (or for those who haven't painted in a. while), showing that truly anyone can paint! It's one of the best parts about this job… watching so many people come through our doors, convinced they won't be able to paint and then seeing them leave, proud and astonished that they actually could! We have so many customers that leave satisfied with the experience that they continue to return to our studio, time and time again, making more and more paintings to add to their collection. The thing is, that no matter what level of painting talent you come to us with, you'll discover that you'll get better, the more you paint! Like with anything in life, practice makes perfect. It's amazing to have seen the progression of some of our regulars, like Lynn, who have come in to several paintings and have learned more and more as they go. We've even had a few customers who have bought their own supplies and worked on their own projects at home, continuing to come to our studio over and over again to learn more techniques and painting secrets! To watch someone who never thought they could paint or who labeled themselves as, 'unartistic', discovering a talent, they never new they had is so wonderful and something that we wish more people could experience!
If you've never been to one of our classes, be sure to check out our calendar, listed at the bottom of the page. We have such a large variety of paintings so you're sure to find something you'll want to create, and we even offer more than just canvas paintings! Be on the lookout for some of our extra-special classes where we paint on wine bottles, wooden palettes, and more! If you're loving the canvases, but want something extra-unique in that department, we've got various-sizes of canvases that we offer, black light classes, and more! Join us for one of our classes and see what all the fun and excitement is about! Bring in your friends and family for some bonus fun, spending time with loved ones as you all discover your artistic side, creating artwork and memories, as you go!
Remember to check in on Facebook when you're in class, and get your raffle ticket to be in the drawing for a free month of classes! Now, that's a prize that anyone would love!
We hope to see you soon for a class at our studio if you're looking for something fun to do in or around the Raleigh-Durham area! We make the perfect event for everything from a fun and unique date night, an awesome girls' night out experience, and we even offer private events! When you view our classes on our website, you'll be viewing our schedule for our public classes, but you can also book a painting party with the guest list of your choice! Come in to celebrate a birthday, bridal shower, reunion, retirement, and more with friends and family, sharing their artistic sides, together. Make memories that will last a lifetime with a souvenir to treasure forever with one our classes.
*Learn more about our private parties, here:
https://www....ivate-parties
We also play host to tons of corporate events, too! Why not book your next work party or team building event with us? We offer several styles of paintings that incorporate team building strategies, encouraging the whole office to work together, creating a stunning world of art!
*Read more about corporate events, here:
https://www....porate-events
Finally, in addition to out studio parties, we offer mobile events, off-site! You choose the location and we'll come to you with all of the supplies!
*Learn more about out mobile events, here:
https://www....ainting-party
Share View our full calendar here! | Purchase a gift certificate!