What Are Some Tips For A Successful Painting & Wine Date Night?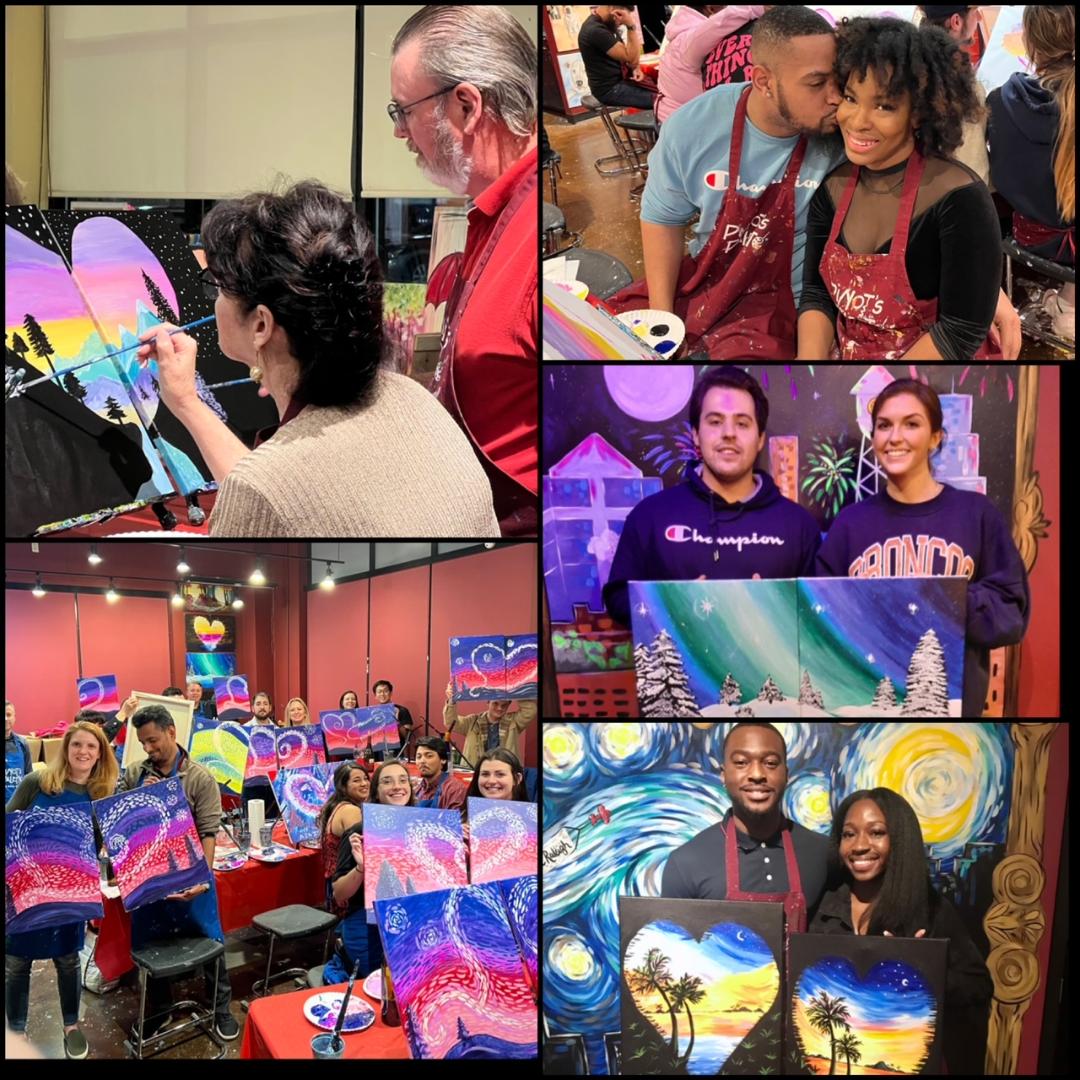 A date night with Pinot's Palette is a fun, creative, and romantic way to spend quality time with your significant other. Whether you choose to attend a class or create your own at-home session, it's sure to be a memorable experience that you both will cherish for years to come.
What Are Some Tips For A Successful Painting & Wine Date Night?
*** DRESS FOR MESS ***
Painting can get messy, so wear clothes that you don't mind getting paint on.
Whatever outfit you choose, remember to wear something that makes you feel comfortable and confident. You don't want to be distracted by uncomfortable clothing or worrying about how you look, so focus on finding something that allows you to fully enjoy the painting and wine experience with your partner.
*** BRING SOME SNACKS TO ENJOY ***
We'll provide wine and beer, but you can also bring in some snacks of your own to enjoy during the class.
Some of our favorite ideas include:
--> Cheese + Meat + Crackers.
A Charcuterie board of some sort is an easy way to enjoy some classic wine-pairing snacks while you paint with little mess.
--> Hummus + Veggies + Pita
For a healthier option, consider a hummus and veggie platter. Cut up your favorite vegetables such as carrots, cucumbers, bell peppers, and cherry tomatoes and serve with a variety of hummus dips.
--> Popcorn
Popcorn is a perfect snack for a movie night, but it's also great for a painting and wine night. Choose a gourmet flavor like truffle or caramel to elevate the experience.
--> Chocolate + Fruit
A combination of dark chocolate and fresh fruit is a sweet and indulgent snack that pairs well with a glass of wine. Consider strawberries, raspberries, and blueberries as your fruit options.
*Tips for pairing chocolate and fruit:
https://www....-fruit-265967
--> Bruschetta
Bruschetta is an easy and delicious snack that can be made with just a few ingredients. Toast some baguette slices and top with tomato, basil, garlic, and olive oil for a fresh and flavorful snack.
*** BE OPEN TO THE PROCESS ***
Even if you've never painted before, be open to the process and enjoy the experience. Our studio is always a supportive and encouraging environment, and here for the first-time painter! Our team of helpful artists will be there to assist you, should you need help with anything! From painting tips to refilling wine and paint colors, we're here for you!
*** HAVE FUN!!! ***
Remember that painting and wine is supposed to be a fun and enjoyable activity, so relax and have a good time!
After all, our motto is "Paint…. Drink…. And HAVE FUN!"
____________________________________________________________________________________
What Are Some Of The Benefits Of A Pinot's Palette Class As A Date Night:
-- Promotes Communication.
Painting and wine can help promote communication between couples, allowing them to engage in a shared experience and discuss their thoughts and feelings about the process.
-- Reduces Stress.
Painting and wine can be a relaxing and enjoyable activity that can help reduce stress and promote relaxation.
-- Boosts Creativity.
Painting allows for self-expression and the exploration of creativity, which can help individuals tap into their imagination and expand their artistic skills.
-- Offers a Sense of Accomplishment.
Completing a painting can be an empowering experience that can provide a sense of accomplishment and pride.
-- Provides a Unique Date Night.
Painting and wine provides a unique and fun way for couples to spend time together and try something new.
It's a great way to connect with each other on a deeper level. Painting can be a therapeutic and meditative activity, allowing you to express yourself in a way that words cannot. This can create a safe and intimate space for you and your partner to open up to each other and share your thoughts and feelings.
PAINT WITH US
March 24th - 'I Love You. I Know'
Why travel solo when you can escape the dark side of life with the one you love?
https://www..../event/673820
Mommy & Me Date!
April 2
Paint these sweet Easter bunnies with Mommy!
https://www..../event/680726