We've Got The Perfect Recipe For A Fabulous Holiday Party! Book Yours, Today!
It's time to plan your holiday party!!!!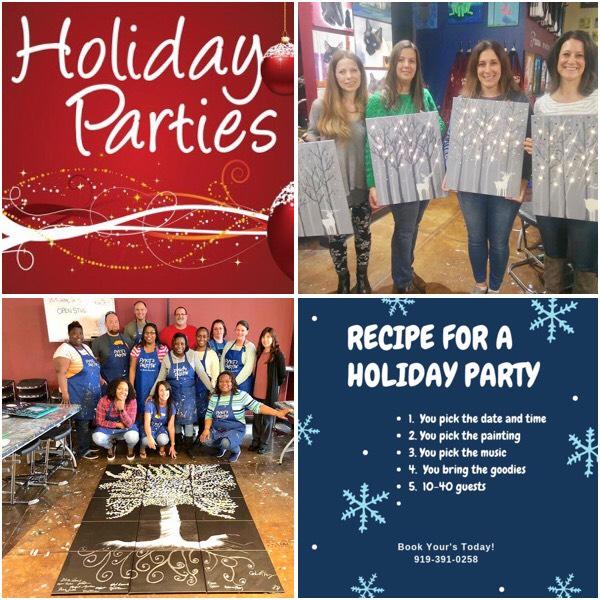 With the countless supply of recipes to make this time of year for Thanksgiving meals, Christmas gatherings, and other festive events, we'd like to suggest the best one we've found, yet! A great recipe for the perfect party!
**********************************************************
THE RECIPE FOR THE PERFECT HOLIDAY PARTY:
*This 5-step recipe for a great party, makes for an easy, unique, and creative way to celebrate the holidays!
Takes about 2-3 hours
(Serves 10-40 guests)
INGREDIENTS (*Provided by us):
-Paint, canvases, brushes
-Aprons
-Wine and Beer
-Step-by-step instructions
INGREDIENTS (*Provided by you!):
-Guests who are ready for fun!
-Delicious food and non-alcoholic beverages
-Games, gifts, and other activities
-A great playlist of music
-Decorations
DIRECTIONS:
1.Select The Date And Time
The best part about booking an event with us is that YOU get to select the date and time of the party! Unlike our typical public classes, where the time and date are selected for you, your private party will be set up for the most convenient time and date for you and your guests.
NOTE: Be sure to book, ASAP, to be sure to get your preferred time and date, as our parties book up fast this time of year!
*Contact us:
https://www....ivate-parties
2.Select The Painting
We have a fabulous library, full of thousands of paintings for you to choose from for your party. We have something for everyone, from landscapes and holiday themed artwork, to sports team, popular landmarks, animals, people, and more! Our most sought-after paintings this time of year, are (no surprise) the Christmas and winter-inspired works of art so be sure to search for those specifically, as you look through the library, if you're interested in them for your party!
Remember to keep our collaborative styles of paintings in mind for Corporate Parties, encouraging teamwork and bonding amongst employees.
*View our library:
https://www....nting-library
*Learn more about our corporate events:
https://www....%2Fbriercreek
3.Find Some Great Music To Fit The Occasion
We'll always be able to provide one music in our studio like we do in our public classes, but in your own, special, private party, you can select the playlist of your choice! You can come in with your iTunes or Pandora (or Spotify, etc) stations, loaded up and ready to go, and we'll hook it up to play throughout the room as you and your guests paint, drink, and have fun! Bring in some fabulous Holiday stations and really get into the spirit of the season as you paint and spend time with friends! *Keep in mind that we can create a playlist for you through our Pandora, if you don't have specific songs on your personal device but want to listen to a certain type of music during your time with us!
4.Bring In Some Goodies
With private parties, our guests enjoy bringing in some yummy snacks for everyone to enjoy as they paint and drink. Some prefer to bring in their special recipes from home, enjoying the party in the style of a potluck meal; Others enjoy letting someone else handle the food aspect of the event and call on their favorite restaurant to cater the party. However you wish to provide food and non-alcoholic drinks, we can help make recommendations of local places to cater that other customers have used, along with providing a place for you to display all of your goodies.
5.Make Your Guest List
Invite all of your best friends and family members to celebrate this time of year when family and traditions are most treasured. Make some beautiful artwork and great memories as you paint and have fun in a creative environment. If you're planning the annual office party, send out invites to all everyone in the office and remember to keep our 'team building' painting styles in mind! Bring joy and cheer into the lives of those that you work with everyday, and learn even more about them as you bond over a unique experience.
NOTE **You must have a minimum of 10 guests to book our studio for a party, and a maximum of 40.
************************************************************
Before and after the excitement of your party, why not come in to a painting and wine class with your bffs, spouse, family, or anyone else who might want to enjoy one of our public classes?!
A painting class is a great way to unwind, and a glass of wine along with it, never hurts… and it's a great way to see the place and what we do, before booking your party.
If your looking for a fun night out with friends and family, a date night event, or a girls' night out experience, Pinot's Palette is the place to be! We have our 2-3 hour public classes where you'll be guided, step by step, through a specific painting, and we also have gift certificates available for purchase online or in the studio! You can check a bunch of people off your list with the gift of an experience, by giving a wine and painting class to your loved ones this year!
We hope to see you soon, and please view our calendar below to see all of the amazing classes we have coming up on our public calendar for the month. Remember to get your party book, ASAP, as spots tend to fit up, fast!
Share View our full (public) calendar | Purchase a gift certificate!