We're Kicking Off The New Year With A Roaring 20s Party!
This fun roaring 20's themed painting party is a great opportunity to get creative with your sweetie or your pals. Invite a friend and paint your chosen party guest character and bring in the roaring 20's with Pinot's!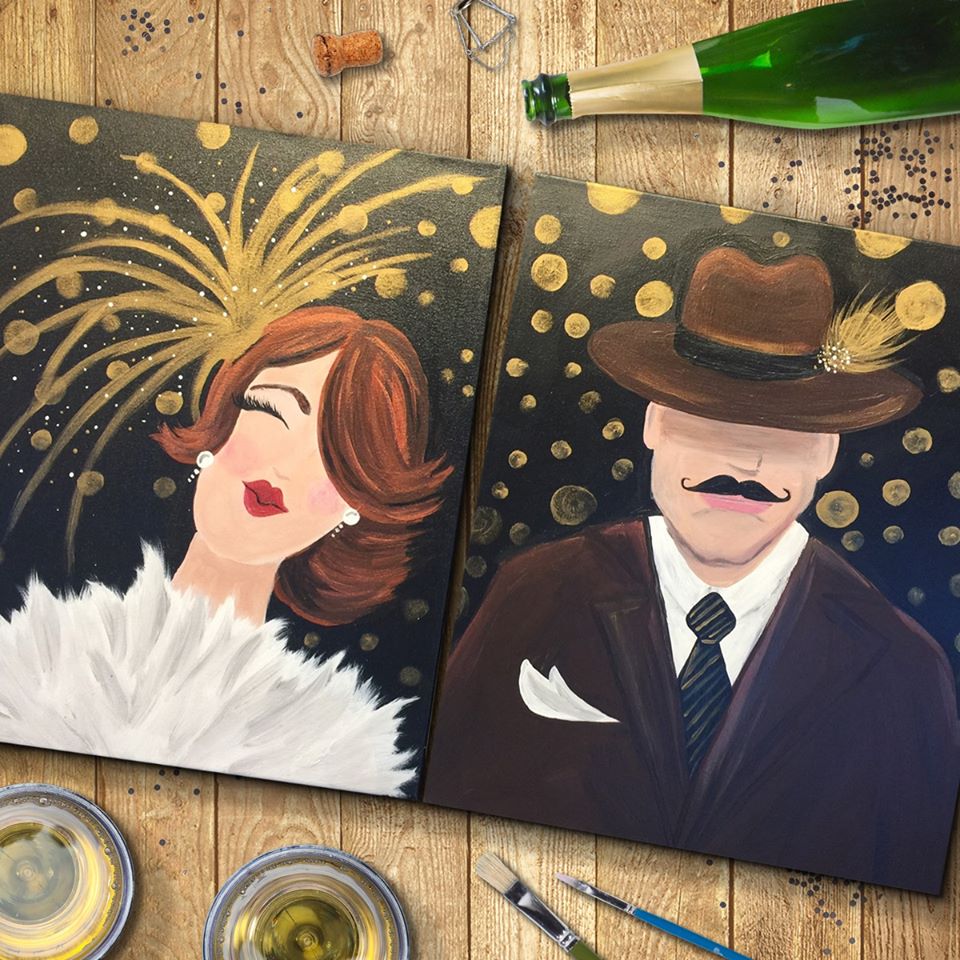 We're in a whole new decade, folks! It's been 100 years, and now, we're heading back to the 'Roaring 20's', a time when the women dressed in sleek flapper dresses, the men wore Gatsbyesque suits with bowties, and jazz music and moves were all the rage! Prohibition had just begun and the U.S. was rapidly becoming a very different place.
In the aftermath of World War I, the social and cultural features known as the Roaring Twenties began in leading metropolitan centers and spread widely.
The spirit of the Roaring Twenties was marked by a general feeling of novelty associated with modernity and a break with tradition. Everything seemed to be feasible through modern technology. New technologies, especially automobiles, moving pictures, and radio, brought "modernity" to a large part of the population. Formal decorative frills were shed in favor of practicality in both daily life and architecture. At the same time, jazz and dancing rose in popularity, in opposition to the mood of World War I. As such, the period often is referred to as the 'Jazz Age'.
We LOVE this time in history! From the clothes and hairstyles, to the invention of cars and radio, and mostly the widespread displays of freedom, life, and character in the roaring twenties, this was an amazing part of the past.
This month, we're celebrating that gay old time and all it offered with our very own
ROARING 20's PARTY!
**** JOIN US! *****
On Saturday, January 4th (7:00 - 10:00PM)
As we paint, 'Roaring 20s Party'!
This fabulous, brand new, TWO-PART painting is going to be a hit and we hope you'll get the chance to join us to create it!
Bring all of your friends and family in to celebrate the new decade with this unique and fun work of art that will look wonderful in any home!
If you've never been to one of our 'Date Night' styles of classes, here's what they're all about:
You'll paint half of the artwork on your canvas, while your "Date" paints the other half on theirs! Push them together to reveal one large masterpiece at the end of class!
You certainly don't have to have stick with the painting the way it's shown and described, either:
-Alter the background style and colors
-Change the skin tones and hair colors and styles
-Incorporate "2020" or other words/quotes of your choice
*Come in with your spouse of 40 years, or a first date!
*Come in to paint half of the painting with your roomie, bff, family member, or anyone else you want to share the painting with!
*This is an excellent 'date night' style of painting as it's one that will looks good, split into 2 pieces if you each choose to take it to your own home or hang it in 2 different rooms.
*Not wanting to create the painting on two separate canvasses?? -- No Problem! Turn the canvas horizontal and create both images on one canvas!
Remember that YOU are in charge of the artwork and how you want it to look! Get in touch with your inner artist and have fun exploring and experimenting with your art!
However you choose to utilize this painting and fun party class, we're sure you'll have a blast!
We hope to see you all soon, whether for this event or any of the others on our calendar!
Happy 2020 and here's to a fabulous new year!
Cheers!
Share More info about the Roaring 20s! | View our full calendar to see what's coming up!