'The Office' Painting & Trivia Is Perfectenschlag!
Your art is sure to be the prettiest art of all the art in this special Date Night Class
Join us, and bring the "Jimothy" to your "Pamcakes" and create this couples painting On February 16th!!!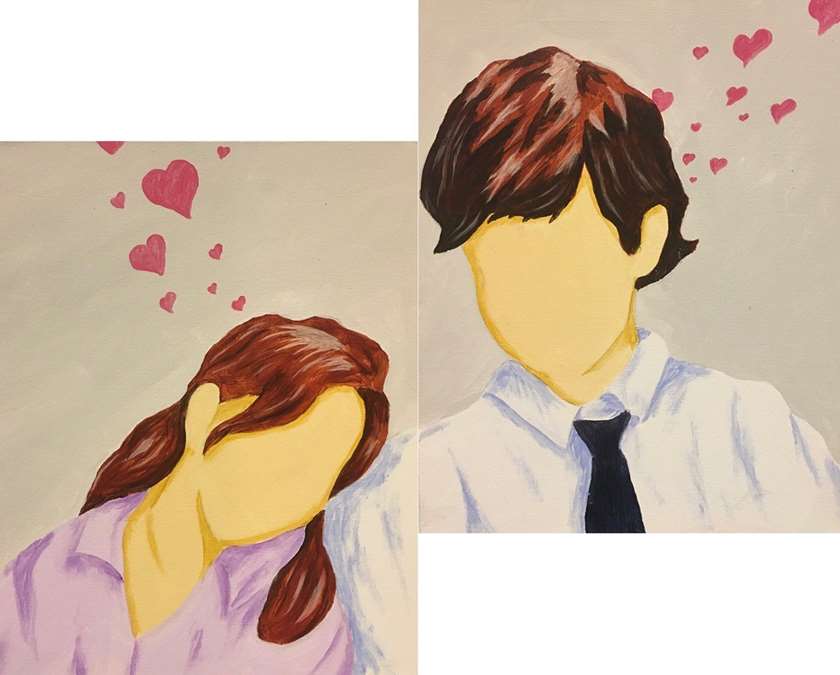 You may have seen some of the other themed paintings that go along with movies or shows and they are always So Much Fun!!!
They allow us to get creative as we bond over a shared love of some pop culture; Sometimes there's prizes, other times it's trivia, themed drinks, or free swag! Most recently, we offered the chance to win a free digital dowload of 'Barb and Star Go To Vista Del Mar' as well as a chance to win a $50 gift card!! That class was tons of fun and a great turnout for the event!!!
AND NOW…...
Guess what?! We're offering another themed-painting, and this time, it's all about 'The Office'!!!
This incredibly-popular show has been captivating fans since 2005, steadily-growing in number of views and so much more.
We've seen (and bought and worn) the merchandise, heard the podcasts, watched outtakes and bonus material, and have undoubtedly used those clever GIFs a lot! For many of us fans, television just doesn't get any better than this epic show….
But now, we've added some 'The Office' themed artwork to the collection of awesome Office-related things and we're hoping you'll join us!!! We're so excited to offer this Brand New painting 'PB&J' - and for fans of the show we know that nothing goes together better than Pam Beesley and Jim!
The best thing about this class is that it's a date-night painting so you'll be painting on one canvas while your other half paints… well, the other half! Display them together to make a special handmade, collaborative work of art! Always remember the fun time you had at Pinot's Palette, making artwork and memories together each time you admire this work.
Whether you're making the paintings and hanging them together OR creating them to each hang in your own homes, it's sure to be a fun time. No prior-painting experience is necessary — anyone can learn to paint when you have the right teacher; Pinot's Palette, Brier Creek, is known for it's wonderful artists who can walk you through the steps and help whenever you need it! They're nice, helpful, creative, and great at helping others to make art!!
In addition to painting this masterpiece, we'll be doing some Office Trivia too!!!!!! Come armed with an arsenal of knowledge about the show (for many of us, this is exactly what we've been training for these past 10 years), and join in the fun of painting wine, and office fun facts and questions!!!! This is going to be a lot of fun and there's sure to be some great prizes (and bragging rights), too! But be ready, because if there's one thing we know for sure, it's how serious people are about 'The Office' and you might be surprised to see how many others know the answers to these trivia questions! You may want to binge-watch the series (more than you already do) to brush up a little :)
This office themed painting event is held in the studio so seats are SURE TO SELL OUT! Between the popularity of the show and the limited seating in the studio right now, we're recommending that you sign up ASAP to get your spot (and one for your date, too!).
We've been cleaning the studio regularly and are enforcing all of the CDC's social guidelines, giving you and your loved ones a safe and happy environment to spend time in.
As always, all supplies will be provided as you're walked through the painting, step-by-step by one of our talented instructors who will encourage you the whole way through!
'PB & J' Date Night Painting!
It's been a day for Jim Halpert, but by the end of the meeting, Pam has fallen asleep on his shoulder. This is one of the most classic and romatntic scenes in the whole series, and for all of the PB&J fans out there, it's the first one that had us squealing with glee!!!
Paint this awesomely epic still shot of the two love birds and display it in your home to always enjoy!
Join us on February 16th (7:00 - 9:00pm)
Just $35 per guest!!! Now that's a great deal on a fun night out!
Sign Up:
https://www..../event/514548
While this painting is the perfect Date Night celebration for a belated Valentine's Day date, there are tons of other ways to celebrate V-day OR any other occasion… From other date night classes, to our regular paintings, and of course all of our virtual classes (take a painting class from the comfort of your own home), we've got it all! So, if you aren't able to make it to this class or if the seats are all full by the time you sign up, check out the full calendar for some other amazing classes and join us soon!
____________________________________________________________________________________________________
***** AND THAT'S NOT ALL !!!!
Keep an eye out for the fabulous Harry Potter themed artwork and trivia that's coming to the studio in MARCH!
We'll be painting a brand new HP-themed painting on March 11th and you can sign up anytime you like! Remember, the sooner the better as seats are sure to sell out! :)
Grab The Gold — Grab your broom and set off on an adventure in the world's most amazing game!
More details can be found here:
https://www..../event/514549