This Year, Spend Your Valentine's Day, Painting!
Dinner and a movie… chocolates and flowers…. a home-cooked meal and a Redbox rental…. All great but frankly, over-done Valentine's ideas! If you're looking to break out of the same, old routine for the holiday of love on February 14, look no further… we're here for you!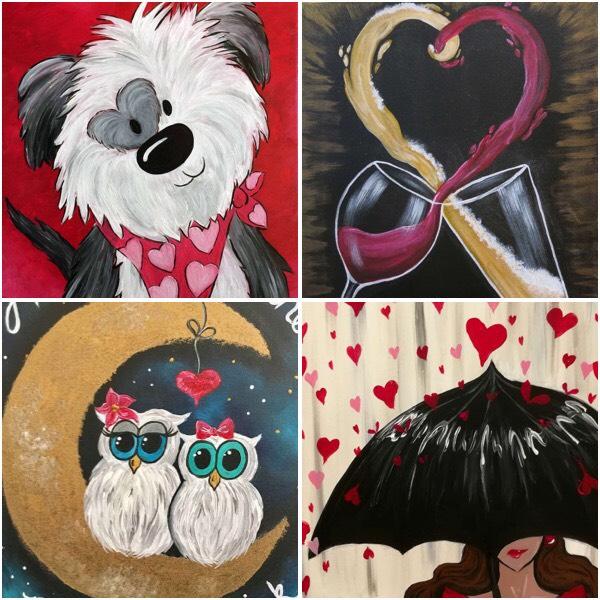 This year, for Valentine's Day, why not join us for a new and exciting experience?! Bring your special someone in for a painting and wine class at Pinot's Palette, Brier Creek! Aside from being a unique and creative environment, we're friendly, encouraging, and have some great wine, too!
Throughout the whole month of February, we'll be offering various Valentine's-themed paintings. From date night paintings to family classes, we have something for everyone! You'll be able to view our full schedule, as well as sign up for a class, when you go to our website, listed at the bottom of the page.
Whether you're in a relationship of not, a painting and wine class is a fun way for anyone to spend time on Valentine's Day, or any other time of the year! If you live in or around the Raleigh-Durham area and are looking for a fun way to spend Valentine's Day, Pinot's Palette is the place for you, this year! We're offering GAL-entine's day classes, where you can get all of your girlfriends together and spend time getting in touch with your inner-artists, sipping wine, and catching up. We'll have family day classes where the whole family can get together and create some art work, for the ultimate bonding experience. We'll also be offering some of our 'date night' classes where you paint one canvas and your other half paints the other canvas; push them together for a complete painting in the end!
If you've never been to (or heard about) our 'date night' paintings, you've been missing out, as these are some of our most popular classes! We usually only offer one, every once in a while, but in February, we'll have 4 'date night' class options! Be sure to check them out, online, and sign up, ASAP! Bring in your significant other, your roomie or bffs, or anyone else you wish to share half of a masterpiece with. If you love the painting we're offering but don't want to spilt it with anyone...no problem!! Sign up and come in to create the painting on one canvas and keep, all for yourself!
Not only will be have some of our best love-themed paintings, but some other excellent ones, too! We are featuring two classes where you'll paint on a long canvas; our typical classes offer 16" x 20" canvases but we'll give you a 10" x 30" canvas to paint on for these special classes, making them the perfect size to fit into any room! Update your home's decor with something special and meaningful that YOU created and will treasure for years to come.
**Be sure to check out the calendar for February, as many of our special Valentine's classes will include a FREE sparkling beverage, with admission!
We hope to see you soon for one of our classes, and especially look forward to hosting you and our loved ones, this Valentine's Day! In addition to offering classes for you to sign up for and join in, we also have gift certificates available for you to purchase, all the time! These make a fun and thoughtful gift for anyone and can be used at the recipient's leisure. If your Valentine loves the traditional dinner and a movie for V-day, then add a little extra something special to their gift, and include a Pinot's Palette gift certificate for them to enjoy the painting and wine experience, anytime they want! (*This is especially great if you're not sure of the painting they would want to create; When they receive a gift certificate, they'll be able to view all of our classes for themselves and choose the one they like best!).
From all of us here, at Pint's Palette, Brier Creek, Happy Valentine's Day!
Share View our February calendar!!! | Buy a gift certificate!