Sip and Paint Your Way into Spring: Upcoming Spring-Themed Artwork You'll Love!
Spring is the perfect time to refresh your home decor, adding in some colorful, seasonal touches to your living space. One way to do this is by creating your own spring-themed artwork to hang on your walls. There are countless options for creating beautiful, unique pieces that capture the essence of springtime…. Made By YOU!!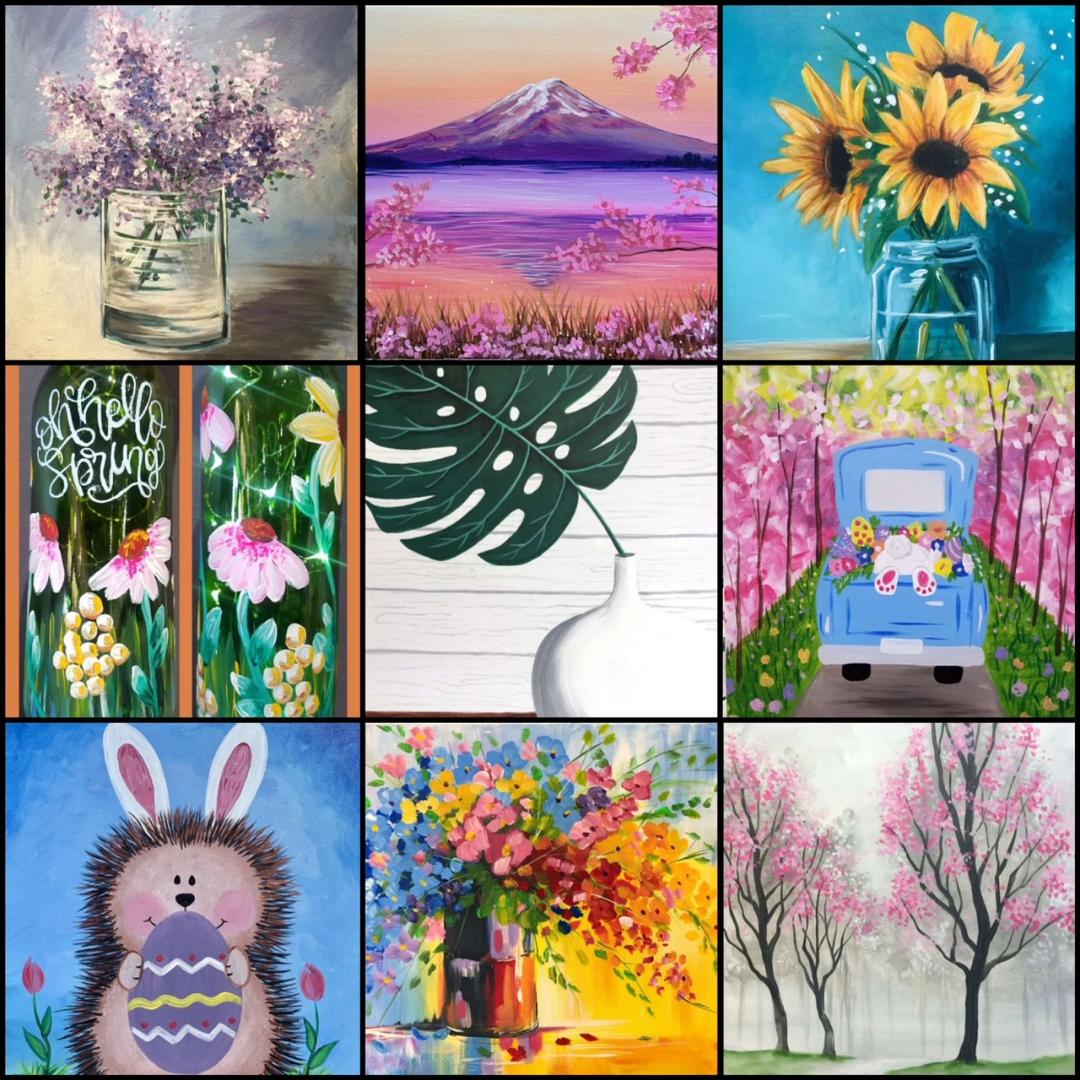 Whether you're looking to add some touches of spring into your home, or eager to spend time, getting creative with the kids over Spring Break, we've got some fab artwork on the calendar that everyone will enjoy!
From Easter-themed cuties, to flowers, bright colors, and offering in-studio classes OR options to paint at home, Pinot's Palette is a convenient activity for this time of year (*or any time of year, really)!
***** Spring/Easter Themed Artwork, Coming Up *****
3/17 Spring Mountain -
https://www..../event/668592
3/18 Modern Bouquet -
https://www..../event/669971
3/18 Sunflowers In A Glass -
https://www..../event/669953
3/19 Sunflower Wooden Porch Leaner -
https://www..../event/673821
3/20 Breath Of Spring -
https://www..../event/674368
3/21 Painted, Lighted Wine Bottles -
https://www..../event/680723
3/21 SPrng Hitckhiker - Cute For EASTER -
https://www..../event/673969
3/22 Lilacs In A Glass -
https://www..../event/673964
3/26 Floral Delight -
https://www..../event/669968
3/28 Modern Farmhouse Chic -
https://www..../event/674369
4/1 Easter Hedgehog -
https://www..../event/680100
***** Spring Break Fun With The Whole Family *****
Whatever activities you choose, make sure to spend quality time together as a family and enjoy each other's company!
Get ready to create lasting memories with these spring break family fun ideas that are sure to keep the whole family entertained:
(1) Get Creative! Pinot's Palette is such a great option for the whole family. Keep an eye out for our 'Family Day' events, our 'Little Brushes' classes, Freestyle Afternoons, 'Mommy & Me' classes, paint at home options, or even book a private party!
Paint From Home:
https://www....paint-at-home
Kids' Private Party:
https://www....ainting-party
(2) Visit a local park or nature preserve to explore the outdoors and enjoy the fresh air.
(3) Take a trip to a nearby museum, zoo, or aquarium to learn about history, science, and animals.
(4) Have a family game night with board games, card games, or video games.
(5) Create art projects together, such as painting, drawing, or making crafts.
(6) Bake cookies or other treats and enjoy them as a family.
(7) Take a family bike ride or go for a hike to explore the local area.
(8) Host a movie night with kid-friendly films and snacks.
(9) Have a picnic in the park or backyard.
(10) Have a scavenger hunt or treasure hunt around the house or neighborhood.