Join Us For A Month Of Love This February!
February is the month of love – a time for Valentine's Day and remembering love – emphasizing the importance of love in our lives. A painting and wine class is a fun way to celebrate!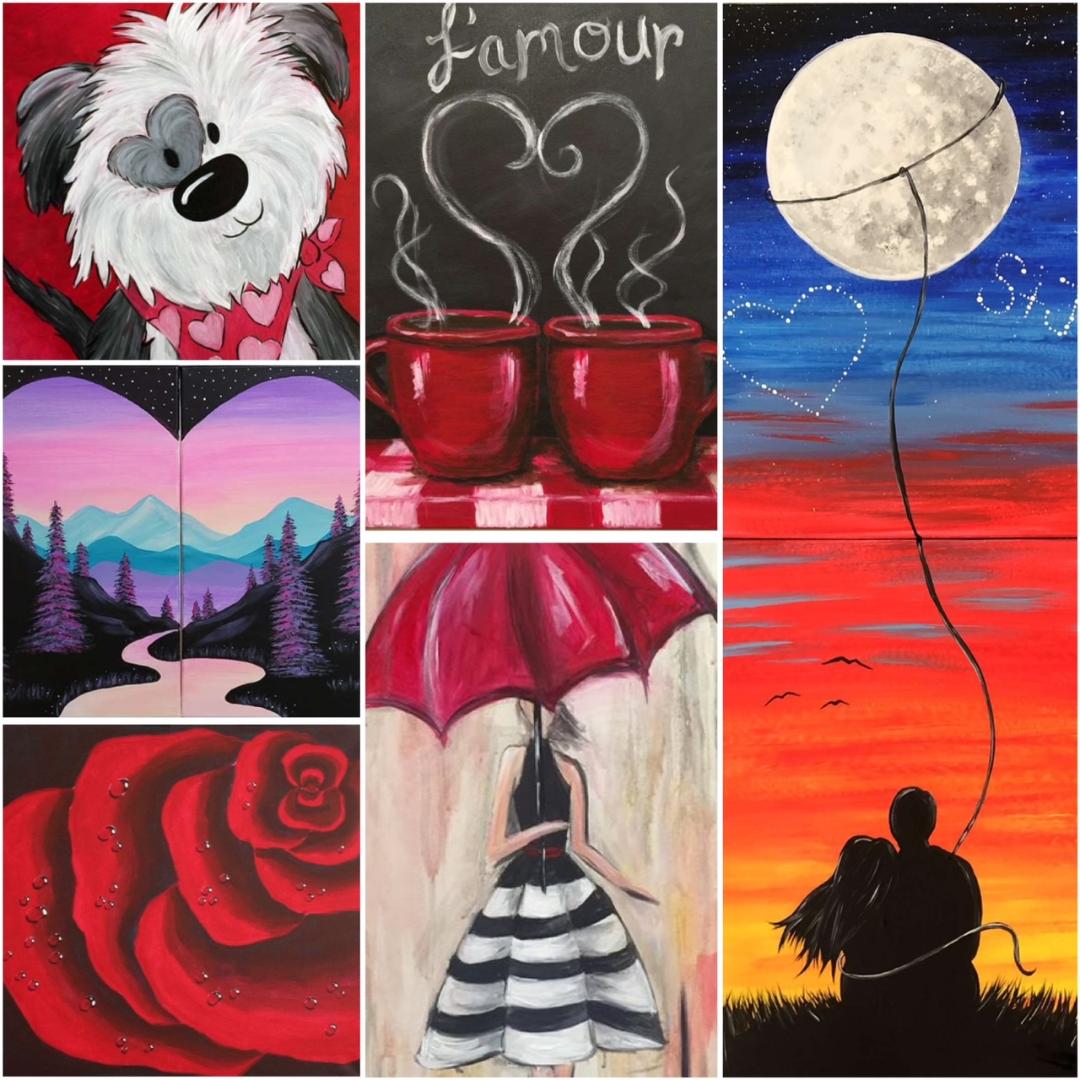 February, the 'Lovers' month. Not only do we have our yearly appointment with St Valentine, a day to celebrate love, but it is also the coldest month of the year, a perfect time to cuddle up and whisper sweet nothings in each other's ears filled with thoughts of love. A perfect time to warm ourselves with a steaming cup of tea whilst resting in the comfort of our lover's arms. Or even just a perfect time to share moments of genial relaxation far away from the chaos of our daily lives.
Join us ALL MONTH LONG to paint and craft with Pinot's Palette! Here's What's Coming Up:
Get Cozy With A DIY KNITTED BLANKET Class!
During this one-of-a-kind event, we will guide you step-by-step through hand knitting a warm, soft chunky knit blanket. No needles or knitting experience is required and all supplies will be provided.
2/1
https://www..../event/662717
2/7
https://www..../event/662715
If you like 'off the canvas' classes or artwork that's more than just a painting with strokes on a canvas, we also offer some POUR ART/MARBLE ART classes, you'll love!
February 19th
This immersive, expressive type of pour art painting is so cool! It is a fun experience, easy to make and looks very professional. Select the colors you want to create a one-of-a-kind masterpiece, specific to your taste and home's décor.
https://www..../event/662721
Another Class On February 27th -
https://www..../event/662720
****** Make It A MOTHER, DAUGHTER Day! ******
Invite your mom or daughter to come in and paint while you reconnect and bond over a creative experience
'Surrender' - Woman with a leaf eye, nose and lips. Tree Forest covered with snow.
https://www..../event/662688
'Big Pastel Love BIrds' - Two pastel love birds snuggle together on a branch in a cute heart shape.
https://www..../event/661801
'Raindrops On Roses' -
https://www..../event/662734
'Autumn Birch Trees' -
https://www..../event/653611
'Beauty By Moonlight' -
https://www..../event/662788
'Monet's Water Lilies' -
https://www..../event/662861
****** Paint With Your BFF's For A GIRLS' NIGHT OUT! ******
Galentine's Day is in February and while we have a class on the 13th (actualy Galentine's Day0, ANY of the paintings on the calendar would make a great one for you and your friends to paint!
'Over The Moon For You' -
https://www..../event/662745
'L'Amour' -
https://www..../event/662743
'Paris In The Rain' -
https://www..../event/662725
February 13th - GALENTINE'S DAY:
https://www..../event/661563
'Prismatic Elephant' -
https://www..../event/662865
****** Make It A Day Of FAMILY FUN! ******
Make it a family event! Gather together as a group and paint one of these paintings, or others on the calendar!
2/12 'Love Bandit'
Puppy love abounds in this delightful painting, perfect for valentine's day or any time of the year
https://www..../event/661599
2/18 'Horse Hugs'
A mare and her foal share a warm hug in their sunny pasture.
https://www..../event/669717
2/20 'Gopher Gardening'
President's Day! No School!
https://www..../event/674388
****** DATE NIGHT/2-CANVAS PAINTINGS ******
Join us for one of these co-paintings, where you'll paint on one canvas while your date paints on the other! Push them together to make one large, collaborative work of art!
'Cosmic Nightfall' -
https://www..../event/658956
'Love Is In The Trees' -
https://www..../event/662783
'I Love You. I Know' -
https://www..../event/661593
'Midnight Romance' -
https://www..../event/662786
'Winter Starlight' -
https://www..../event/662746
'Love In The Horizon' -
https://www..../event/658961
'River To My Heart' -
https://www..../event/658962
'Crane Dance' -
https://www..../event/662727
'Rendezvous In Paris' -
https://www..../event/661561
'Van Gogh's Love Blossoms' -
https://www..../event/661590
Share View ALL Of Our Classes | Grab A Gift Certificate For Your Valentine