It's Our FIVE Year Anniversary! Come Celebrate With Us!
<3 Happy FIVE YEARS To Us! <3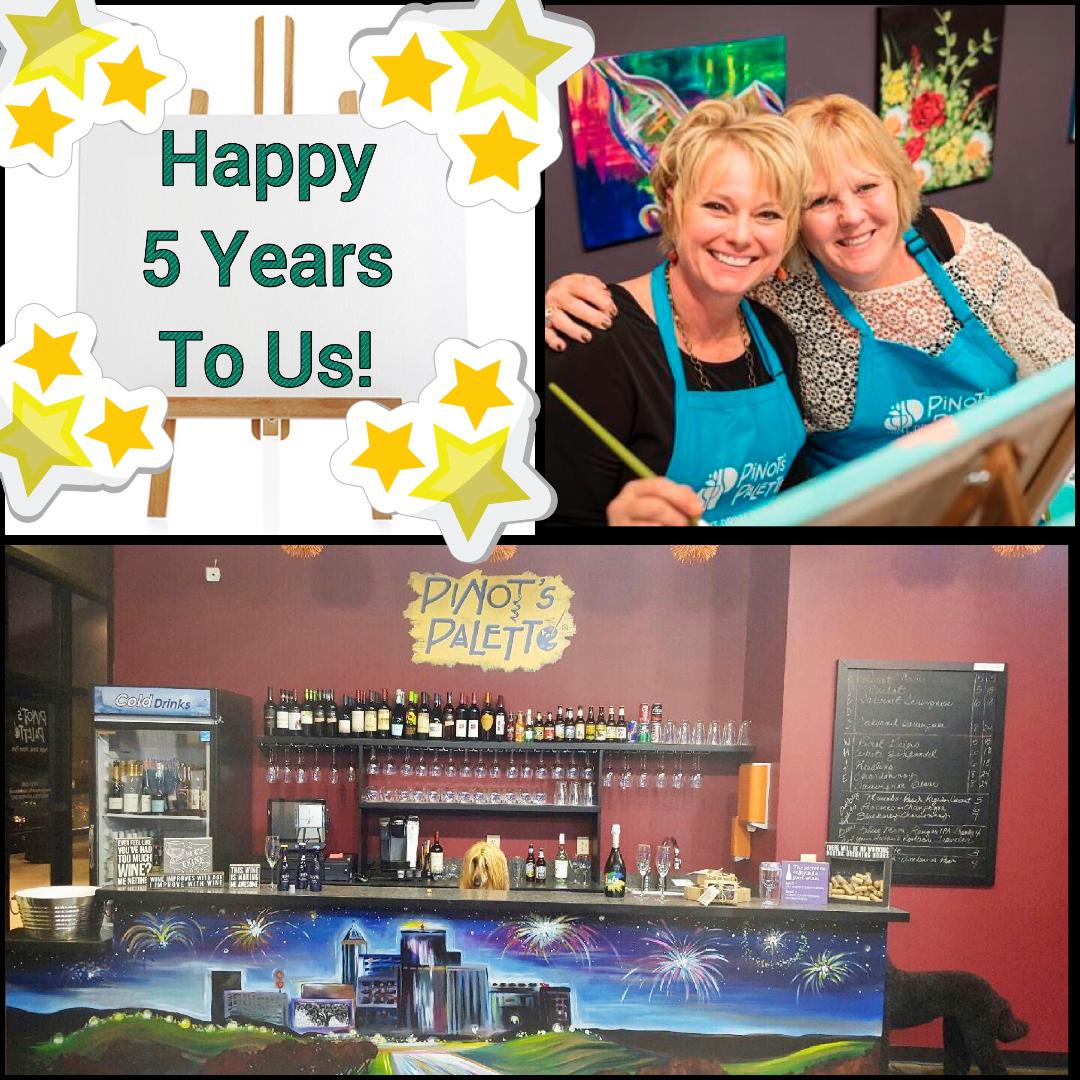 We can't believe it's been 5 whole years since we opened our doors and taught the very first painting at Pinot's Palette, Brier Creek!
We worked so hard to get the studio ready, making sure every detail was right, the wine was stocked, the paint was laid out in an array of colors, and the fresh brushes, sat ready for our customers to use on their masterpieces…
We eagerly invited our friends and family and welcomed many new faces into our creative space and watched as our vision of a painting and wine studio in the Raleigh/Durham area, came to life.
Now, five years later, our business is booming, we've made some great friendships, and have had the pleasure of seeing so many people create some incredible works of art. It really is something special, to behold a group of friends and family, enjoying time together as they make something beautiful, using their creativity. There are many people out there who have come through our doors, nervous that they wouldn't be able to paint, and then they walk out at the end of the night, holding their treasured, hand-made masterpiece; These individuals found their inner-artists, took on a creative endeavor, had fun with loved ones while they made their art, and left with so many special memories to keep forever…. And that's what it's all about for us.
Meeting new people, watching them enjoy themselves as they try something new, and being a small part in this experience is the whole reason we wanted to bring Pinot's Palette to The Triangle. We hope you love it as much as we do!
To you, our loyal and creative customers, we thank you so much for being apart of this community, and our studio.
We quite literally couldn't be here if it weren't for you all and your interest in wine, painting, and supporting local businesses. We hope that you have enjoyed our classes, the time you get to spend with loved ones, the experience of expressing yourself on a canvas, and the joy of finishing a painting and taking it with you to hang in your home! We hope to continue seeing you in our classes, and that you're eager to bring friends and family along with you from time to time, so they can experience them as well! There's nothing like sitting down to a class fo wine and a blank canvas at the end of a long day, to help you unwind and partake in a calming and mindless activity. The proven health benefits of a creative pastime, like painting, are great for anyone and we encourage you to indulge in some creative activities (writing, sketching, painting, singing, and even cooking), anytime you can!
The Health Benefits of Being Creative:
https://www....es/320947.php
With these past five years has come a lot of great changes in our classes and ways of studio life; While we started off teaching our customers how to make painting on a 16" x 20" canvas (and still do the majority of the time), we've spent the last few years, introducing more and more types of classes into our studio!
We began to add in painted wine glass and wine bottles (complete with a string of LED lights), and then got into creating artwork on wooden pallets. Our customers have LOVED all of the new styles of classes, and this past year, we've really let loose and begun to add in pour paintings, artwork with 3-D accents, succulent workshops, DIY blanket knitting classes, and more! This month, we're even offering a DIY painted tea tray and a pet treat jar, complete with a picture of your pet, painted on it!
We've always been huge fans of the themed classes where we create artwork that goes along with upcoming holidays, seasons, or other pop culture-related things. There's nothing like a theme party where you get to celebrate something that you love with other that love it to… Be sure to check out our July celebration of a very special boy wizard's birthday! (**And be sure to check out our classes for our special 'Christmas In July' Celebration!)
With all the improvements that our studio has made over the years, including drink specials, our 'Perks' program, new classes, and more, we haven't changed our standards of customer service. Our staff remains helpful, positive, encouraging, and ready to be there for you when you attend a class; We still offer fun 2-3 hour classes where you can buy wine or beer, listen to some really fun music as you paint, and have so much fun! We'll help you with a wine selection, walk you through the painting step-by-step, and are always there for any additional help you may need! Just let us know how we can best serve you (taking photos for you, refilling your drink, assisting you in getting paint out of your clothing, and more), and we'll be happy to oblige!
In addition to our great customer service and fun public classes, we're also always offering our private parties!
Book our studio for a celebration, work-related event, mobile party, kids' party, and more… It's the same great service and painting concept but with the painting and guest list of YOUR choice!
*All about our private parties:
https://www....yandcreative-
**Quick links to some of the above-mentioned specialty classes:
-Personalize Pet Treat Jar (7/6):
https://www..../event/333418
-DIY Tea Tray Class (7/21):
https://www..../event/338858
-HP's B-day Celebration (7/27)- class 1:
https://www..../event/333421
-HP's B-day Celebration (7/27)- class 2:
https://www..../event/333420
-More Wizardly Fun (7/31):
https://www..../event/315794