Date Night Classes At Pinot's Palette!
This February, in the spirit of Valentine's Day, the holiday of love, we're offering SEVEN 'Date Night' classes for you and your Valentine to come in and enjoy!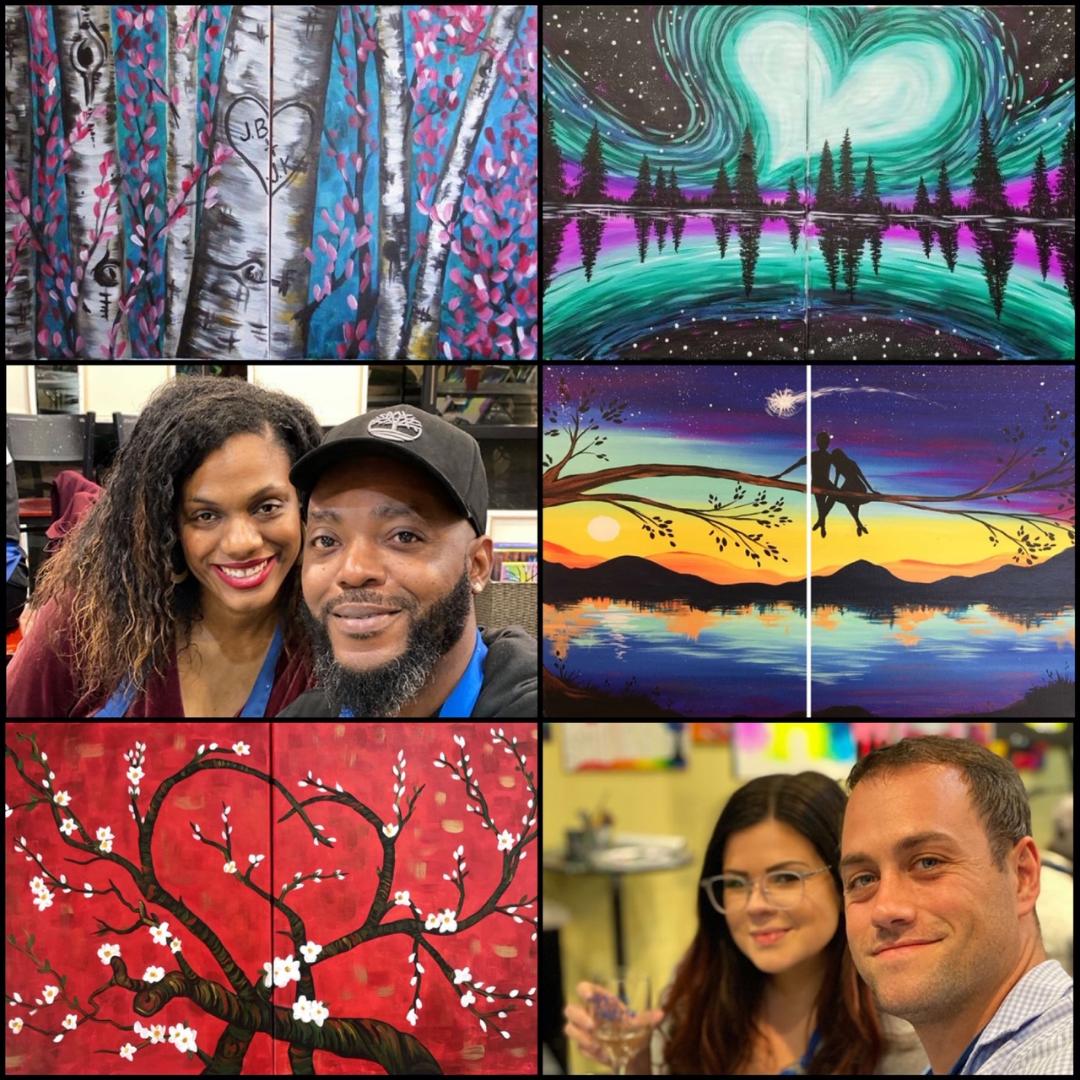 If you've never been to one of our 'Date Night' classes, they're quite the interesting take on a painting class!
In these special events, you'll be creating artwork on 2 canvases that work as one large masterpiece when you're finished!
You'll come in with your date, who will create half of the artwork on their canvas, while you paint the other half on yours.
It's such an interesting way to make art because it's a truly collaborative creation that you get to share with someone special.
You'll get to see the two different styles of art, made by two individuals, put together in a harmonious masterpiece that'll be treasured forever.
Another way to utilize these date night paintings is for you to make your half and take it with you to hang in your home, while your date takes their half with them. Think of them as a modern take on the friendship heart necklace where you each keep a half to always think of the other when you look at it.
You don't have to create these paintings with a "Date" either… You can come in with your bff, roomie, mom, sister, or anyone else that you'd like to share a painting with. You'll have so much fun painting together, no matter who you bring! Share in this bonding experience with whomever you choose and watch as your inner-artists come to life!
You may discover your date's hidden talent for painting, making this an extra-special activity for Valentine's Day or any time of year!
February 8th 'Infinite Love'
The infinity symbol is a timeless representation for limitless love without bounds - customize your date night to represent your limitless devotion to each other.
https://www..../event/405576
February 12th 'I Love You. I Know'
Why travel solo when you can escape the dark side of life with the one you love?
https://www..../event/403990
February 14th 'Love Is In The Trees'
"Some people like to paint trees. I like to paint love. I find it more meaningful than painting trees." -Robert Indiana
*Valentine's Day Special:
Your reservation will include a complementary glass of sparkling wine and a sweet treat.
https://www..../event/401053
February 14th 'Northern Love Lights'
Celebrate your love with us! Paint this beautiful lake full of reflections of the aurora filled night sky.
*Valentine's Day Special:
Your reservation will include a complementary glass of sparkling wine and a sweet treat.
https://www..../event/405571
February 15th 'Romance On The Beach'
This is such a fun date night painting for any couple. Whether you put the hearts in the sand or customize it.
https://www..../event/405572
February 21st 'Evening Star'
Take some love, color and adventure home with this dreamy, romantic scene of a couple wishing on a shooting star.
https://www..../event/405726
______________________________________________________________________
ANY of the other paintings on our calendar make for excellent works of art to come in and create with your Valentine, friends, family, or anyone else you want to spend time with!
We LOVE the idea of making a painting as a gift for your special someone, too! Think of the joy on your Valentine's face as they unwrap a hand-painted gift that YOU made, just for them!
The time and effort that goes into such a thoughtful gift, won't go unnoticed and is something that the recipient will treasure forever.
From our Date nIght classes this Valentine's month, to Family Days, blanket-making, painting on wooden objects, and even discounted classes, we've got a lot to offer this February and all month long!
We'll see you soon!