Creating Memories with Mom: A Mother's Day Painting and Wine Experience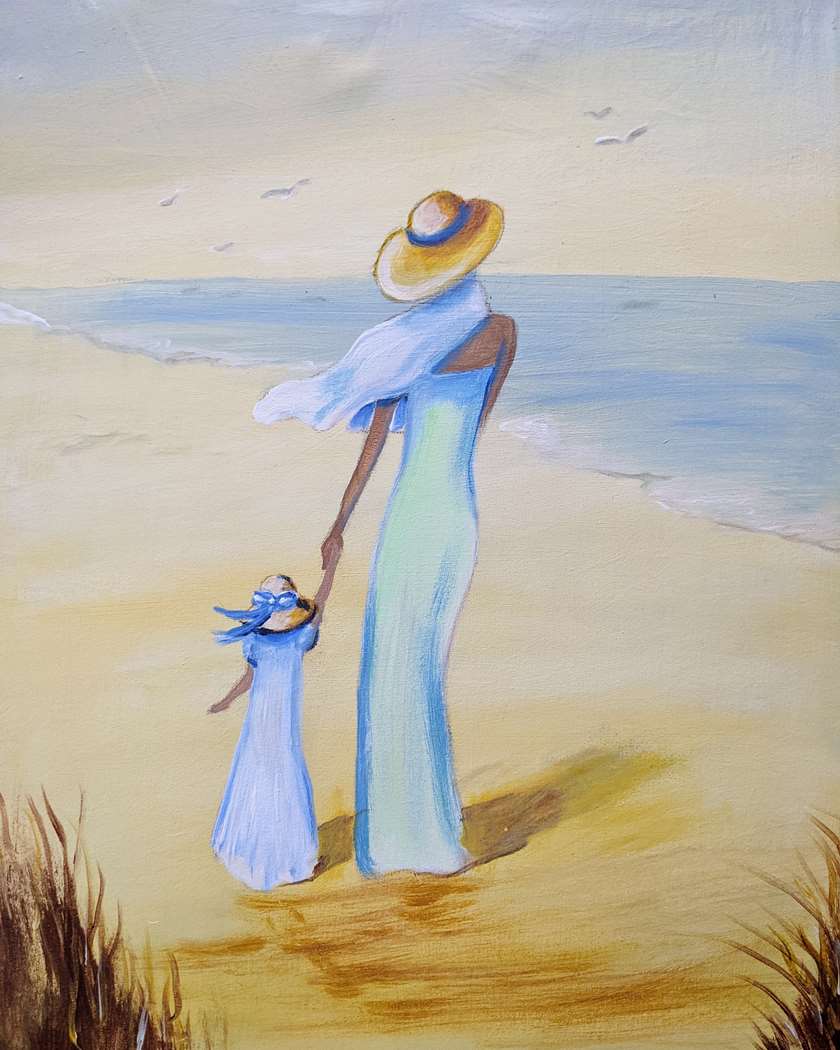 There's no denying that mothers are special. They give us life, nurture us, and support us through every step of our journey. However, in the hustle and bustle of modern life, it's easy to forget to take the time to appreciate all that our moms do for us.
Spending time with your mom has numerous benefits for you AND for her. Quality time together strengthens your relationship with her. Spending time with your Mom creates lasting memories and experiences that you can both cherish for years to come. You also build a deeper understanding and appreciation of each other's lives and perspectives.
Hanging with Mom can also have a positive impact on your mental and emotional health. Studies have shown that spending time with loved ones can reduce stress, increase feelings of happiness and well-being, and even improve physical health.
That's why we suggest you bring Mom in for a painting and wine class to celebrate her on her special day! And that goes for any of the Moms in your life. From Grandmothers, to sisters, BFFs, Stepmothers, and anyone else who you want to celebrate with, we've got you covered!
—> GUESS WHAT?! <—
Pinot's Palette, Birer Creek, is running a special sale that you can take advantage of for all of the Mom's in your life!!!
From NOW until April 30th!
MOTHER'S DAY 2023 is on Sunday, MAY 14th!
_______________________________________________________________________________________________
Buy One Get one 25% off for public classes May 13 and May 14 — Mother's Day Weekend!
_______________________________________________________________________________________________
((Classes Offered On May 13th)):
(1) 'The Family That Hoots Together' - A Family Fun event!!!
https://www..../event/680219
(2) 'Fresh Cut Flowers'
https://www..../event/680222
(3) 'Sunflowers In A Glass'
https://www..../event/680233
(4) 'Poppies At Sunset'
https://www..../event/682517
(5) 'Cubist Portrait'
DATE NIGHT! Whether it's Dad taking Mom out to celebrate Mother's Day or Mom and a child painting this 2-piece work of art together, these multi-canvas creations are always a big hit!
https://www..../event/682518
((Classes Offered On May 14th - Mother's Day)):
(1) Spring Wine Bottle Painting
Create art on a wine bottle and add lights inside at the end!
https://www..../event/675414
(2) 'Love Mom Flowers'
Perfect for Mom to create with little hands, helping :)
https://www..../event/675416
(3) 'Springtime Meadow'
https://www..../event/680252
(4) 'Blossoming Charm'
https://www..../event/680260
(5) 'Moon Tree'
https://www..../event/680258
Whether you take advantage of this sale before it's over, OR decide to book a class closer to the big day, we've got a lot of fabulous artwork on the calendar that Mom would love to paint.
AND remember that while it's so much fun to paint with Mom in the studio, we also offer 'Paint At Home' options; You can also MAKE MOM A PAINTING AS A GIFT this year! Stop in before May 14th (Mother's Day) to make a work of art that will be such a special gift. It you're not seeing Mom until after Mother's Day, pop in on Mother's Day Weekend to create a one-of-a-kind masterpiece for her - and bring a friend to paint something for their Mom, too!
May 7th - 'Mother's Day At The Beach'
(*Photo, seen above)
A mother and daughter, strolling hand in hand, beside gentle blue water on white velvet sand.
https://www..../event/681366
May 7th - 'Lovely Hydrangeas'
**This is a 'Painting In Forward' Class!
Paint , Drink and Do Good!
This is a Fundraiser for Paws for Life NC. A Portion of the proceeds will be donated.
(Learn More:
https://www....orlifenc.org/
)
https://www..../event/681002
May 8th - 'Mason Jar Bouquet'
https://www..../event/688283
May 12th - 'Blossom Moon River'
https://www..../event/682535
AND SO MUCH MORE...
---> View ALL of our classes, here:
https://www....rcreek/events
<3 <3 Fun Fact: The modern Mother's Day celebration is largely attributed to Anna Jarvis, an American activist who campaigned for a day to honor mothers after the death of her own mother in 1905. She held the first official Mother's Day celebration at a church in West Virginia in 1908, and the holiday quickly gained popularity throughout the United States.
<3 <3 Fun Fact: Mother's Day is the third highest-selling holiday for cards, following Christmas and Valentine's Day. Around 133 million Mother's Day cards are exchanged each year.
<3 <3 Fun Fact : The most popular flower for Mother's Day is the carnation, which was Anna Jarvis's mother's favorite flower. It is said that she wore a white carnation to honor her mother on the first official Mother's Day.