Celebrate All The Moms In Your Life With Pinot's!
Happy (Almost) Mother's Day To All The Amazing Women Out There!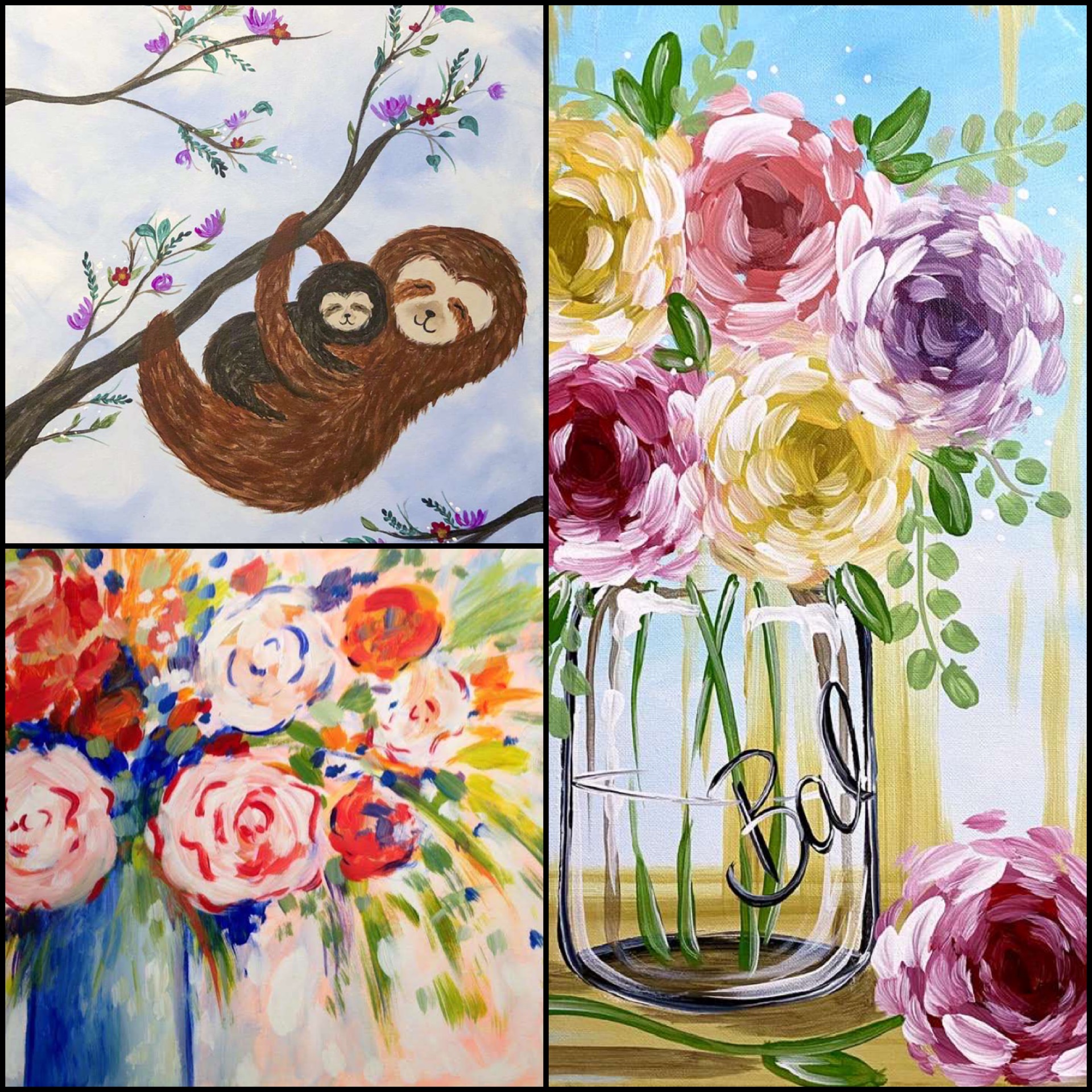 It'll be Mom's special day before you know it, and time to plan the perfect day is running out! Let Pinot's Palette provide a creative and uniwue experince for you and all the moms in your life this year! From our awesome In-Studio Classes, to Virtual Classes and Take Home Kits that you can enjoy from anywhere… To just using our classes to make a gift for Mom, we'v got something for everyone!
** Join Us IN THE STUDIO! **
Come in to our studio and paint with mom! You'll get to sit and enjoy music as one of our instructors walks you through the painting step-by-step! You'll get to enjoy some time out of your home, reconnecting with someone you love, and making artwork and memories!
Take your paintings home to display in your living space and always remeber the great time you had making them with loved ones! Enjoy some time reconnecting with all of your loved ones after the year we've had and "cheers" with a glass of wine in hand!
** Celebrate With VIRTUAL CLASSES! **
If you and Mom are looking for a way to VIRTUALLY celebrate, we've got your covered there too! You can join one of our live classes from home! (*Or the location of your choice).
You can enjoy a nice dinner, some drinks, and time together in a safe and comfy environment. Gather friends and family to paint along with you as you celebrate Mom, Grandma, and all the moms in your life!
The experience of painting virtually is realyl alot of fun! It's a way for you to mae art from your own space as you hold your own paint party the way you want. Celebrate Mom with a gathering before or after the painting begins so everyone can catch up and enjoy one another's company.
** Check Out Our RECORDED Events & TAKE HOME KITS! **
We have tons of excellent paintings for you and your family to enjoy.. from anywhere… anytime!
'Mommy & Me' paintings are a lot of fun for the younger kids to do with Mom as a fun date and artwork to make! These paintings are SO CUTE; They're 2 canvases (one for each painter), and together, they make one collaborative work of art.
While ANY age can enjoy these paintings, the smaller canvas is perfect for little hands to make with their mother, grandmother, or other special person on Mother's Day!
These paint kits are so easy to grab and use AND convenient for everyone to make art at anytime! Paint before or after your Mother's Day meal as apart of the celebration, OR sit with Mom and other loved ones another day and extend the celebration!
** A DIY Gift For Mom **
Come in and make a handmade work of art for your loved ones! there's nothing that says "Love" like a customized masterpiece that YOU made; Taking the time and putting the thought into someone's gift truly shows when you create a painting for them and they'll love and treasure it forever. Alter the colors of the painting to match the recipient's home or preferances, making it extra-special.
Remember, you can join a class at our studio or from home! Paint what you'd like to paint with our take-home kits and remember to pair your paint night with some wine and snacks! It's a lot of fun and you'll be so proud of what you accomplish! :)
Share See What Classes Are Coming Up! | Buy Mom A Gift Certificate!