Canvas-Free Creations!
Who says paint is JUST for the canvas?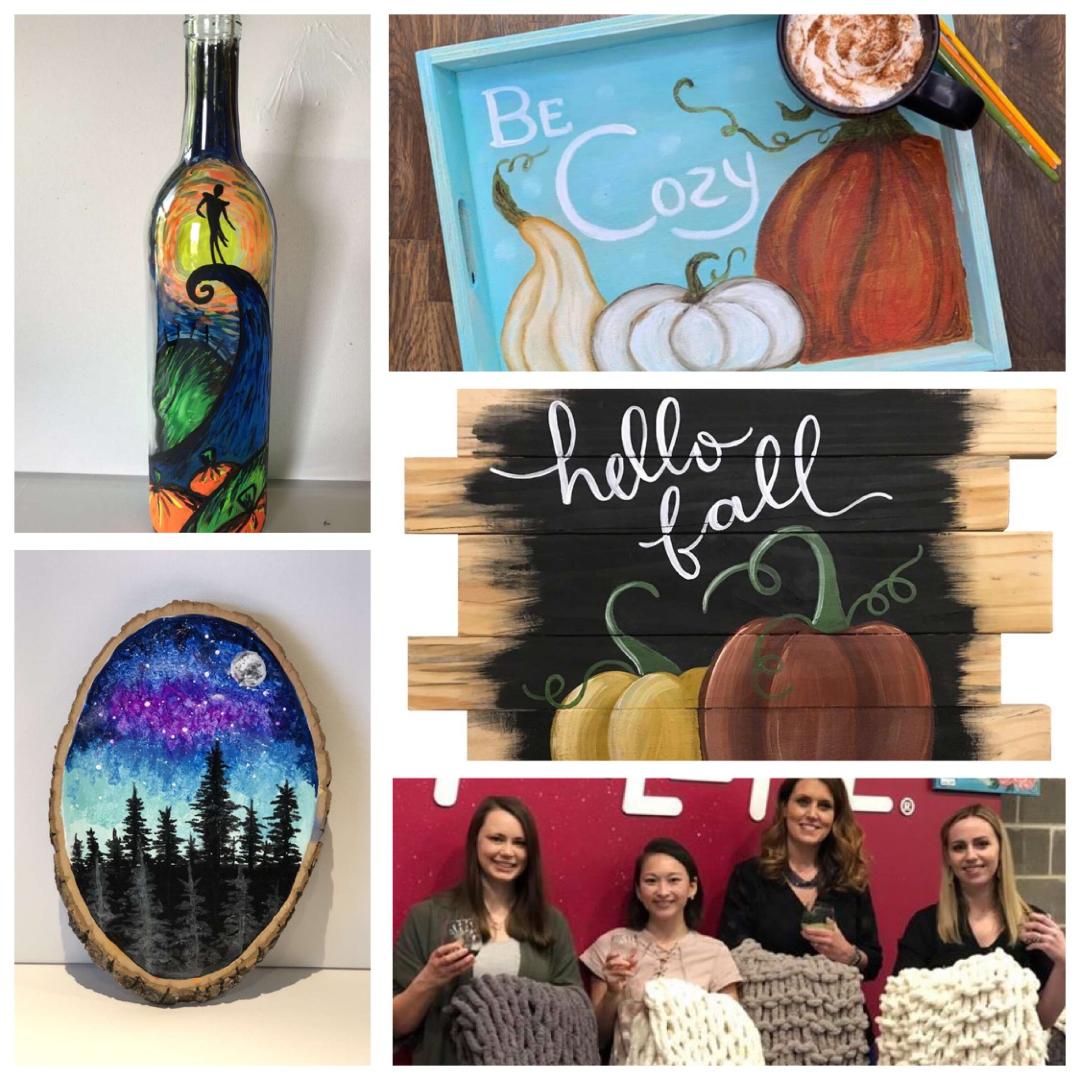 We're at it again! Taking something as fun and unique as a painting and wine class and adding the twist of some non-canvas creations for you!
While it's ALWAYS great fun to make art on a canvas (it is one of the most original forms of art, of course), there's no rule that says we can't paint on anything we want! For the past few years, we've been adding more and more off-the-canvas classes to our calendar and they've been received with great popularity!
Check out some of the upcoming classes we're offering throughout the next few weeks and be sure to always check the calendar to see all of the new ones we'll be adding on!
This time year, especially, we're known to offer unique and festive classes for the upcoming seasonal events and holidays! Join us all Fall and Winter to paint some excellent artwork that will be so wonderful to decorate your home with and give it a festive flair; Make some to give to your friends and family for the holidays or anytime of year; Anyway you choose to use your painting after you create it, is wonderful! Bring your friends and family in to paint along with you and make masterpiece an memories that will last a lifetime!
***** Here are some of the 'Off-the-canvas' classes coming up:
September 19th
Wooden Pallet Sign
'Hello Fall'
Welcome fall with this fun wooden pallet painting. A perfect DIY décor for any home!
https://www..../event/367830
September 25th
'Aurora On Wood'
Paint this gorgeous scene on a piece of real wood!
This painting will be done on a wood slice 9-12 " by 5/8 "
https://www..../event/357125
October 2nd
Chunky Knit Blanket
During this one-of-a-kind event, we will guide you step-by-step through hand knitting a warm, soft chunky knit blanket. No needles or knitting experience is required and all supplies will be provided.
Cooler months are coming soon. Make your very own soft chunky knit blanket to snuggle up in! No experience or knitting needles required. The blankets are approximately 40" x 50". You can choose up to 4 different colors when you arrive. First come, first served!
https://www..../event/369345
October 9th
Wooden Tea Tray
'Be Cozy
'Warm up and Be Cozy with a warm cup of pumpkin spice latte and enjoy the season while you entertain guests.
https://www..../event/364631
October 10th
Painted, Illuminated Wine Bottle
'Nightmare In A Bottle'
Capture your very own Nightmare in a Bottle with the Pumpkin King illuminated against the glow of a full moon. The perfect addition to your Halloween decor.
Your Reservation includes a wine bottle and a set of LED lights.
*Special: It's Thirsty Thursday . Bottles of wine are 50% off.
https://www..../event/367122
And SO MUCH MORE!
***Remember to keep an eye on the calendar, as we add new classes each month!
And as always, we're offering our canvas paintings on our standard size (16" x 20") canvas, but that's not all; We often create art on long canvases, small square canvases, and more!
Some of them coming up, include:
*September 18, 'Pleasantly Pumpkin' (LONG CANVAS)
https://www..../event/351660
*September, 'Coastal Craze' Flowable Art (2 MINI CANVASES)
https://www..../event/364419
We hope to see you soon for some of the above-mentioned upcoming classes, or any of the others on our calendar!
In addition to our public classes on the calendar, we also offer private events! It's all the fun of our regular classes but with the painting and guest list of your choice! From fun with friends, to team-building creativity with your co-workers, kids' parties, and more, we've got it all!
Celebrations:
https://www....ivate-parties
Team Building Events:
https://www....porate-events
Kids Painting Parties:
https://www....ainting-party
Mobile Events:
https://www....ainting-party