Buy 5, Get 1 Free!! The More, The Merrier
For a limited time, we're giving out some some free seats, and really..... who doesn't love FREE?!!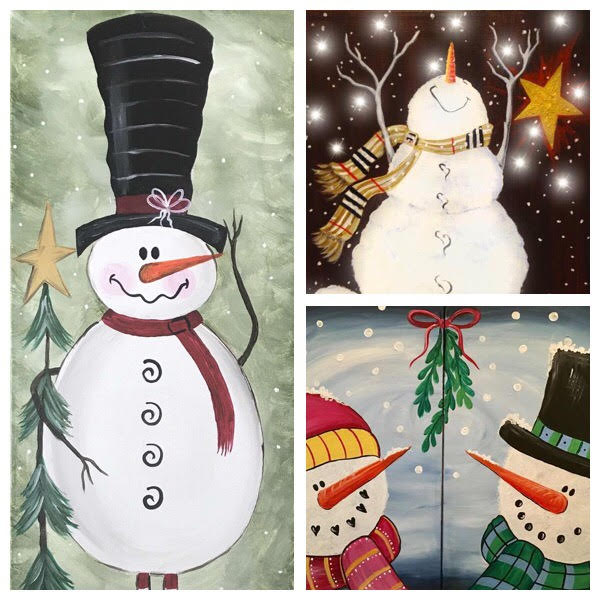 Hurry, hurry; and book some seats!! From now until December 31, When you book 5 seats, you get the 6th for free!
You can bring all of your friends and family to join in the fun of a wine and painting class with you! Pass the code along to all of your loved ones and have a truly great night out with everyone you know! We have some absolutely amazing holiday paintings, coming up, all month long!
Painting and wine classes are always a GREAT activity to participate in! We will walk you through a painting, step by step, making it easy to follow. These classes are wonderful for first-time painters, and we have an excellent staff available to help you with anything you may need.
Aside from getting creative and painting your masterpiece, you can sip wine and listen to music, while spending time with loved ones, reveling in one a other's artistic abilities. You may never have known that your husband can paint flowers like a pro, or that you are actually reeeeeally good at creating some fluffy clouds! Getting creative is a fun way to learn more about yourself and others, as you get in touch with your inner artist and watch your creative side, come to life!
At Pinot's Palette, Brier Creek, December hosts some of our most popular paintings, as our guests LOVE creating a beautiful, seasonal, masterpiece to use in their home's decor! Creating a handmade piece of artwork to cherish and always use this time of year, is special and unique! Painting some lovely winter landscapes or happy snowmen, really gets people into the holiday spirit, and gives them a fun way to spend an evening!
While all of our paintings are great, we have some extra-special classes coming up:
*Illuminated paintings! Come in and create a beautiful canvas painting, then add a string of lights to add flare and ambience to your work of art-
12/7 (6:30-9pm) 'Jolly Christmas Lights'
12/10 (1-4pm) 'Snowman's Bliss'
*Long canvas-
12/13 (7-9) 'Vintage Snowman'
*Fun for the whole family-
12/23 (3-5pm) 'Frosty's Smile'
Come in and spend the day, painting with the whole family, ages 7+, as you paint a small canvas with a snowman!
*Date Night-
12/23 (7-10pm) 'Unser The Mistletoe'
You paint one canvas, while your other half paints the 2nd painting! Push them together to make one whole picture!!
To book your seats for this special deal, register online and
****Use promo code: MERRIER6
* All six seats must be purchased at the same time for the same event, but you can use the discount code for as many qualifying events as you like!
* May not be combined with any other discounts or promotions. Not valid for reservations of private parties, gift certificates, specialty events or classes.
Check it out!
https://yout...e/5FPRqaNBOZU
While you're in the studio for one of our MANY, amazing classes this month, pass the gift of creativity along to someone else! We offer gift certificates, available, both online and in the studio, and they really make an excellent choice for gifts! Aside from being easy to buy and "wrap", they allow you to give the gift of an experience.
Giving someone the ability to grow and try new things, not only helps them to learn more about themselves and potentially discover a new pastime, but it'll also be a gift that continues to give! They'll always remember the fun time they had, creating a masterpiece with friends and family, and will be able to recall that experience, every time they look at their handmade artwork!
(*click the link at the bottom to purchase certificates now!) :)
We hope to see you soon at Pinot's Palette, Brier Creek! If you're living in or around the Raleigh-Durham area, be sure to stop in for a class or two, or just to see what our studio is all about! We're more than happy to answer any questions you may have and help you with anything you need!
Happy holidays to you and your family, from all of us here, at Pinot's Palette!
Cheers!
Share View our entire calendar and sign up for a class! | Purchase a gift certificate HERE!