All The Ladies Will LOVE These Paintings!
"Ladies" Themed Paintings That Are Perfect For Your Next Girls' Night In!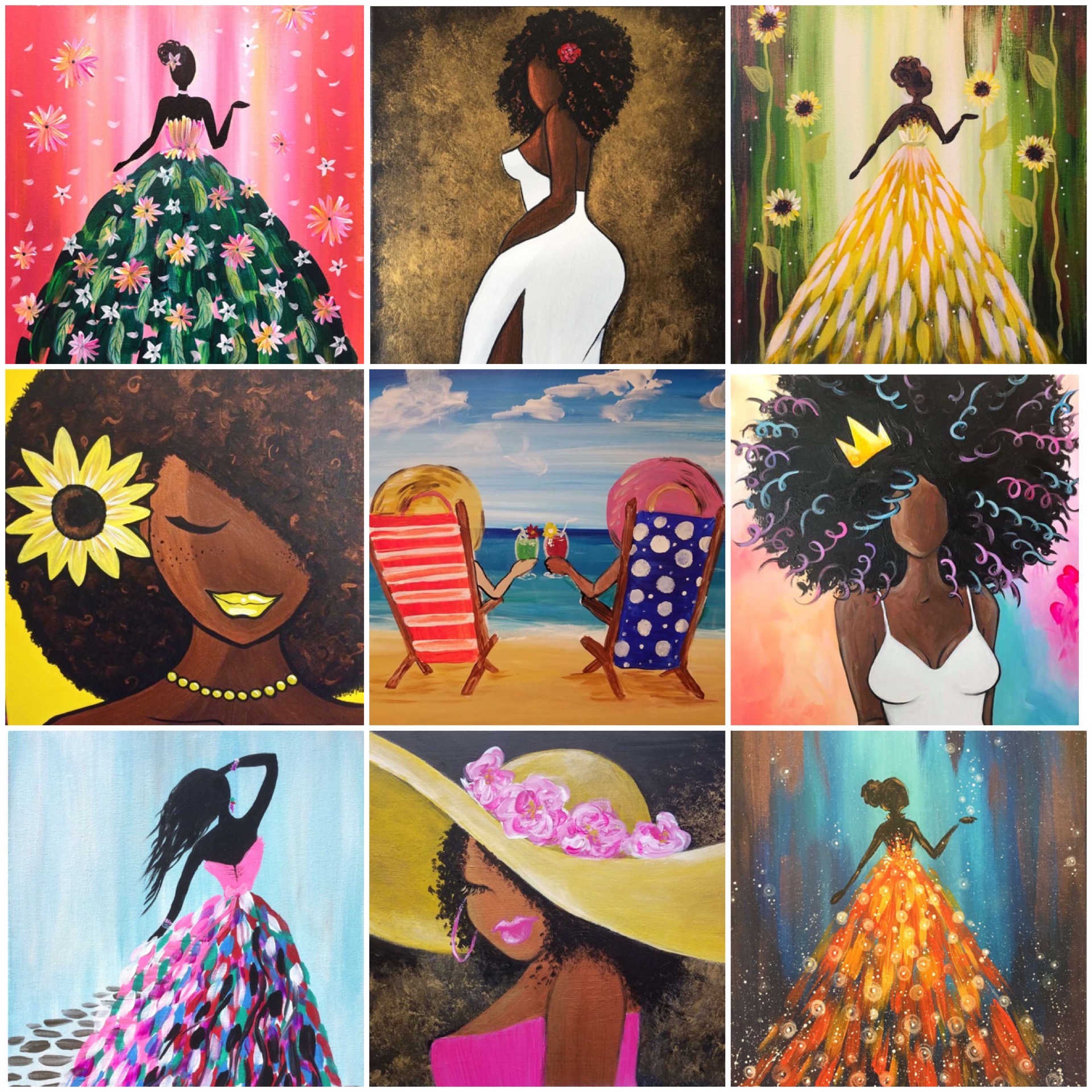 Let's celebrate this lovely new weather, new season, and last few months of 2020 by getting in touch with our inner-artists and spending time with the ones we love!
Grab your girls and have a fun and unique girls night out (or in) with these special paintings that have been so popular in our studio!
From strong female drawings (that can be easily-customized), to paintings of best buds on the beach (customizable, too), we're offering some great paintings that can be created from the comfort of your very own home.
You can plan a painting party with friends and family, and we'll provide you with all the supplies that you'll need to make it all happen. All you have to do is sign up online, pick up the supplies at the studio (no-contact pickup), and paint!
Everything from the paint and brushes, to the step-by-step instructions will be provided and all you have to do is have fun!
Have everyone bring a dish and you can have a potluck-style gathering where great food and good company is paired with this creative experience. Break open some wine or bubbly OR try out a delicious cocktail your friends will love (cocktail ideas on link at the bottom of the page).
Just looking for something fun to do on your own to unwind from a long, hectic day? These paintings or any of the others on our calendar are perfect for just that! From Fall and Halloween paintings to flowers, landscapes, and of course all the lovely ladies paintings, we're sure to have something you'll love.
Customize the colors and style to best fit your home's decor and remember to relax and HAVE FUN! Just enjoy expressing yourself as you paint the night away in comfy clothes, in your home!
Pair you painting with some snacks and wine and let your creative self, shine through!
From pre-recorded videos to live virtual classes, and even some take-home paint kits, we've got something for everyone!
Have fun customizing your masterpiece to best fit YOU! You can change the skin tones, hair color and style, and anything else you want to! Have fun getting creative and make something you'll be proud to claim as your creation!
Check out some of the many 'Ladies' paintings:
'Colorful Curls'
https://www....op-item/28074
'Beach Besties'
https://www....op-item/28782
'A Fabulous Dress'
https://www....op-item/28835
'Mrs Sunflower'
https://www....op-item/29662
'Classy & Sassy'
https://www....op-item/30094
'Golden Goddess'
https://www....op-item/24225
'Petal Dance'
https://www....op-item/24376
'Sunflower Dance'
https://www....op-item/25833
'Firefly Dance'
https://www....op-item/26923
Remember that in addition to these ladies-themed paintings, we're offering some amazing artwork for in-person classes and for our virtual classes. You can view the full schedule below, and whichever style of class you choose to take, we're sure you'll enjoy it!
If you join us in the studio, be sure to reserve your seats ASAP, as we're offering limited seating and classes do fill up quickly. We're following all safety guidelines as we social distance and disinfect the studio, often.
If you feel most comfortable painting at home, our live virtual classes, pre-recorded classes, or take home kits are perfect for you!
You can learn all about the various classes we're currently offering on our schedule.
Cheers!