Bring The Kids In For Our Spring Break Painting Classes!!!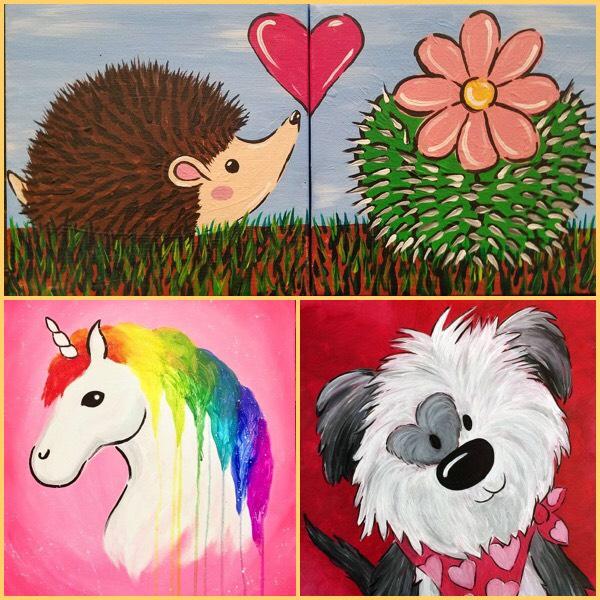 If you're looking for some fun things for your kids to do this 'Spring Break', look no further than a painting class at Pinot's Palette, Brier Creek!
We make a great place for anyone of any age to spend time, creating art and having fun! We have some special classes, coming up, dedicated to the kids who are out on break this Spring, so be sure to sign up for one, ASAP! We have 3 classes, this upcoming week that feature paintings the kiddos will love! If you and your family live in or around the Raleigh-Durham area, our Brier Creek location is the right spot for you!
It's so important for children (and EVERYONE!) to be able to use that creative side of themselves, to express their inner feelings, emotions, AND their inner-artist! While classes like Math, English Science, and other academic subjects are important for children, it's just as important for them to be able to relax and apply themselves to something where there is no right or wrong answers. Not just for kids, art is an outlet that give us a chance to be creative and to get in touch with our artistic self, no matter your prior experience with art materials. It's nice to be in a creative environment where you can just paint what you feel and want to, without being judged or told you did it, incorrectly.
Fostering creativity won't just increase your child's chances of becoming the next Picasso. You're also helping him or her develop mentally, socially, and emotionally. Creating art may boost young children's ability to analyze and problem-solve in myriad ways. As kids manipulate a paintbrush, their fine motor skills improve. By counting pieces and colors, they learn the basics of math. When children experiment with materials, they dabble in science. Most important perhaps, when kids feel good while they are creating, art helps boost self-confidence. And children who feel able to experiment and to make mistakes feel free to invent new ways of thinking, which extends well beyond the craft room.
Einstein said, "Imagination is more important than knowledge." Imagination is the door to possibilities. It is where creativity, ingenuity, and thinking outside the box begin for child development. Imaginative and creative play is how children learn about the world. During imaginative play, children manipulate materials, express themselves verbally and non-verbally, plan (intentionally or unintentionally), act, interact, react, and try different roles. Great opportunities for learning are possible when children participate in creative play with dolls, vehicles, blocks, rocks, cardboard, or boxes. Employing creative thinking while manipulating play dough, creating recipes by mixing dirt and water, working with art materials, splashing in puddles, or pretending to fly can further child development.
Imagination fosters cognitive and social development. Everyone wants to raise children who reach their highest intellectual and social/emotional potential. In early childhood education, critical thinking skills and creative problem-solving abilities are goals for children's development. Imagining, trying new ways of doing things, and experimenting help to develop critical thinking in children and foster creative problem solving. Furthermore, imagination builds social-emotional development by allowing children to contemplate different resolutions, thus boosting children's confidence, which can be used in interactions with others. Imagination and creativity are also skills that our children will need when they join the workforce of the future.
Spring Break classes:
1-Tuesday, April 3 (1-3pm)
'Love Is Blind'
This cute hedgehog painting is featured as a 'Mommy and Me' class, where you paint one canvas and your child paints the other. You'll push the two canvases together at the end of class to reveal one painting!
*Sign up:
https://www..../event/228009
2-Wednesday, April 4 (1-3pm)
'Rainbow Unicorn'
Magical and majestic unicorns are always a good idea! This one features a drippy, rainbow mane that is super fun to create and a lovely pink background (that can be changed to another color, if you want)!
*Sign up:
https://www..../event/223758
3-Thursday, April 5 (1-3pm)
'Love Bandit'
Join us as we paint this adorable puppy! Bandit is a fluffy, grey and white pup with a heart-shaped patch around his eye, perfectly matching his heart-patterned bandana!
*Sign up:
https://www..../event/228007
Also:
Saturday, April 28
'Sly Guy'
Who doesn't love a good sloth painting?! These creatures are slow-moving, yes, but adorable and constantly, growing in popularity!
*Sign up:
https://www..../event/229119
This Spring Break, encourage your children to do something new and exciting with their time off from school. There are so many creative ways to spend the days, whether it's a painting class in our studio, crafting at home, painting some pottery, or even going to a museum! This is the age when kids are FULL OF CREATIVITY, so encourage them to use their colorful minds for exploring and creating, beautiful masterpieces!
CHEERS!