Paint At Home!
Enjoy our step-by-step painting classes from the comfort of your own home (or anywhere you want!)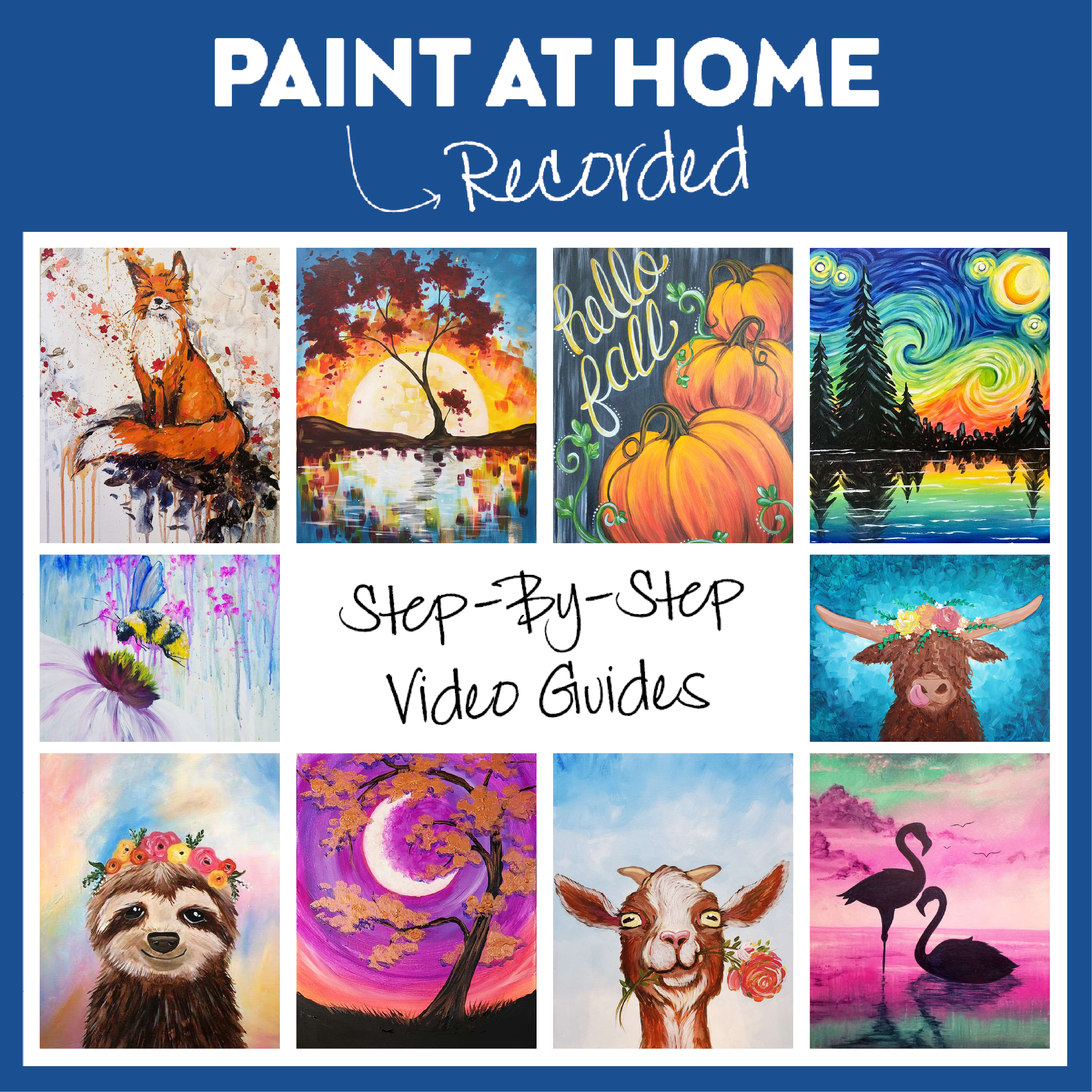 Since 2009, Pinot's Palette has been offering painting and wine classes in our many studio across the United States. We invite friends and family to come together and great creative with a step-by-step acrylic painting event where ANYONE can be an artist and everyone leaves with a masterpiece.
As with everything else these last few months, our standard way of doing things is not so "standard" anymore..
We've had to adapt to the current situation, limiting guests, disinfecting the studio more than usual, and offering virtual experiences.
We're so happy to be able to offer painting classes that you and your loved ones can take from anywhere, using the device of your choice!
From date nights and family days, to a unique girls' night in, you can paint along with our live (or recorded) videos and paint at home! Stay safe, comfy, and choose your favorite wine and snacks to accompany your art, making it the perfect night in.
Paint along with the whole family (everyone paints the same things, OR everyone paints what they want) and make it a night to always remember!
Display your masterpieces in your home to always cherish and for others to compliment you on.
Paint with friends from your own homes, or joined together in one place with these fun and interactive classes where everyone is an artist.
Give the kiddos something fun and educational to do at home as they build on their motor skills and put their big imaginations to good use.
However you choose to utilize our classes, we're sure you'll have a blast and make some great memories (and of course, some wonderful artwork, too!).
** How Do Our Paint At Home Classes Work?? **
RECORDED CLASSES:
Our recorded classes are great because you can do the painting any time you want and they're set at a really great price!
This two (sometimes three) hour video tutorial will walk you through how to create the painting, step-by-step . Easy, relaxing, and fun!
These classes are awesome as you get to pick between lots of great choices of paintings! You and your loved ones can all paint different things as you spend time together (or apart), making art and having fun.
Our take-home kits include the canvas, paint, brushes, disposable apron, water cup, paper plates, and paper towels- everything you need to make the project!
*If you already have brushes you can select the "without brushes" option and save $2!
You can pick up the supplies at our studio at the designated time (or by appointment) for an easy and no-contact solution to getting your materials.
LIVE INTERACTIVE CLASSES:
These live interactive classes have been a huge hit during these last few months, especially with limited seating in the studio.
They're convenient, easy to follow, relaxing, and can be done with friends and family (in one place or spread out) OR by yourself!
Take some time to get in touch with your inner-artist and make a painting that you'll be proud of!
In these classes, you will make the painting that is listed for the day and time and will receive the matters to specifically make that project. As always you can alter the colors and style, add in special additions, and get creative in any way you want- and there will always be someone to answer your questions as you paint (live) with others).
Note: The " Replay" will be available to you for 7 days after the live class.
And guess what?! The Replay can be paused so you can paint at your own speed.
As with the recorded classes, you can pick up your painting kit at our Studio Wednesday-Sunday from 2PM-4PM or by appointment.
Have your own brushes? Enter the promo code "NoBrushes" at check out and it will discount the class by $3.00
Have your own art supplies? If you only need the live virtual class link - enter the promo code "VirtualLinkOnly" to discount the class to only $15!
The link will be emailed the day of the event. Just click on it and start painting!
You will receive a paint at-home kit that includes a canvas, paintbrushes, disposable apron, paint, water cup, palette plates, and paper towels.
To provide a safe, pick up environment, your take-home painting kit is available at our studio, call us when you arrive and we will bring it to your car.
It can't get any easier than that!
AND MORE:
In addition to our public painting classes, we're also always offering:
Private Celebrations
https://www....ivate-parties
Kids' Parties
https://www....ainting-party
Corporate/Team Building Events
https://www....porate-events
Gift Certificates
https://www....-certificates
Fundraisers
Unfortunately, many large fundraising events have been cancelled because of the virus, which greatly impacts donations to non-profits. It's difficult for people to find other options that allow for social distancing and other guidelines when it comes to traditional fundraisers…
BUT, We Can Help!!! :)
Talk with us about our fundraising opportunities ('Painting It Forward') to learn about how you can have proceeds from a public class donated to your charity or nonprofit OR set up a private event (in the studio or virtual- virtual allows for more people to join and raise more money for your cause).
Share View our calendar | ways to support small businesses right now