Turn Your Pets Into Caricatures!!
Come join us for this amazing painting class where you get to paint one of the best subjects EVER........... your pet!!!!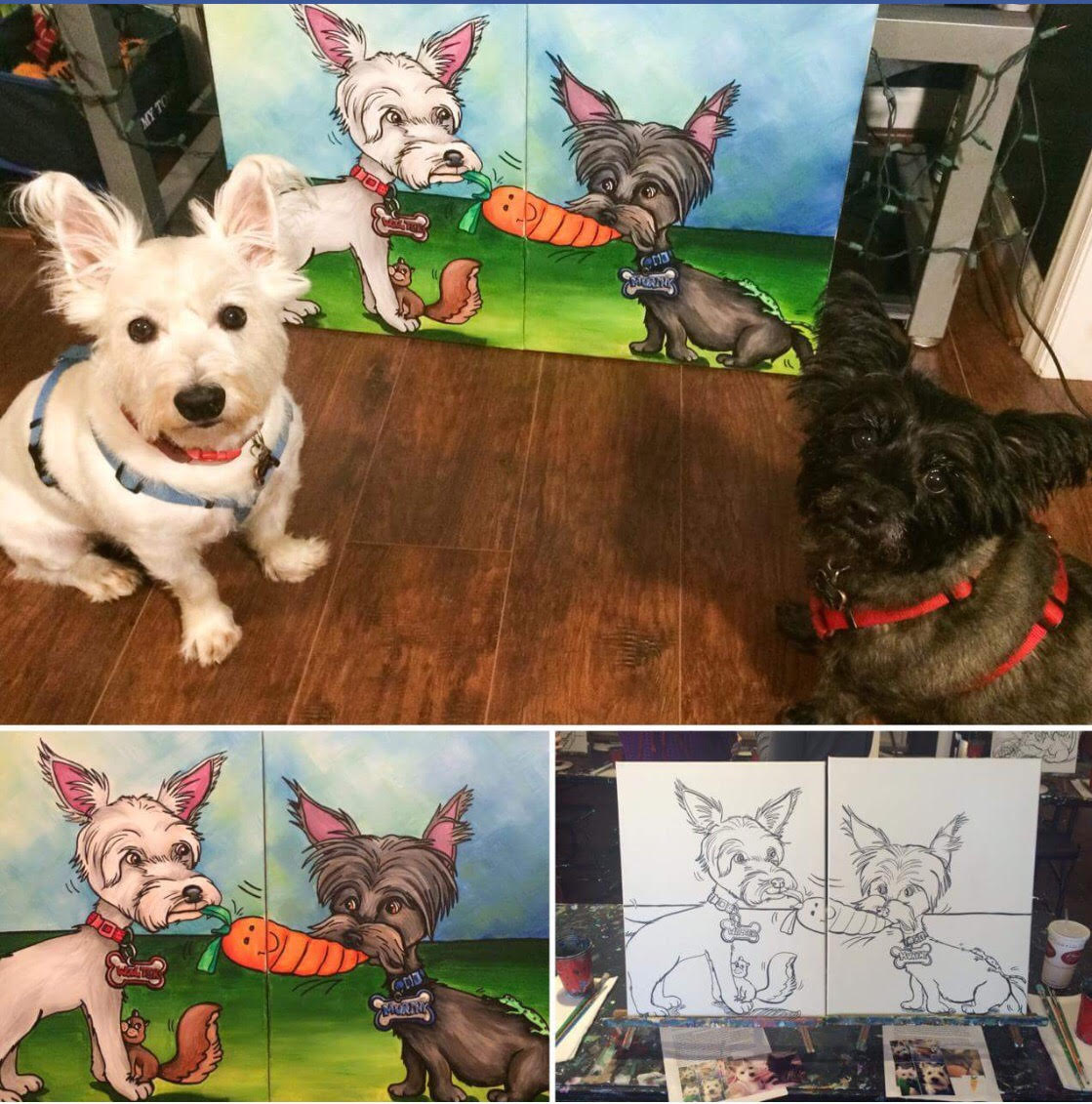 If you love your animals like WE love animals, this is the class for you! What better way to show how much you love your fur baby than to paint a picture of him or her?!
Once you sign up for the class, we will email you a questionnaire. After answering several questions about your pet and sending us a few photos of them, we'll do the rest! Come into our studio on the day of the class, to find a sketch of your beloved animal. Is your special loved one not a "fur baby" but a scaly, finned, slimy, or feathered pet?? No problem! We can turn ANY pet into a fun cartoon with the help of some of our very talented artists!
You'll truly be amazed by the artwork YOU can create! It may seem more difficult to paint a living being, such as a human or animal, but you'll be surprised to find it's not so hard, after all! We have an excellent staff of artists walking around to assist you, anytime you may need, throughout the class. You can create your masterpiece using any colors you like! Have fun with it- think 'pop art' style dogs or cats, with pink fur and a blue nose... or whatever you can imagine! It's your artwork, so make it fit you and your lovable pet's style!
https://www....8540906654496
* One pet per canvas
* If you want to paint more than one pet, say with your roommate or significant other, we can put each on their own canvas, but link them as one whole picture (photos of 2 pets, painted as one painting, shown above).
*****We can't wait to see you at this very special event at our studio! Join us for some wine and music, and of course the best part... painting your pet! It's a great way to spend time with friends and family. We love these pet classes because every one of our customers has a real connection to the subject they're painting. They want to work hard on it, making it extra special to them, and leaving with a piece of artwork they will always treasure. So come out and be a part of this great experience with us.
We'll see you there!!
Cheers!
Share Sign up for the pet class!!! | View our entire calendar